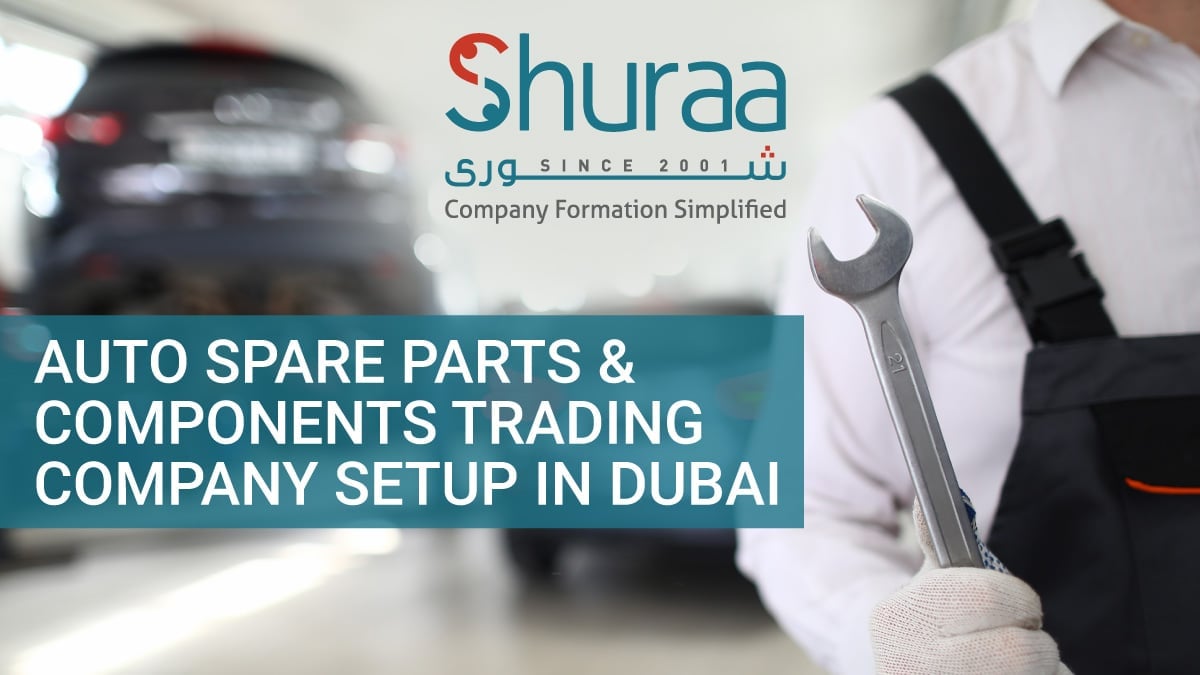 Auto Spare Parts Business and License in Dubai, UAE
Dubai is a land of diverse occupations. The infrastructure, business ecosystem, and resource availability empowers entrepreneurs to start a wide variety of businesses in the UAE. Trading companies benefit a lot in the region because of the ease-of-access to various modes of transport. Be it harbors, airports, or local transport – you get the best facilities in Dubai. The same has inspired investors to open their auto parts company in the region. They can enjoy a mainland business setup if they want to explore the local market or choose a free zone/offshore establishment to fathom the international circuit. One way or the other, everyone smart investor finds a reason to make Dubai the home for their car accessories trading company.
What is an auto spare parts trading company?
The integral parts of an automotive serve for several years before losing their efficiency. But this doesn't imply that your vehicle can no longer be your traveling companion. All it needs is an auto spare parts replacement, and once done, it gets back to its prime efficiency. Automotive components go through rough wear and tear, and it applies to all vehicles.
If you understand these internal mechanisms and want to conduct your business in the domain, you can open your auto spare parts and components trading company in Dubai. You need to keep various aspects in mind to start a legal business entity in the UAE. For hassle-free business licensing, it's always better to consult a local business advisor in Emirates.
Why should you open such a company in Dubai?
The profits you make out of any business depends on the region's demographics, resource availability, and applicable jurisdiction. If a large part of your money is going into taxes, excise duty, business legalization, etc., you won't be able to secure profits anytime soon. That's where the UAE's jurisdiction and business laws assist business aspirants and help them set up their company without worrying about overhead expenses and undisclosed charges.
You can import-export and re-export various car accessories without any surcharge. Moreover, several specialized zones in the UAE are tailor-made for auto spare parts trading companies. They have unique laws that benefit the owner of such companies, and foreign investors often find a mainstay for their companies in these specialized economic zones.
How to Start an Auto Spare Parts Business in Dubai
To legalize your auto parts company in Dubai, you need to follow a standard procedure maintained by the governing authorities. Furthermore, you need to adhere to all business guidelines and never breach the code of conduct established under the laws stated by the Department of Economic Development (DED).
Here's how you can form an auto parts company in Dubai:
1. Decide the business activity
What all activities would your company handle apart from trading various auto components? Would it also serve as an on-call service or have an e-commerce store for wholesale? You need to address several questions before drafting the final list of business activities. Each business activity has independent governance, and many of them also need you to obtain a separate license. Therefore, gain an in-depth understanding of your business before approaching DED or any other governing body in the UAE.
2. Register a trading name for your company
Once you have the clarity of your business's various day-to-day activities, choose a legal trading name for your car accessories company. The name cannot have any religious or sentimental references and should also be free of any offensive or misleading terms. Hence, if you wish to use a person's name, ensure that you use the full name and not nicknames.
3. Select the ideal business location
Business location is critical and depends on business requirements, team size, networking, etc. A mainland car accessories business setup would require you to form an LLC and partner with a local sponsor who'll have 51% of the company's shares. Conversely, you can launch your company in the free zone to enjoy 100% ownership. The DUCAMZ (Dubai Cars and Automotive Zone) is a hotspot for numerous business activities pertaining to automobiles.
4. Obtain the pre-approval certificate
You can secure the pre-approval certificate by submitting the right set of documents to the concerned authority. This certificate helps you acquire the trading license, and you'll need it for submission to other governing bodies too. Also, you can collaborate with Shuraa Business Setup to obtain the pre-approval certificate for your trading business in one go.
5. Acquire a legal trade license
A legal trading license in Dubai is typically either a commercial license or a professional license. Therefore, your business activities and special approvals decide which license you'll need to secure to legalize your auto parts company in the UAE. The concerned authorities duly check all the documents you have submitted, and you get a trading license as soon as they approve the paperwork.
6. Manage visas
Do you want to stay with your family in the Emirates and work here simultaneously? If yes, you can apply for the same and get the visa approvals for all the members. You can also apply for the visas of your employees, colleagues, partners, etc. That's it. Hence, you have completed all the legal procedures, and now you can turn your focus on revenue generation and business growth of your car accessories company.
Documents required for a spare parts trading company
Documentation can become tedious if you don't know the right legislature and Dubai norms. Therefore, you should always partner with Dubai business consultants who have exponential domain experience.
Check out the list below for the required documents:
Passport copies of the partners and the owner
Registration application form
Fee receipt of the initial approval certificate
NOC from the employer if a UAE resident (or else, the tourist visa copy)
Office lease agreement (Eljari)
MoA and partnership agreement
Get started with Shuraa Business Setup
Shuraa provides expert guidance to ensure a hassle-free business formation in Dubai. Be it documentation, pre-approval certificate, business location, or anything else – we got you covered. Our business executives will do all the heavy lifting for you, and your auto parts trading company would be up and running in no time. Therefore, to book a free consultation, call on +971 44081900. Send us a WhatsApp message on +971 50 777 5554 for chat assistance. You can also write to us at info@shuraa.com for any email queries.