Introduction
At Shuraa Business Setup we nurture empowering business models with sustainable developments and growth opportunities. Setting up a business in UAE is an important decision and we help our clients take the best decisions at the most opportune time.
Our team of business experts provide qualitative services, suitable to every occupational need. We know that complex business issues require careful understanding, proper planning, objective evaluation and accurate implementations. Thus, we provide specialized advisory services in corporate, commercial, financial and administrative matters. We also enjoy a good relationship with government officials and regulatory authorities in UAE, to make things convenient and swift for you!
HISTORY
Founded under the headship of by Mr. Saeed Khalifa Mohammed Al Fuquei and his business partner Ms. Yaseem Siddique in the year 2001 – the entrepreneurial journey of Shuraa has been noteworthy.
Shuraa Business Setup was launched under the agenda to help business personnel with crucial procedures of business setup in Dubai and other parts of UAE. As well as to guide them through crucial paperwork and other governmental permissions, so that these business representatives can become brand ambassadors of UAE's uplifting economy system.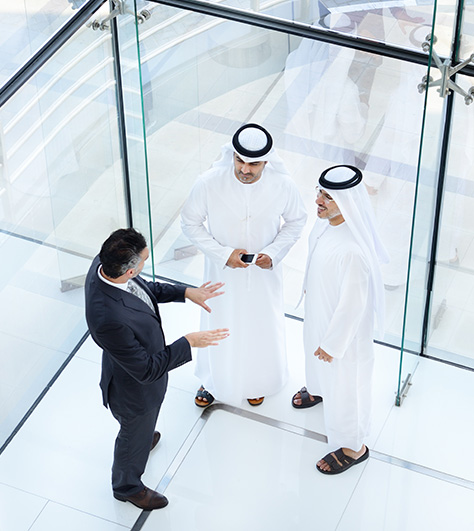 OUR ACHIEVEMENTS
Our highly motivated business culture and years of experience have resulted in achievement;
Achieved 16-years of Proven Track-Record.
Registered more than 20,000 companies in UAE.
Enabled growth of Small and Medium Enterprises in UAE.
Been a part of various International Business Summits.
Provided business opportunities ahead of Dubai EXPO 2020.
OUR SERVICES
Shuraa Business Setup provides a complete range of business setup services;
Mentoring foreign entrepreneurs and businessmen on business setup in UAE
Consultation on corporate matters, international business affairs, finance and taxation in UAE
Economical concerns and incorporation of documents required for setting a business in UAE
Convenient business setup packages from initial stages to post formation
Quick analysis of your business needs and expert guidance
At Shuraa Business Setup, we combine international consultants with local experts to make business setup in Dubai and all over UAE, a hassle-free process. Know more about Shuraa's multiple business setup services.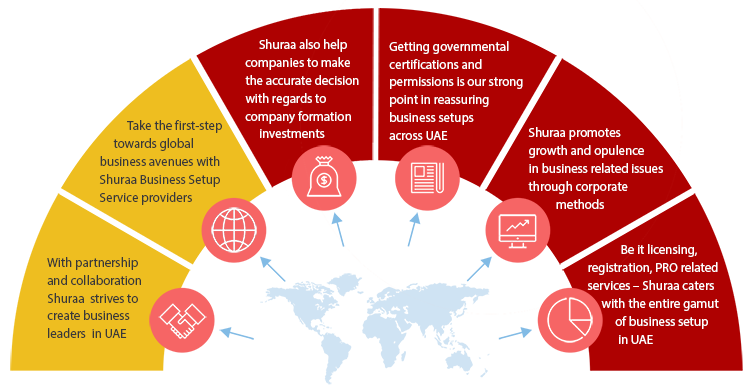 BUSINESSES WE CATER
Shuraa has formed companies across various sectors such as Trade, Tourism, Construction, Real Estate, Gold and Diamond Trade, Hotels and Restaurants, Supermarkets, Facilities Management and Manufacturing, among others.
Over the last decade, Shuraa Business Setup has evolved into a leading business setup service provider in Dubai – serving regular as well as unique business enterprises in UAE. If you have a commercial idea in mind, we can serve you!
WHAT DOES THE WORLD SAY ABOUT US?
Shuraa Business Setup provides a wide variety of services and solutions, geared towards enhancing quality and improving client service. Not just us, but the world speaks about it!
Check out what our clients have to say!
The deliverance in creating a business-friendly environment for foreign investors has been recognized by leading press and media:

Shuraa has been evident to the world, and continues to do so by mentoring budding businessmen in UAE as well as assisting them through innovative methods of business setup in Dubai and UAE.
WHERE CAN YOU FIND US?
Shuraa Business Setup - Head Office at Aspin Commercial Tower - Sheikh Zayed Road
Shuraa Business Centre at the A Hamsah Building - Zabeel Road, Karama
For the most reliable and value-for-money, UAE business setup services or for a free consultation, contact Shuraa Business Setup, drop us a quick enquiry!
Sheikh Zayed Road, Office no. 501, 5th Floor, Aspin Commercial Tower - Dubai

+971-44081900

, +97143510077

+971-507775554

+971501577739

+97143510078

P.O. Box: 78029
Subscribe to our newsletter to receive latest updates and exclusive offers.

---

Cards accepted