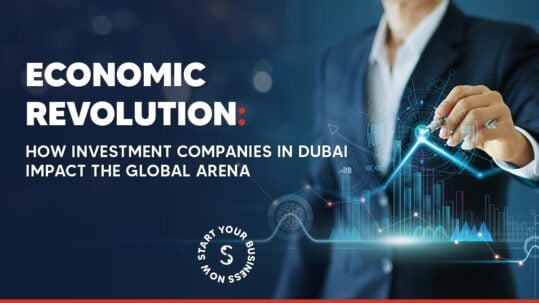 Open an Investment Company in Dubai
Dubai, United Arab Emirates, is a Middle Eastern beacon of prosperity, innovation, and opportunity. With its dynamic business climate, strategic location, and investor-friendly policies, it has become an international attraction for entrepreneurs and investors. In recent years, Dubai has strengthened its position as a fintech hub, attracting both domestic and international actors attempting to revolutionise the financial sector. As the emirate continues to embrace technological advances and strengthen its financial ecosystem, there has never been a better moment to establish an investment company in Dubai, United Arab Emirates.
Dubai has made significant progress in establishing itself as a flourishing fintech centre by keeping up with the most recent trends and developments. According to a recent Gulf Business article, Dubai is actively strengthening its fintech centre status by fostering collaboration, encouraging innovation, and providing a supportive ecosystem for fintech entrepreneurs. The International Free Zone Authority (IFZA) has been at the vanguard of this change, attracting fintech companies and venture capital investments that are reshaping the city's financial landscape. 
Conditions for obtaining an investment company license in UAE
To obtain an investment and finance firm license in the UAE, the following requirements must be met:
Obtain a business license from the appropriate authority.
Comply with all laws and regulations.
In the UAE, obtaining an investment and finance business license can be a complicated procedure. It is essential to seek professional guidance to ensure compliance with all requirements and avoid delays. 
How to obtain a license for an investment and finance business in the UAE?
Here are the stages to obtaining a license for an investment and finance enterprise in the UAE:
1. Select the proper jurisdiction
Several economic zones and emirates on the mainland of the UAE offer investment and finance licenses. Each jurisdiction has its own set of rules and regulations, so it is essential to select the one that best suits your company.
2. Register your business
After selecting a jurisdiction, you must register your company with the appropriate authorities. Typically, this entails submitting an application form, supplying confirmation of identity and residency, and paying an application charge.
3. Obtain a license
After registering your business, you must obtain a license from the appropriate authority. The licencing procedure varies by jurisdiction, but typically entails applying, providing evidence of financial solvency, and satisfying other requirements.
4. Adhere to regulations
After obtaining a license, you will be required to adhere to all applicable laws and regulations. This includes paying taxes, submitting annual reports, and maintaining precise records.
Selecting the Appropriate Free Zone
To establish an investment company in Dubai, it is crucial to choose the appropriate free zone. IFZA free zones that offer numerous benefits and cater specifically to the financial and investment industries.
 1. Dubai International Financial Centre (DIFC):
The DIFC is a globally renowned financial centre, renowned for its sophisticated infrastructure, supportive regulatory framework, and robust legal system. It offers a variety of financial services, such as asset management, private equity, and wealth management. The DIFC's business-friendly environment attracts top-tier financial institutions and international professionals.
 2. Abu Dhabi Global Market (ADGM):
The ADGM is a prominent free zone located in the capital city of the United Arab Emirates that provides a favourable environment for investment companies. It specialises in diverse financial activities, including fund management, asset servicing, financial advisory services, and innovation. The ADGM is well-known for its innovative approach, regulatory transparency, and access to an extensive investor network.
3. International Freezone Authority (IFZA):
If investments are related to foreign investments or if a company is to become a shareholder of a UAE mainland company, a company registered in the free trade zone of the IFZA that is designated for international trade and investments would be the best option for such purposes.
UAE is a prominent location for investment and finance enterprises. The country offers numerous benefits, such as a stable economy, a competent labour force, and a strategic location.
Activities Covered by the freezones
Freezone provide investment companies with a comprehensive list of permitted activities. These activities might consist of:
Asset administration
Capital management 
Investment advisory Fund administration 
Private capital 
Venture capital 
Securities exchange
Financial consultancy 
Islamic financial institutions 
Fintech advancements and more 
How do you establish a hedge fund in Dubai?
If you wish to establish a hedge fund in Dubai, you must first comply with the regulations governing this form of investment vehicle. Among these, the creation of the prospectus containing information about the investment plan, business strategies, proprietors, the value of the fund's assets, and the administration procedures is crucial. Once a legal entity is registered in Dubai, a hedge fund is created. In the UAE, hedge funds are established with a minimum capital requirement of 10 million AED. A hedge fund must be effectively promoted in the industry for which it was established, using a variety of promotion strategies. Foreign investors in Dubai may also seek the assistance of wealth management firms in Dubai, which are prepared to implement a series of business plans for the hedge fund's sustenance and promotion.
Why UAE is an Ideal Location for Investment Company Establishment?
Dubai, United Arab Emirates, is widely recognised as an attractive location for the establishment of investment company businesses for several compelling reasons:
1. Strategic Location
Dubai's strategic location at the crossroads of Europe, Asia, and Africa provides simple access to a vast consumer market and functions as a gateway to emerging economies.
Stable Economy:
The United Arab Emirates' economy is stable and diversified, with a strong emphasis on innovation, entrepreneurship, and sustainable growth.
Business-Friendly Environment:
The government of the United Arab Emirates is committed to fostering a business-friendly environment with investor-friendly policies, minimal administration, and supportive regulatory frameworks.
Infrastructure and Connectivity:
Dubai provides world-class infrastructure, modern transport systems, cutting-edge communication networks, and a well-established logistics network.
Global Talent Pool:
The UAE attracts highly qualified professionals from all over the globe, granting access to a diverse and talented labour force.
Economic Free Zones:
Free zones, such as IFZA, provide investment companies with specialised environments, incentives, and streamlined procedures.
How Shuraa Business Setup assist in starting an investment company in Dubai?
Shuraa Business Setup is best business setup consultants in the UAE specialising in assisting entrepreneurs and investors with the establishment of their businesses. Shuraa Business Setup can provide exhaustive assistance with the process of establishing an investment company due to its vast experience and in-depth knowledge of the local market. Their services consist of company registration, licencing, visa processing, legal and compliance assistance, office space solutions, and ongoing business advisory services. By partnering with Shuraa Business Setup, you can take advantage of their expertise and ensure the seamless and efficient company formation of your Dubai investment company.
Establishing an investment firm in Dubai, United Arab Emirates, offers vast opportunities for growth and success. Dubai is an ideal location for investment enterprises due to its strategic location, investor-friendly policies, world-class infrastructure, and specialised free zones, such as IFZA. By meticulously contemplating the appropriate free zone, comprehending the permitted activities, preparing the required documents, and seeking expert guidance from firms such as Shuraa Business Setup, you can establish your investment company formation in Dubai with success. Embrace Dubai's dynamic business environment and capitalise on its immense investment and entrepreneurial potential.
Get in touch with Shuraa to speak with one of our seasoned Dubai business establishment experts for free.  Call us at +971 4 4081900, contact us via WhatsApp at +971 50 7775554 and reach us at info@shuraa.com.