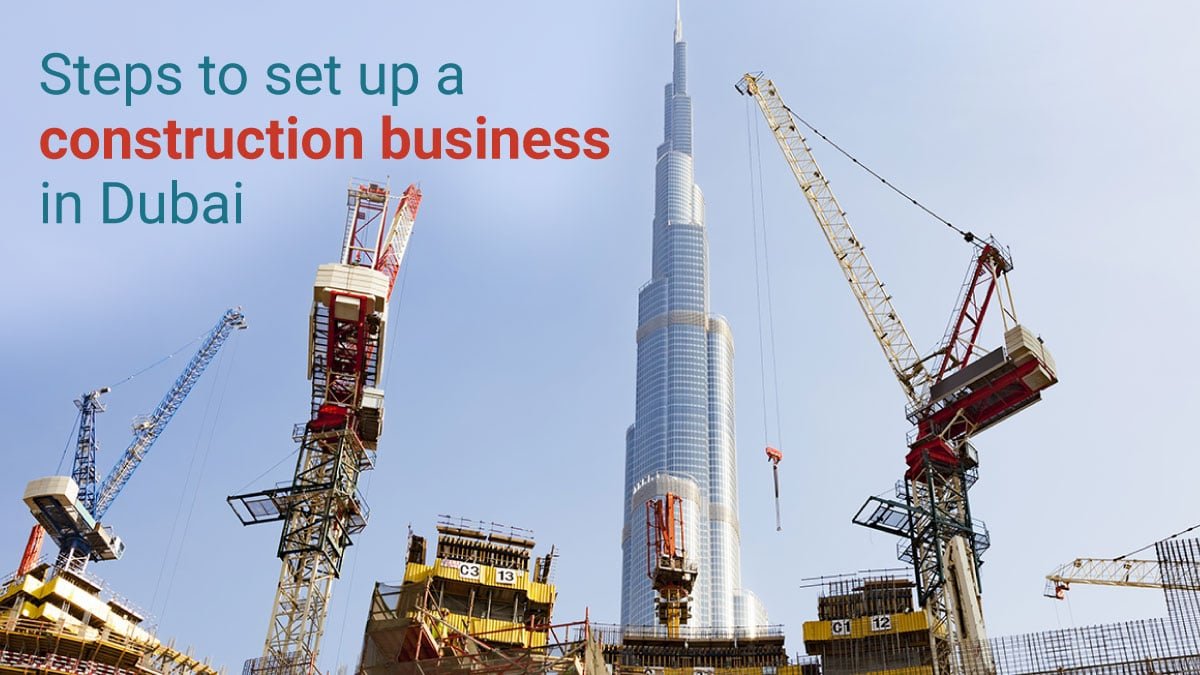 Steps to start a construction business in Dubai, UAE
UAE is a fascinating place with a stunning skyline and tall skyscrapers. The nation offers plenty of business opportunities for foreign investors. UAE has experienced unheard-of growth in the construction industry; Dubai continues to rank second in terms of construction. It's not very far to get to the first position! This comprehensive guide will show you how to launch a construction business in the UAE.
Now, how do you start a construction company in the UAE? The construction industry is being continuously supported by investments in tourism. UAE is recognised as one of the world's most amazing countries in terms of architecture. So there are lots of opportunities for success when starting a construction company.
One of the most alluring and fascinating nations in the world is Dubai. Since the beginning of time, this nation has undergone transformation, and it is now at its most beautiful. The most appealing location in Dubai features a variety of eye-catching landmarks, lovely beaches, and skyscraping infrastructure. Due to its excellent infrastructure, diverse population, high GDP, high standard of living, tax-free environment, and adaptable business opportunities, Dubai attracts both tourists and business travellers. Due to these factors, Dubai is among the top locations in the world for starting a business.
The construction industry in the UAE is one of the highest-grossing industries. The Burj-al-Khalifa, the world's tallest building, as well as Marina 101, the tallest residential structure in the world, are both located in Dubai. The Princess Tower and Burj-al-Arab are two more of Dubai's most recognisable buildings.
The government of Dubai has authorised USD 6.8 billion for the redevelopment of the Abu Dhabi International Airport and USD 7.8 billion for the expansion of the Dubai International Airport.
How to start a construction company in the UAE
The process to form a construction company in the UAE involves a lot of paperwork. Furthermore, you need to get numerous approvals and licences to run a full-fledged building company. Here's a stepwise procedure to go about it:
Choosing between a company formation in the Mainland or a company formation in the Free Zone is the first step in forming a company in Dubai.
Beginning company registration at the Department of Economic Development would be the following action (DED). The commercial sector category includes the construction industry, for which a commercial licence is required. To launch any business in Dubai, you must have this licence.
The next step after obtaining a licence to open a business in Dubai is to employ experts like engineers and business consultants in Dubai who can submit an application for a "building permit" on your behalf.
The next crucial step will involve hiring experts to evaluate the soil for construction and determine the properties of the soil.
In the case of the Mainland Company, additional activities include securing a building licence from the Dubai Municipality. It is referred to as the G+1 permit in the context of a free zone. Other licences, such as the environmental licence and the civil work permit, must be obtained.
How do I get a construction company license in Dubai
One must first choose whether to form Mainland or Free Zone Company when opening a construction company in the UAE.
In order to set up a construction business in Dubai, numerous clearances, licences, and approvals are needed. The registration for a construction licence comes first on this list. The business entity can then hire engineers, site in-charge staff, and workers of various kinds after securing the permit. Another legal document needed before any construction activity can begin is a building licence.
In order to lay the groundwork for a residential or commercial structure, the Dubai Municipality issued the licence and G+1 permit.
In addition to clearances, the establishment of a construction company in the United Arab Emirates requires several specialised permits from the departments of civil works and the environment. Some of the required approvals requested by the Dubai authorities are discussed below.
Drainage and irrigation department – This department is responsible for liquid waste management as well as other disposable services.
Water and electricity department – confirmation that the occupants will have access to basic amenities.
Building department and Dubai Civil Defence Authority – Both institutes are responsible for ensuring that construction standards are followed.
Different Dubai Construction License Types
A unique set of paperwork and rules follows each type of construction licence.
Dubai Building Contractor's Licence
Activity Code : 452001
Activity Group :Contracting and Building Works
Type of License : Commercial
A company with a building contracting licence in Dubai is permitted to participate in constructions of all types and for a variety of purposes. The number of floors to be built shall be determined by Dubai Municipality and will primarily include residential, farm, industrial, commercial, school, hospital, airport, public, and agricultural buildings, as well as building adjusting, general maintenance, interior decoration, landscaping, electrical fittings, and sanitary plumbing.
Wrecking & Demolition license in Dubai
Activity Code : 451001
Activity Group : Contracting and building works
License Type : Commercial
Included in this activity are companies authorised to demolish buildings and other structures that are about to collapse or that need to be replaced using a variety of methods, including cranes for tall buildings, excavators and manual labour for medium-sized buildings, and explosives for building implosion.
Steel Constructions Contracting License in Dubai
Activity Code : 452008
Activity Group : Contracting and building works
License Type : Commercial
Steel Buildings contracting licence in Dubai specialised in carrying out all steel construction-related operations, including the installation of prefabricated steel buildings on the job site, including factories, warehouses, hangars, sheds, bridge structures, and tunnels. It also carried out all civil work necessary for such installations, primarily foundation piling, floor paving, and lay connections. Companies that produce such structures are classified under class 2811, and Dubai Municipality will determine how many floors are involved.
Building Maintenance License
Activity Code: 454007
Activity Group: Building maintanence, surveillance and cleaning services
License Type: Commercial
The only operations covered by a building maintenance licence in Dubai are those related to maintaining the physical structure of the building, excluding any equipment or additions that may be present inside.
Business opportunities for construction company in the UAE
The construction business is one of the highest-grossing business sectors in Dubai. The region is home to several tall buildings like the world's tallest building – Burj al Khalifa and also the world's highest residential building – Marina 101.
Apart from these, Princess Tower and Burj al Arab are some of the finest structures in Dubai. In the GCC region, there's a competition for skyscrapers, and Dubai is above all regions.
The government of Dubai is undertaking many special development projects for the expansion of the tourism industry. Projects like man-made islands such as Palm Jumeirah and others like Deira Island, Maritime City have opened the doors for the advancement of the construction business in the Emirates.
For the development of transportation infrastructure, the UAE has initiated some projects with enormous investment plans. The expansion of Dubai International Airport and renovation of Abu Dhabi International Airport are some examples of major opportunities for construction companies in the region.
A construction company is a profitable avenue in Dubai irrespective of the type of building establishment business. Many such projects and opportunities are growing daily. If you successfully grab these opportunities, then a bright future is surely awaiting for your building venture.
You can connect with the business experts at Shuraa, and we'll help you complete all these steps with our 24X7 support and guidance.
Connect with Shuraa
Nothing matches the feeling of owning a company in Dubai. It's the best place to establish your dream construction company because of friendly laws and the presence of healthy competition. Moreover, opening a business in Dubai isn't complicated when you take the help of Shuraa business setup.
Our legal advisors and consultants provide unmatched assistance in setting up your construction business in the UAE. Be it paperwork, rental space, or additional approvals – we get it done for you in a quick time.
Furthermore, we do all of that and more at nominal prices, always prioritising your budget. Call at +971 44081900 to connect with our experienced consultants. You can also send a WhatsApp message at +971 50 777 5554. For email assistance, you can write to us at info@shuraa.com.