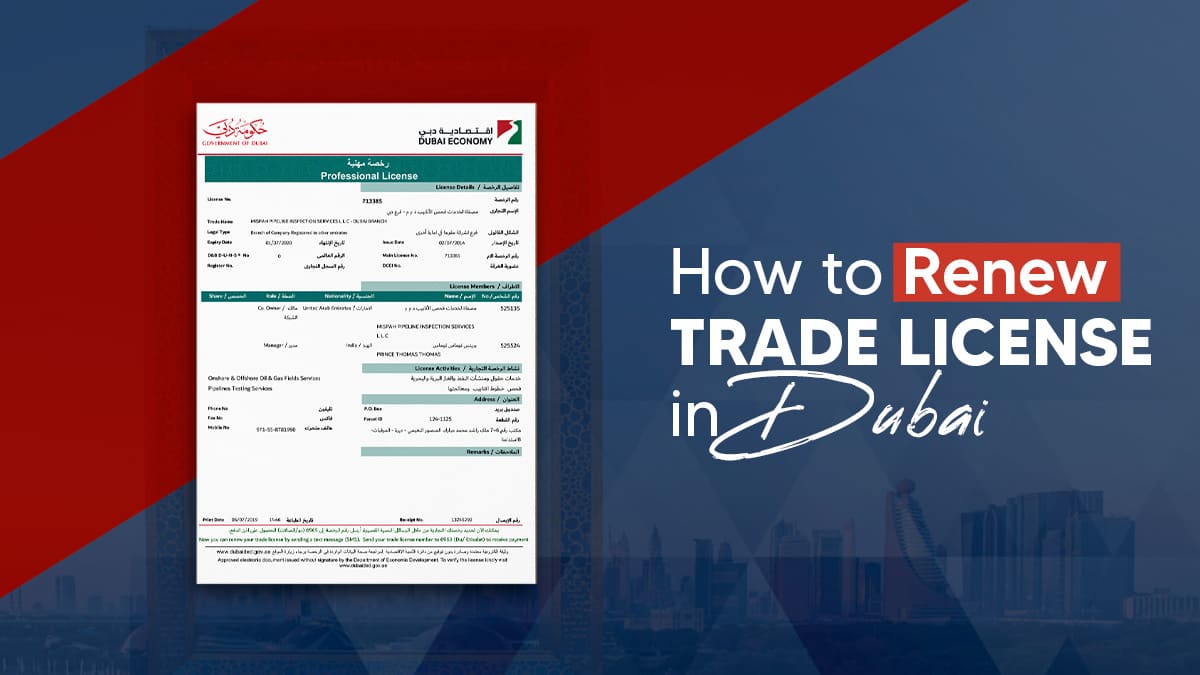 How to renew trade license in Dubai
Dubai is one of the countries that has made it compulsory for every firm and organization to have a business license. For the same reason, annual trade license renewal in Dubai is compulsory. This process is under the supervision of the Department of Economic Development in Dubai. The license renewing process is straightforward, but you might need to deal with a lot of documentation.
It's very important to renew a license in time, and if not renewed it can cause problems such as penalties, banning of business, or some other serious issues. Before you learn about license renewal you must be aware of trade licenses. To establish a business or trade in a particular country, applicants need to have a written document that provides them the legal permission to carry out their activities. The license does not allow any trade except the one it has permitted.
Furthermore, it does not give any ownership of property on which the applicant is trading. It's just a simple document that shows the legality of your business. If you have set up your business in Dubai, it's imperative to get your trade license and renew it from time to time to ensure the smooth functioning of your company. You don't have to worry about the process of trade license renewal in Dubai when you partner with local business setup consultants.
Documents required for trade license renewal in Dubai
The trade license you are issued is valid for only one year and must be renewed yearly. The application for renewal of the trade license must be submitted before 30 days of expiry. In case you fail to do the same, a late fee can be imposed on you, which is AED 200 per month (excluding external penalty, if any). There are almost 50 free zones in the UAE, and all have their unique requirements for the trade license renewal process. Below is the list of required documents:
1. Ejari registration
For renewal of the license, it's necessary to possess a registration certificate from Ejari. It's compulsory to have a tenancy certificate that is approved by Ejari, or else a fine will be imposed on you.
2. Tenancy contract with validity
To renew the license one must have a tenancy contract that still has a validity of one month or more. For applying you must first check and verify your tenancy contract. Moreover, this contract must be confirmed by Ejari. If your contract does not have a validity of at least one month, your trade license renewal request can be rejected under legal obligations.
3. A copy of your old trade license
You need to attach a copy of your old license to get it renewed. You cannot apply for a trade license renewal if you don't have the mandatory permits that allow you to carry out your business activities in the UAE.
4. BR/1 form
BR/1 form is a license renewal form that must be filled and submitted to start the process. You must type a BR/1 form with the signature of existing partners and submit it to the DED for approval. All the documents must be attached to this form before submitting.
5. Photocopy of passport of all business partners
A passport photocopy of each business partner must be mandatorily submitted to show the stakeholders involved in your business. If you don't have any partner you shall submit only yours.
You can submit your renewal form to the DED with all these mandatory documents. Moreover, there are two processes of applying for renewal, i.e., online and offline. You can choose any one of them at your convenience. All regulatory procedures and evaluations are performed by the governing bodies in Dubai irrespective of the application method.
How much does it cost to renew a trade license in Dubai?
The standard fee for trade license renewal in Dubai is anywhere between AED 8,000 to AED 15,000. Furthermore, the trade license renewal cost in Dubai depends on the jurisdiction and economic zone. To get a detailed quote, based on your individual requirements, get in touch with our experts at Shuraa Business Setup.
The best part is that you can avail the trade license renewal Dubai discount for accommodation fees if you have a residential Ejari. Furthermore, you can also get sizable discounts on the overall Chamber of Commerce fees.
Step by step method to renew your trade license in Dubai 2023
An expired trade can pose problems to your business activities. You need to renew it within time to ensure that your company meets the desired standard of compliance. Here's how to renew a trade license in Dubai:
Check your tenancy contract: to apply for trade license renewal in Dubai, you must first check your tenancy contract and ensure that it's valid for at least one month. An invalid license is not renewable.
File-in your application to the DED: fill the BR/1 form and attach all the necessary documents with it, and then submit it to the Department of Economic Development. The body will perform the necessary checks and get back to you in a few days.
Receive the payment voucher: once your application for trade license renewal gets verified, the DED sends a payment voucher so you can pay the renewal fees.
Make a payment: after you receive the voucher, all you need to do is make the payment and complete the registration process. That's it. Your trade license is as good as new. The DED only issues renewal after the completion of payment. You can also use the mobile app to apply for the renewal of your trade license.
Consequences of not renewing your trade license in Dubai
A valid trade license is one of the critical factors that ensure smooth business functioning in the UAE. Trade license renewal in time saves you from the possibility of banning or blacklisting your company. Always keep a check on your tenancy contract and trade license. Note that if you fail to renew the license before the expiration date, it can lead to legal repercussions. Some of them include:
Penalties: The DED in Dubai has all legal rights to impose monetary fines on businesses that don't renew their trade licenses. A penalty of AED 5,000 can be imposed on the institutions that operate without a trade license. Furthermore, a penalty of AED 250 per month is applicable on traders who trade after the expiry of the trading license.
Blacklisting business: The company that operates without a trade license or with an expired one exposes their business to the risk of being blacklisted. This will lead to the termination of the operation of the entire company.
Banning the company: If you operate your enterprise with an invalid trading license in the UAE, the DED can shut down your company at any time. This is a serious consequence, and you may not be able to re-establish your enterprise in Dubai.
Connect with Shuraa
Trade license renewal in Dubai is easier than ever when you get in touch with Shuraa Business Setup. Our business setup experts will help you throughout the renewal process to ensure that everything's in order. Be it the documents, paperwork, approval, or anything else – we got you. We ensure that our clients focus on business growth activities by assisting them right till the end. So, what's the wait for? Connect with Shuraa today. To get in touch with us, call at +971 44081900. You can also send a WhatsApp message at +971 50 777 5554. For email assistance, mail your query at info@Shuraa.com