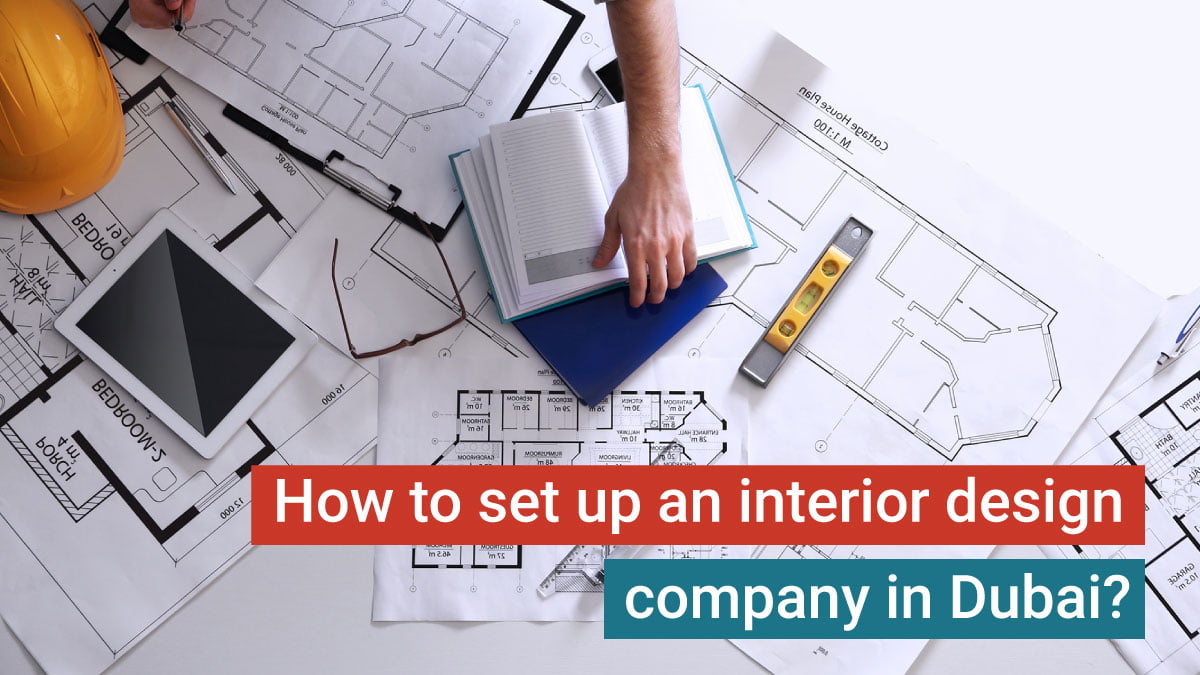 How to set up an interior design company in Dubai
A wealthy nation like the UAE sets benchmarks in various sectors for others to follow. Interior designing is among those sectors and the results continue to mesmerize designers from all over the world. If you're looking to set up your interior design company in Dubai, all you need to do is get in touch with business experts to discuss your requirements.
The interior companies in Dubai belong to the premier category. Thus, many high-profile clients also prefer to get their projects done by Dubai's interior design agencies. Furthermore, it's a booming sector and predictions only forecast more surplus in the coming years.
Steps to form an interior design company in Dubai
The process to launch an interior design agency is straightforward and time-efficient. Here's how you can set up your interior design company in Dubai:
1. Trade name reservation
Make a list of three to four names for your interior design company. Thereafter, submit them to the concerned authority and wait for their approval. Don't violate any of the naming convention guidelines while compiling the list of names. Trading names that are offensive, derogatory, insulting, attack a person's religion or sentiments, are strictly prohibited. So, use the full name of a person and not any nicknames if you want the company to be known by that name.
2. Finalize the company's structure and location
Do you want to enjoy 100% ownership of your company or wish to be the sole proprietor of your business? Then, you should form your interior design company in a free zone. The Dubai Design District (D3) is one of the prominent free zones that provide ample opportunities for interior designing enthusiasts. Moreover, you can go for the Dubai Studio City (DSC) free zone depending on your business requirements. If you want a location in the heart of the city with convenient access to the local market, you should prefer a mainland establishment. Here, you'll need to partner with a local sponsor and acquire the business license from the DED.
3. Rent an office space
Once you're sure of where you want to form your interior design company, it's time to rent an office space. You'll need to obtain the tenancy contract from the tenant and the same would be used during the license approval process. Therefore, renting an office space in Dubai is beneficial because it saves you from hefty upfront costs and you can easily shift from one location to another.
4. Obtain the license
Be it the interior companies in Dubai or any other legal entities, all need a legitimate license to function in the UAE. You need to take care of the necessary paperwork, pay all the fees on time, submit the required information, etc., to obtain the interior designing business license. You can collaborate with business consultants who'll help you acquire this license in quick time and at very nominal costs.
5. Get additional approvals
The professional niche of interior designing involves various business activities. They include interior architecture, space planning, conceptualization, and many more. It can also be an interior designing consultancy firm or a maintenance office. If any of your business activities include tasks not mentioned under the license's permit, you need to obtain additional approvals from the governing authorities. These approvals ensure the risk-free functioning of your interior design company in Dubai.
6. Manage visas
Are you coming with your family to do business in the UAE? Would you hire domestic employees to get daily chores done for you? You can apply for multiple visas for your family, staff, partners, etc. Follow the guidelines for visa issuance and apply accordingly to the concerned jurisdiction.
7. Open a corporate bank account
After you're done with all other steps and have the interior business license in your hand, you can finally open a corporate bank account for your firm. Spend time researching about the various banks in Dubai to understand their offerings and shortcomings. Choose the one that inclines with your business needs. You're all set to run your interior design company in Dubai and make a name for your brand in the UAE's competitive marketplace.
Benefits of starting interior companies in Dubai
Over the years, the demand for skilled interior designers has increased and Dubai is attracting designers from all over the world by providing them significant advantages to start their business. Some of them include:
1. Open economy
An open economy is a kind of market where not only domestic companies but also entities from other countries influence business activities. A trade can include the form of managerial exchange, exchange of technology, etc. Dubai is an open economy that supports trade and business activities across the countries. With the growing economy of GCC, there are a plethora of opportunities for interior designers in Dubai. They can collaborate with businesses and companies from nearby nations and mark their international presence.
2. Negligible tax
You can save a lot of money from the profits, thanks to the lenient tax policy in Dubai. You will retain the major amount and can use the money for some other productive use. The tax policy of the UAE continues to attract more investors from around the globe. Furthermore, companies can enjoy the benefit of a zero corporate tax system here and increase their revenue charts.
3. Special licenses for artists and designers
The interior design business in the UAE has a simple setup and registration process. To get started, you generally need a professional service license, including any visas you may require. However, you can opt to become a freelance interior design consultant. You will need a freelance license or permit to trade as a freelance interior designer. DCCA free zone provides this freelance license which is known as Interior Design Consultancy License or an Interior Designers Permit. Therefore, to acquire these special licenses, you need to complete the paperwork and must have a relevant degree and some experience in this field.
4. Work-friendly infrastructure
Dubai provides a work-friendly infrastructure and environment to companies. It's reported that infrastructure spending will increase in the UAE, thanks to several projects like World Expo 2020 and many others. The increasing number of business projects in the Dubai region opens the doors for interior designers to step up and expand their businesses. The strategic location and growth of industries in Dubai have led the market to develop at a brisk pace.
5. Increased demand for commercial and residential buildings
Dubai is the home of many world-class buildings with unique designs like the Burj Khalifa and the Marina 101. The demand for such unique and creative wonders is constantly increasing in Dubai. If you possess relevant skills and experience, you can easily grab opportunities in such markets. The corporate sector is developing rapidly and both retail and residential ventures have increased sharply in the past years. Therefore, interior designing is now at its peak and it's surely the right time to enter the field.
Documents required
To start an interior design company in Dubai, you need to have or secure all the relevant documents. They include:
Getting initial approval for an interior design company in Dubai:
Precise business plan
Passport copies of shareholders, directors, and the managers
Incorporation certificate copy or copy of trade license
Registration of interior companies in Dubai:
Application form for company registration
Attested and notarized Memorandum of Association (MoA)
Post-dated checks
Board resolution
Notarized copy of the certificate of incorporation
No Objection Certificate (NOC) from the present sponsor
Consult with Shuraa
You have taken an excellent decision to invest your time and money in an interior design company in Dubai. Now, all you need to do is collaborate with Shuraa Business Setup to get the right guidance needed to establish your business in the UAE. Be it in the free zone or mainland, we have got you covered. Let's talk and take things forward today.
Connect with Shuraa today by calling us on +971 44081900. For chat assistance, send a WhatsApp message on +971 50 777 5554. You can also write to us at info@shuraa.com.