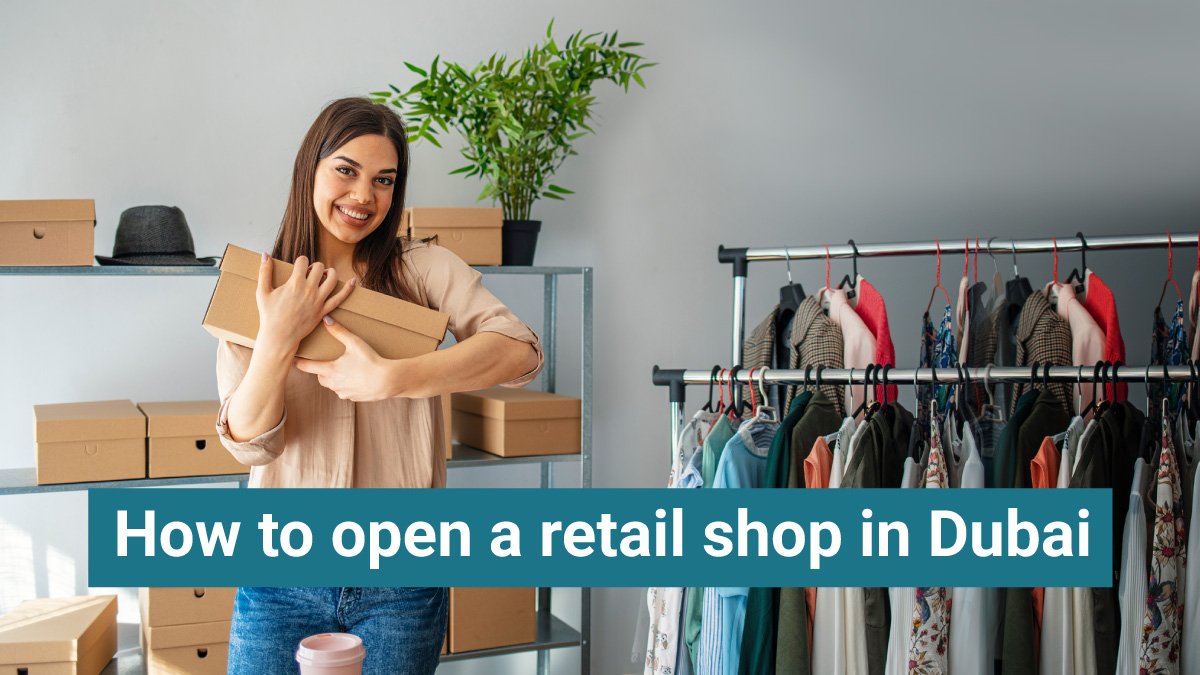 How to open a retail shop in Dubai?
Dubai is a bustling and dynamic city that has become a hub for international trade and commerce. As a result, opening a retail shop in Dubai can be a lucrative business opportunity for entrepreneurs looking to tap into this market.
However, navigating the process of setting up a retail shop in Dubai can be complex and challenging, especially for those who are unfamiliar with the local laws and regulations.
In this blog, we will provide a step-by-step guide on how to open a retail shop in Dubai, covering everything from obtaining the necessary licenses and permits to finding the right location and hiring staff.
Whether you are a seasoned entrepreneur or a first-time business owner, this blog will provide you with the information you need to successfully obtain a shop license in Dubai to launch your retail shop in UAE.
What makes your retail shop unique?
When opening a shop in Dubai, it's important to consider what sets your business apart from others in the market. With the city's competitive retail landscape, having a unique value proposition is essential for attracting customers and standing out from the competition. Here are some tips for making your retail shop unique:
Identify your target audience
Understanding your target audience's needs and preferences is crucial for creating a unique retail experience. This will help you tailor your products and services to meet the specific needs of your customers.
Offer a unique product or service
One way to differentiate your retail shop is by offering a unique product or service that isn't readily available elsewhere in the market. This can be anything from a specialized product line to a customized shopping experience.
Create a distinctive brand
Your brand is what sets you apart from your competitors, so it's important to create a strong and distinctive brand identity. This includes everything from your logo and store design to your marketing and advertising strategies.
Provide exceptional customer service
Excellent customer service is a crucial element of a successful retail business. By providing a personalized and attentive shopping experience, you can create loyal customers who will recommend your store to others.
Emphasize sustainability
With growing concerns about the environment, many consumers are looking for eco-friendly and sustainable products. By incorporating sustainable practices into your business, you can appeal to environmentally conscious customers and differentiate your store from others in the market.
Benefits of Starting a Retail Business in Dubai
Dubai is a global hub for commerce, tourism, and investment, making it an attractive location for retail businesses. Here are some of the benefits of opening a store in Dubai:
Strategic Location
Dubai's strategic location provides access to a large consumer market of over two billion people in the Middle East, Africa, and South Asia. Dubai is also a major transport hub connecting Asia, Europe, and Africa, making it an ideal location for businesses looking to expand globally.
Low Business Costs
The cost of doing business in Dubai is relatively low compared to other global cities. Rent, utilities, and labor costs are all relatively inexpensive, making it easier for businesses to maintain profitability.
Strong Infrastructure
Dubai boasts a modern and sophisticated infrastructure, including world-class airports, seaports, highways, and telecommunications networks. This infrastructure makes it easier for businesses to import and export goods, communicate with customers, and transport goods within the city.
Large Consumer Market
Dubai has a large and diverse consumer market, with a high percentage of expatriates and tourists. This presents a significant opportunity for retail businesses, as they can cater to a broad range of consumer needs and preferences.
Pro-Business Environment
Dubai is known for its pro-business environment, which is characterized by a favorable regulatory framework, a transparent legal system, and a supportive government. This environment makes it easier for businesses to operate and expand in Dubai.
Tourist Destination
Dubai is a popular tourist destination, attracting millions of visitors each year to open a shop in Dubai is a good Idea. This presents a significant opportunity for retail businesses, as they can benefit from the influx of tourists who are eager to shop and explore the city.
In summary, opening a retail shop in Dubai offers numerous benefits, including strategic location, tax benefits, low business costs, strong infrastructure, large consumer market, pro-business environment, and tourist destination.
Documents Required to Open Retail Shop in Dubai
The specific documents required to open a retail shop in Dubai may vary depending on the type of business activities and ownership structure. However, in general, the following documents are typically required to register and open a retail store in Dubai:
Passport copies of all shareholders and managers involved in the business.
A copy of the owner's Dubai residence visa or other relevant visa documentation.
Passport size photograph
An ownership deed or lease agreement for the official site of your retail shop, which should meet all necessary zoning and safety requirements set by the Dubai Municipality.
What are the Steps to Open Retail Shop in Dubai?
Several procedures must be followed to open a retail store in Dubai. These procedures include securing a business license, registering the firm, renting a commercial location, and securing the essential government permits.
Here is an overview of the process:
Choose a Business Activity:
Prior to starting a retail business, choose the industry you want to enter and the area you want to operate in. If you want to be sure that your business activity is allowed in the place you've selected, check with the Department of Economic Development (DED).
Register your Company:
You must register your business with the DED to start a retail store in Dubai. This includes selecting a company name, agreeing on a legal structure, and filing the necessary paperwork.
Obtain a Business License:
You might need to acquire a certain kind of business license depending on the kind of business you intend to run. To identify the right license for your retail store, get in touch with Shuraa.
Lease a commercial space:
To run a retail store after getting your business license, you'll need to rent commercial space. Ensure that the area you select is designated for commercial use and secure any required permissions from the local government.
Obtain necessary approvals:
You could require extra permissions from various governmental or regulatory authorities, depending on your line of work. For instance, the Food Control Department of the Dubai Municipality must approve any plans you have to sell food goods.
Hire employees:
You might need to recruit staff after your retail store is up and running to assist manage it. For your staff, you will need to get the required work authorizations and visas.
Start operating:
You can formally establish your retail store in Dubai once you've taken all the needed actions and received all the relevant approvals.
To make sure you take all the required actions and adhere to all legal regulations, it is advised to speak with our business setup consultants, who has expertise in setting up retail enterprises in Dubai.
How much does it Cost to Establish a Retail Store in Dubai?
Are you wondering how much it would cost to open a retail store in Dubai? Starting a retail business will cost approximately AED 22,000 depending on the specific activity. This price can vary depending on the business activities that will be carried out. There are also additional costs, such as leasing a store and paying staff salaries.
Conclusion
Opening a retail store in Dubai is a promising opportunity for entrepreneurs looking to expand their business and tap into a thriving consumer market.
With its strategic location, tax benefits, low business costs, strong infrastructure, pro-business environment, and status as a top tourist destination, Dubai offers numerous advantages to businesses looking to succeed in a competitive market.
However, opening a shop in Dubai requires careful planning, research, and compliance with local regulations.
For more details, contact Shuraa Business Setup for all your business management and company formation services in UAE. At Shuraa we ensure that you get every resolution to the constraints that you might face during a business setup in Dubai. Contact us by phone at +971 4 4081900 or via WhatsApp at +971 50 7775554. Instead, you can visit www.shuraa.com and send us an email at info@shuraa.com.