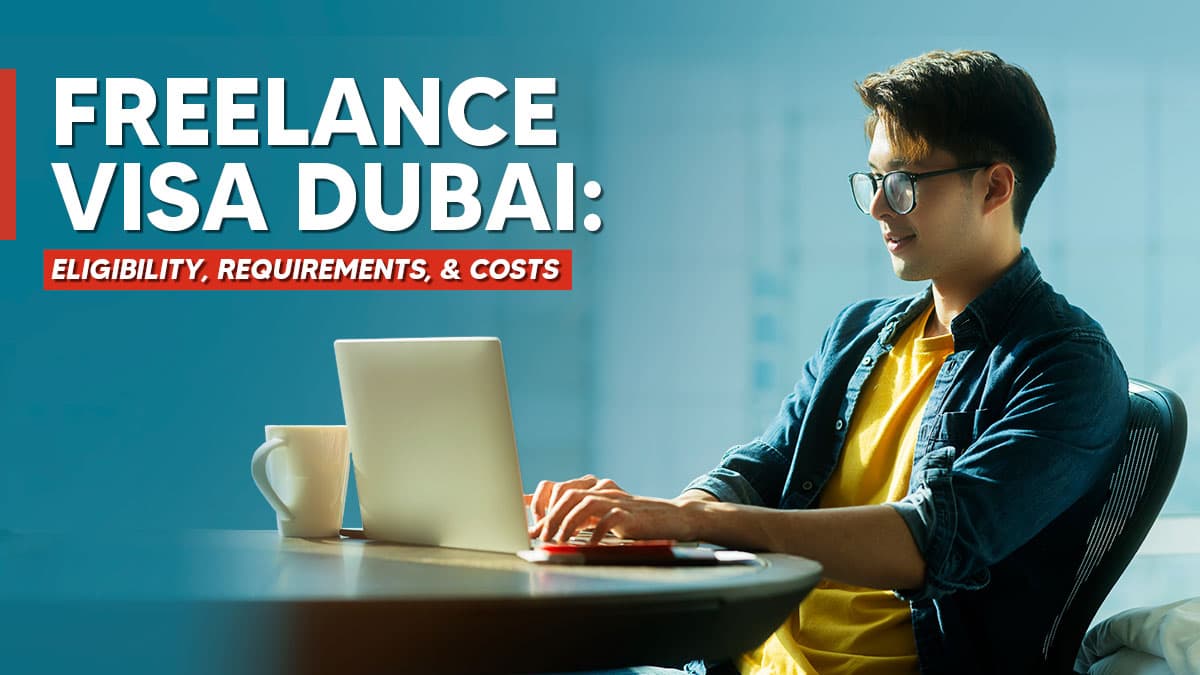 Freelance Visa Dubai: Eligibility, Requirements, and Costs 
To attract creative minds to the country, the UAE has introduced freelancing visas for a variety of categories. You can lawfully do business in the UAE and offer consumers professional services by obtaining a freelance visa in Dubai.
Numerous free zones in the UAE, including twfour54, Ras Al Khaimah Economic Zone, Dubai Media City, Dubai Internet City, Dubai Knowledge Park, Dubai Design District, and Ajman Free Zone, provide locals and visitors with a variety of freelancing visas to operate in the country. People can work in their respective fields anywhere in the UAE regardless of whatever free zone they apply for the visa from.
Do you think a life as a freelancer would be ideal for you? The next step is to obtain a freelance visa!
Visa needed: Freelance Visa
Visa cost: The total for a freelance visa Dubai cost starts AED 20,000.
Processing time: Up to 20-30 days to process.
Visa validity: 2 years
Why Start a Freelance Business?
Want to be your own boss without having to lease an office space?
Giving up your 9 to 5 job and working for yourself as a freelancer is a long-held desire for lots of individuals. More people are drawn to working for themselves because of changes to the workplace climate in the UAE. This goal may soon come true for many business owners in Dubai and Abu Dhabi because freelance permits are now easier to obtain and more reasonably priced.
Most independent contractors work in the industries of software development, graphic design, social media, health and fitness, and architecture. Most freelancers are between the ages of 21 and 30.
What is a Dubai Freelance Visa?
Numerous free zones in Dubai and the rest of the UAE grant freelance permits to Indian nationals. You don't absolutely need a sponsor or to be employed by any organization in the UAE in order to obtain a freelance permit.
It is a UAE work visa for independent contractors. Indian nationals are eligible to apply for a license or permission that would allow them to work as independent contractors in Dubai full-time.
You can apply for a Dubai freelancing visa once you have the freelance license.
Freelancer's visa Dubai is a sort of UAE residency; thus, you are permitted to live and work in the UAE for a period of one to five years with your family.
Nationals of the UAE, citizens of the UAE, residents, and non-residents can all obtain a freelance permit.
Various Freelance Visa Types in Dubai
In accordance with the most recent changes made public by the government, there are various sorts of freelance visas available in Dubai.
Freelance visa and work permit in Dubai for residents
Those who are already resident in Dubai needed to have a freelance work permit due to their parent's or spouse's visas. Even if you work a full-time job, you are still able to apply for a permit. However, in these circumstances, you'll require a NOC (No Objection Certificate) from your employer or sponsor.
Dubai freelance visa for non-residents
To obtain a residency permit if you do not currently reside in the UAE, you must apply for a freelancer visa. With this permit, people are able to live and work as independent contractors in Dubai. You must also submit a visa application for residence.
Dubai talent pass
The Dubai Talent Pass was introduced by the Dubai Airport Free Zone Authority (Dafza), Dubai Culture, and the General Directorate of Residency and Foreigners Affairs (GDRFA). This project aimed to draw in international talent.
This makes the emirate a desirable place to live and work for independent contractors in the fields of technology, marketing, art, media, education, marketing, culture, and consulting.
When applying for the Dubai Talent Pass, the fee for a freelance visa in Dubai is AED 9,500. The visa is renewable annually. The renewal costs vary depending on your line of work. Visit the DAFZA website to apply for the pass.
Freelance and self-employment green residence
The Green Visa for freelancers is a 5-year residency visa designed for independent contractors and self-employed people. Without a job at a business or a sponsor, you can apply for this visa.
Documents Required in Dubai to Receive a Freelance Visa
Here is the necessary paperwork to get a freelance license:
A completed application forms.
Passport copy.
Passport-sized photo.
CV that has been updated.
Academic credentials certified by the Ministry of Foreign Affairs or the UAE Consulate.
Two professional references (with contact details).
Letter of intent or a job offer that includes information about your work history and personal and professional background.
Your sponsor must issue a No Objection Certificate (NOC), if necessary.
Your application and supporting documentation will be evaluated by the relevant free zone authorities.
What are the Eligibility criteria to obtain freelance visa in Dubai?
To qualify, you must fulfil the prerequisites listed below.
Obtain a permit from the Ministry of Human Resources and Emiratization to work for yourself or as a freelancer.
Minimum bachelor's degree or specialist diploma in education required.
A minimum self-employment income of AED 360,000 per year for the previous two years is required, or the applicant must demonstrate their ability to make ends meet throughout their stay.
Benefits of a freelance visa in Dubai
Having a freelance permit and visa in Dubai has many advantages.
It first allows you the freedom to work for various businesses. Being a freelancer in Dubai can be the best course of action for your career if you want to work in any of the industries but don't want a 9-to-5 employment.
Second, because a freelancing visa is so inexpensive in Dubai, you may charge significantly less for your services. More freelancers can enter the market thanks to low starting costs and lack of office space requirements.
Third, having a freelance visa and permit in Dubai gives you access to the free zone's business hub and the ability to work as an independent contractor for businesses throughout the UAE.
Fourth, you can invite family members to move in with you using the freelance visa in Dubai. Check out the UAE family sponsorship guide for more information. However, keep in mind that you cannot sponsor employees using your visa and authorization for independent work.
Last but not least, you can start your freelance career by searching the official marketplace website for a variety of jobs and assignments. You can contact organizations and people looking for independent contractors with skill sets.
What Is the Cost of a Dubai Freelance Visa?
You must be aware of the cost of a freelance visa in Dubai before deciding whether to apply for your freelance employment visa (which is distinct from your residency visa or UAE resident visa). Freelance Visa cost 2023 starts at AED 20,000 with validity for 2 years. Remember that if a freelancing visa is required by the Dubai Development Authority, there can be extra fees for a permit. There may probably be fees associated with your freelance visa as well. A government agency engaged in real estate, urban planning, and economic development is the Dubai Development Authority. Under the Dubai Development Authority, this freelance visa has a three-year term, is renewable every three years, and comes with an immigration card and insurance. 
UAE government encourages freelancing for Entrepreneurs
It goes without saying that to succeed in your professional strategy, you must have the necessary abilities, motivation, and business expertise. Going alone can be difficult and isolating at first, so it may not be for everyone. Keep in mind that you are not alone. The UAE government aggressively encourages individuals to choose to obtain a freelance visa in Dubai. Authorities in Abu Dhabi and the United Arab Emirates applaud the achievements of regional businesspeople.
The government in the UAE helps with starting a successful business, including:
Forums and accelerators for small businesses and solopreneurs.
Encouraging words for companies looking to hire freelancers.
In Abu Dhabi, Dubai, and the Emirates, freelancing has benefited greatly from the entrepreneur visa. As a result, more and more free zones are beginning to issue permits for independent contractors.
Working with Shuraa Business Setup
The United Arab Emirates are a fantastic environment to start a business, and Shuraa can help you obtain your freelancing visa in Dubai. Working with a reputable and trustworthy organization is essential if you want to get the right and valid freelance visa in the UAE. In the United Arab Emirates, Shuraa is a top company setup expert in Dubai. For freelancers, Shuraa provides a variety of visa options and value-added business support services.
In choosing the ideal free zone, requesting your residency visa, and obtaining your freelance license, our specialists will help you. We will take care of the entire process on your behalf and can answer any queries you may have about your Emirates ID or an employment visa.
To find out more about our options for freelance permits, contact us immediately. Shuraa Business Setup can be reached at +971 4 4081900, by WhatsApp at +971 50 7775554, or via email at info@shuraa.com.