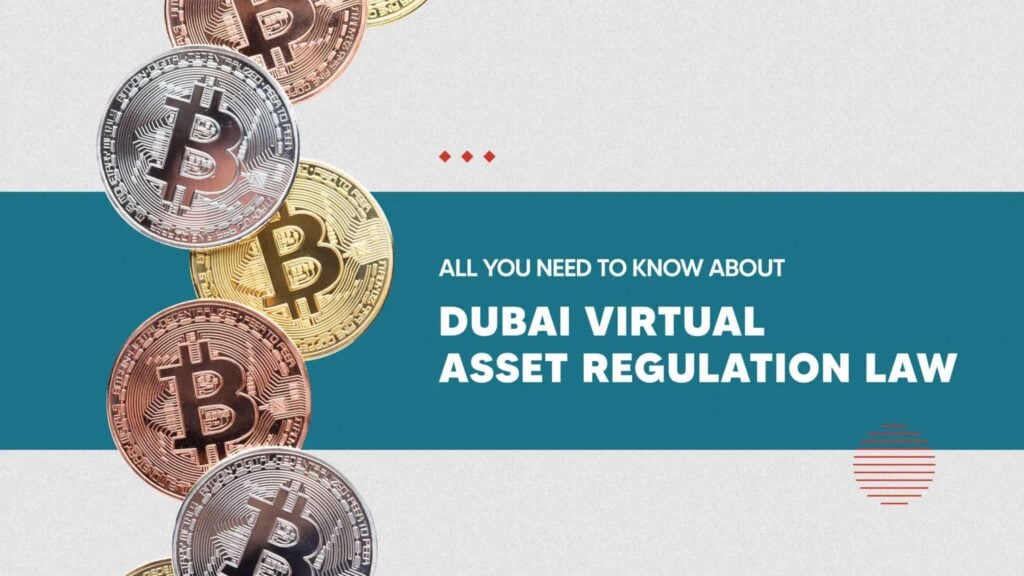 All you need to know about Dubai Virtual Asset Regulation Law
It has been reported that the UAE has adopted the first law governing digital assets and established an agency to regulate the sector.
With the introduction of the Dubai Asset Regulation Law, it essentially moves Dubai up as one of the leading places for emerging technologies such as crypto and blockchain. The emirate has set the Dubai Virtual Assets Regulatory Authority in motion. This authority will work closely with all entities to initiate security and transparency for crypto investors.
Tasks for Dubai Virtual Asset Authority
Organising, issuing, and trading of virtual assets and virtual tokens
Organising and authorising virtual asset service providers
Ensure highest standards of protection for beneficiaries' personal data
Organising the operation of VA platforms & portfolios
Monitor transactions and parent VA price manipulation
The various activities subject to the authorisation and control of the authority
Operating and managing virtual assets platforms
Exchanging services between one or more forms of virtual assets
Virtual asset custody and management services
Exchange services between virtual assets and currencies
Virtual asset transfer services
Virtual asset management services
What does this law mean for the UAE
Virtual Assets law is only introduced in the emirate of Dubai for now. This rule will be applicable to almost all free zones. This includes non-financial free zones such as Dubai Multi Commodities Centre (DMCC).
However, this rule is not applicable to Dubai International Financial Centre (DIFC). This is because it is a unique free zone which follows a different set of rules. It also comes under the ambit of the Dubai Financial Services Authority (DFSA).
It has been stated by the DFSA that it will be adopting its own set of rules and regulations for DIFC in the case of cryptocurrencies in the near future. On the other hand, the Securities and Commodities Authority (SCA) has also announced that it is currently working on its own regulatory framework for cryptocurrencies. It has also been stated that it is close to being launched very soon.
With the new crypto law in the UAE coming into the picture, it creates an opportunity for offering and trading of cryptocurrencies such as Bitcoin and Litecoin. Moreover, the new Dubai rule will create an advanced legal framework to protect investors and design international standards to govern crypto, virtual assets, and NFTs.
The VARA regime is structured to involve collaboration, encourage innovation and prioritise the protection of the public.
Free zone that permits you to obtain a crypto license
Dubai World Trade Centre (DWTC)
DWTC is a free zone that has been dedicated to cater emerging industries related to Virtual Assets, Cryptocurrency, Blockchain and more. The jurisdiction was established in 2015 and is located in the heart of Dubai.
The free zone is collaborating and coordinating with VARA to become a new dedicated zone for regulated Virtual Asset businesses henceforward. DWTC Authority is also coordinating closely with VARA in launching the application process for Regulated Virtual Asset business licenses.
In addition, DWTC Authority is well facilitated to accommodate the growth of the Virtual Assets ecosystem in Dubai. Many new technology and tech-powered companies are turning to this free zone to start their business. Because of this, it comes as no surprise that the jurisdiction has been one of the firsts to become a comprehensive zone and regulator for virtual assets and crypto.
Set up a cryptocurrency business in Dubai free zone now, with Shuraa
Setting up your business related to cryptocurrency in a free zone will boost and evolve your company majorly. With Shuraa Business Setup, we can help you start a crypto business in the UAE and gain a free zone license at low costs.
Business registration in a free zone is the ultimate opportunity for budding as well as established cryptocurrency companies in Dubai. Shuraa is one of the best business setup companies in the UAE and can help you get your company registered within a week.
Shuraa also ensures that the entire process of your company setup runs smoothly. Our expert business setup consultants will guide you through the entire process from registering your business, regulatory requirements, understanding free zone license cost, all the way up to the process of obtaining approvals from the necessary authorities.
To get started and find out more, contact our expert consultants at +97144081900 or send a WhatsApp message on +971507775554. You can also drop in an email at enquiry@shuraa.com and get your queries answered in no time.