In the wake of UAE's increasing strides in development, the emirate of Dubai attracted 6.58% of the global percentage of greenfield FDI projects in H1 2023. This is a significant rise of 3.83% when compared to the same period in 2022. A grand total of 511 greenfield foreign direct investment (FDI) projects bolstered Dubai to the leaderboard while Singapore came second with 325 greenfield projects.
The Crown Prince of Dubai & Chairman of the Executive Council, Sheikh Hamdan bin Mohammed bin Rashid Al Maktoum, said in a statement: "Dubai's ability to maintain its top ranking in attracting greenfield FDI projects reflects the city's ability to create unparalleled growth opportunities and value for global investors… With the clear growth roadmap set out by the Dubai Economic Agenda D33, we continue to work to create an investment environment that not only wins the trust of investors from all over the world but also encourages them to contribute to Dubai's transformation."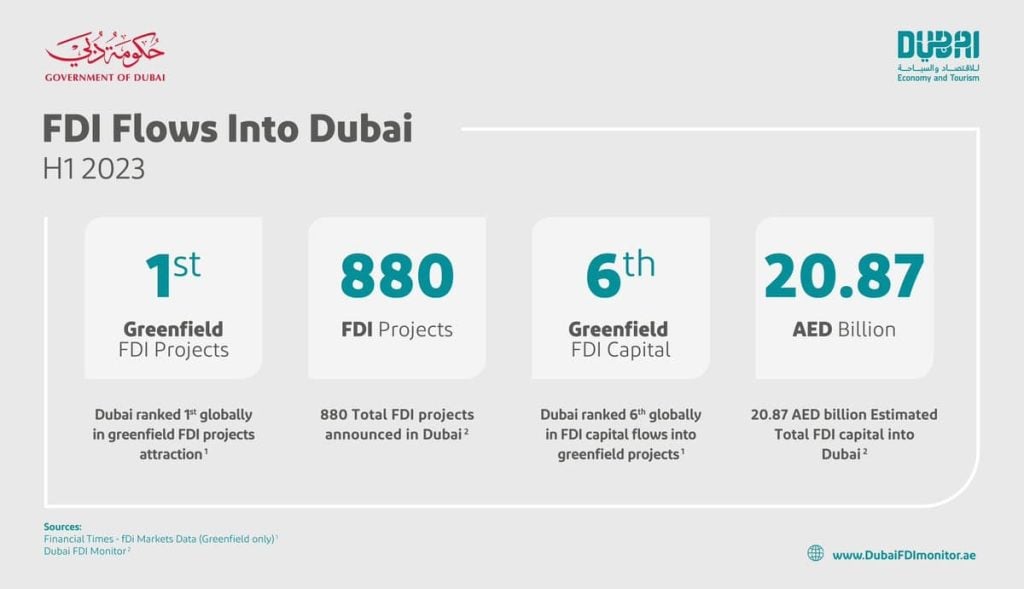 What are Greenfield Projects?
Put simply, Greenfield Projects are those that are built from the ground up, i.e., from scratch. This terminology has its origins in real estate correlating to an untouched green grass field site that is prime for development and has never had a previous construction on it.
Today, Greenfield is a term used to denote the development of a brand-new product, service or entity that has never been brought to fruition before. On the other hand, a project that further accentuates pre-existing infrastructure or adds upgrades to existing products is a Brownfield Project.
Influx of Foreign Direct Investment and Greenfield Projects in Dubai
The Dubai FDI Monitor at Dubai's Department of Economy & Tourism (DET) recently released new data showing how the Emirate announced a total of 880 FDI projects from January to June 2023, signifying a 70% year-on-year growth. Additionally, the FDI Monitor data also showed that Dubai's greenfield projects accounted for a whopping 65% of the total announced FDI projects. On the other hand, year-on-year reinvestment FDIs increased to 4.4% from 3% in the first half of 2023 compared to H1 2022.
Global greenfield FDI capital attraction in Dubai also experienced a year-on-year rise, accumulating a total of AED 20.87 billion and ultimately rising to the sixth position globally in H1 2023, a significant climb from the eighth position in H1 2022.
The Dubai Department of Economy & Tourism's Director General, Helal Saeed Almarri, said in a statement: "As we work to enhance the city's competitiveness & business environment internationally, these strong increases in announced FDI projects for H1 2023 drive home how our progressive policy enablers and diverse attraction programmes are resonating with global investors and decision makers alike."
The influx in FDI projects saw Dubai rise to the global fourth position in employment creation in H1 2023, a significant upgrade from the 9th position last year same period. This amounted to a 43.3% surge in job creation in the first half of 2023, I.e., a total of 24,236 jobs formed due to the Foreign Direct Investment.
The breakdown of the FDI created jobs stand at:
Business Services – 5,212 jobs (21.5%)
IT & Software – 3,525 jobs (14.5%)
Food & Beverage – 3,090 jobs (12.7%)
Consumer Products – 2,104 jobs (8.3%)
Financial Services – 1,813 jobs (7.5%)
Real Estate – 921 jobs (3.8%)
The Pros and Cons of Greenfield Projects in Dubai
Greenfield projects can sprawl over multiple sectors with literal examples being establishing new factories, power plants or airports because of their utilisation of greenfield land. From a sales perspective, greenfield opportunities denote untapped marketplaces that are free for the taking. Additionally, when IT organisations come up with brand new live services or practices that have never been implemented before can also be referred to as 'greenfield' situations.
Benefits of Greenfield Projects in Dubai
Hence, there are several benefits as well as drawbacks when it comes to getting greenfield projects live. The primary benefits of launching a greenfield project are:
Zero Legacy Restrictions: The major benefit of working on a greenfield project is the fact that you have zero limitations when it comes to establishing the project framework. There are no constraints of a legacy process allowing you to build customised roles and choose the best practises.
Create From Scratch: Whether it is real estate, product development or software launches, greenfield projects are emerging in a variety of sectors. And they provide complete and uninterrupted freedom to create as they see fit. This is a highly lucrative advantage that attracts people to join greenfield projects.
New Job Creation: Nothing compares to the sense of achievement that comes from exploring and conquering unchartered territory. Greenfield projects in Dubai, UAE can lead to new revenue opportunities, enhance brand names, and can positively impact new job creation.
Drawbacks of Greenfield Projects in Dubai
On the flip side, there are also certain drawbacks when it comes to investing in greenfield projects. Some of them are:
Venturing into the Unknown: The very nature of greenfield projects being the first of their kind means that there is no reference to fall back upon. There are several factors that can affect success such as extended market research, competitors jumpstarting their own launches, economic fluctuations and other external factors.
Unpredictable Resource Drainage: The development of a project that has no prior blueprint can be exhausting and would require a lot of resources including manpower and a significant amount of time.
Significant Amount of Risk: Greenfield projects are created with brand-new conceptualisation and have never been tried before. Therefore, there is a high level of risk associated with greenfield projects.
UAE to Usher in New Age of Global Investments
People all over the world are now recognising the commercial significance of the United Arab Emirates, especially its crown jewel, Dubai. The surge in attraction of greenfield projects in Dubai are a clear indicator of the high potential of the emirate. Additional factors such as its liberal tax laws, a business-friendly infrastructure and its globally accessible location also contribute to the economic development of the nation.
Dubai is home to leading company formation experts like Shuraa Business Setup to ease the process for global investors. Shuraa, present in Dubai since 2001, offers a comprehensive range of corporate services like UAE business setup, PRO & Golden Visa, VAT, tax and accounting, company auditing, office space requirements and more. We are a one-stop shop when it comes to building your business in Dubai.  
Contact our team of expert corporate advisors to figure out how you can utilise the untapped potential of Dubai and the rest of the Emirates. We are just a call away at 800-SHURAA or +97144081900. You can also reach out to us via WhatsApp at +971507775554 or you can email us at [email protected].