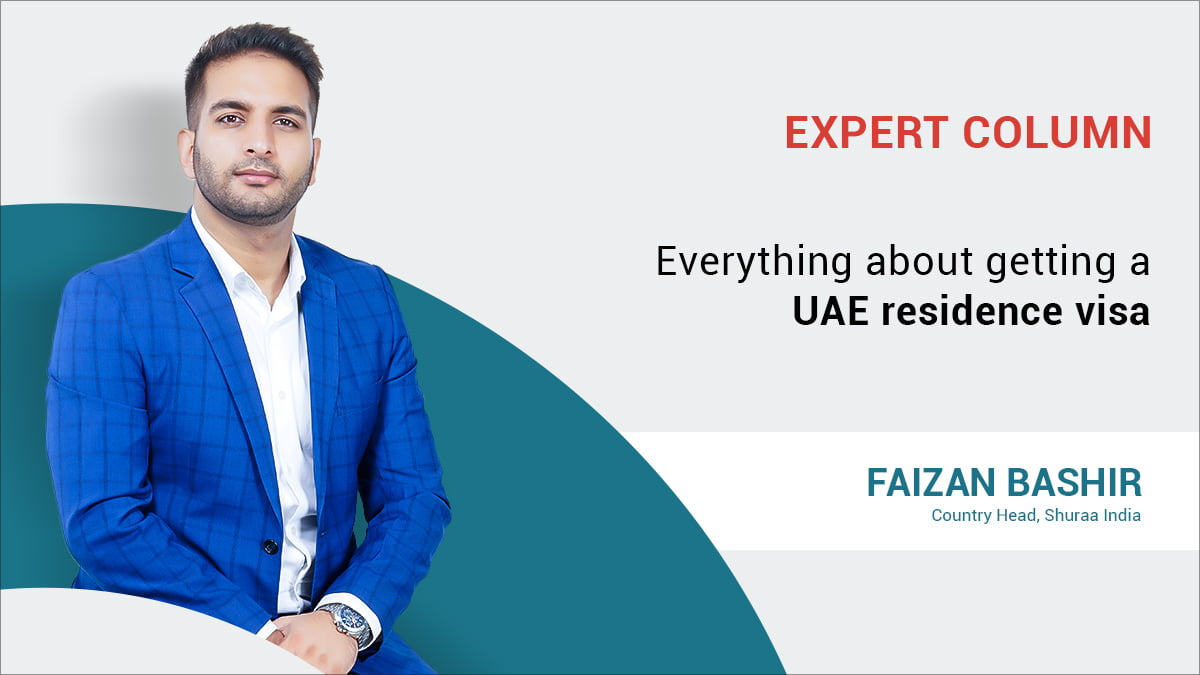 Everything about getting a UAE residence visa
Over the past few years, the UAE has emerged as one of the most popular destinations for business. Entrepreneurs not only look to set up their company in Dubai, but also live in the emirate with their families. Thus, business owners need to obtain a UAE residence visa, followed by dependent visas for their family members.
With simplified legal requirements and low processing costs, paired with strategic location providing easy access to suppliers and global connectivity, the UAE is indeed a very attractive country to reside in with family.
What is UAE Residence Visa?
As the name suggests, a UAE residence visa is a permit that allows people from around the world to live in the middle eastern country for a specific period. A follow-up to this would be 'how long is UAE residency visa?'. The validity of this visa may vary from two to 10 years and can be renewed multiple times as required.
For those who get into the country on an employment contract, there are two more ways to acquire a UAE residence permit. You must either invest in real estate or start a business in the UAE.
How to Get Residency in the UAE?
Investors often ask: 'How can I get residency in the UAE?' There are three primary ways to acquire a Dubai residence visa:
Employment
Gaining employment with a company in Dubai can grant you two- or three-years' UAE residency, depending on the jurisdiction in which the company operates.  Also, the company will be responsible for applying, sponsoring, and renewing your residency visa.
Purchase and own property
To ensure your stay, you must meet the residence visa requirements. Therefore, you can purchase real estate. Your property value should be worth at least AED 1 million (approximately USD 272,000). In this case, the visa is issued for three years. However, property investors are not allowed to work in Dubai or the UAE.
Register a company in the UAE
The UAE government grants five- or 10-year visas (Golden Visa) to Indian entrepreneurs in recognition of their contribution to furthering the UAE's economy. Entrepreneurs, however, must meet the investment criteria set by the government to be eligible for the Golden Visa.
Another category is the investor visa. By forming a company in Dubai, Indian entrepreneurs can apply for three-year investor visas and sponsor their family members for three-year UAE residency as well.
This is one of the most popular options as it does not require you to make a huge investment. Also, one of its main advantages being that the visa is valid for three years. Therefore, giving you an option to focus on your business operations while living in Dubai.
What is the Process of Obtaining the UAE Residence Visa?
Here's what you need to know about the UAE residence visa 2021 requirements, process, and application:
UAE Residence Visa Requirements
Understand the visa requirements and prepare the following documents:
1. Fill-in the UAE residency visa application form
2. A copy of your original passport
3. Two passport-sized pictures, ensuring they meet the UAE visa photo requirements
4. Your original entry visa and its copy
5. A proof of your sponsor's legal residency in the UAE
6. The pass certificate of your medical fitness test
7. A copy of your health insurance plan, if required
9. Copies of the company's trade license and establishment card
8. For family visa application, you need proof of family ties. These include birth or marriage certificates attested by the UAE embassy in their home country
Application process
Below is the step-by-step process for UAE residence visa 2021 application:
Obtain entry permit
First your sponsor has to obtain an entry permit for you from the Federal Authority for Identity and Citizenship's online portal. It is also available on General Directorate of Residency and Foreigners Affairs (GDRFA) website or can be done in person from one of the licensed GDRFA typing centres.
Apply for residence visa
Once you are in the country, your sponsor needs to apply for your residence visa in the UAE  at the GDRFA.
Pay UAE residence visa cost
At the time of application, you will have to pay a UAE residence visa cost. The fee varies depending on your residency visa validity. The residence visa validity for the employees and investors is different. For investors, the visa is valid for three years and two for employees.
Visa stamping and Emirates ID
Once your application is approved, the GDRFA will stamp your residence visa on your passport. This will work as the UAE residence permit allowing you to travel freely in the country. You will then receive your Emirates ID, which will be valid for the same duration as the visa.
UAE Family Visa Rules for 2021
To obtain UAE residency visas 2021 for your family, you will require the following documents:
1. Copy of all the bio pages in sponsor's passport
2. Sponsor's visa copy
3. Original Emirates ID of the sponsor
4. Proof of Ejari (tenancy) registration
5. A soft copy of the labour contract
6. Passport-sized pictures
7. An attested soft copy of the marriage certificate and birth certificates of children, if applicable
8. Passport copies of spouse and children along with the recent coloured, passport-sized photographs
9. You can sponsor daughters as long as they are unmarried and sons up to the age of 21
10. The UAE immigration guidelines specify that you need to earn a minimum salary of AED 4,000 and have an accommodation to sponsor your family
Benefits of a UAE Residence Visa
The UAE government offers several benefits to its residents. Here are the top 10:
Seamlessly start any business in the country
Open personal bank accounts, apart from a corporate/salary account
Sponsor dependents
Strategic location provides close proximity to home country
Excellent international connectivity
Buy and own property in the country
Multiple entry into the UAE during the visa validity
Live and thrive in the world's second safest country
How Much Does UAE Residence Visa Cost?
The fees of residence visa in the UAE can vary according to the type and person to be sponsored. Below is the approximate cost breakdown:
| | | |
| --- | --- | --- |
| Type of Visa | Fees | Additional Costs |
| Spouse | AED 3,000 – AED 4,000 | AED 1,500 (refundable deposit, if applicable) |
| Children | AED 3,000 – 4,000 | AED 1,500 (refundable deposit) |
| Employment (depends on your employee's designation) | AED 5,000 – AED 7,000 | — |
| Investor (Includes Emirates ID, change of status, medical test and visa stamping) | AED 4,000 (approx.) | Medical insurance |
Dubai visa for Indian Entrepreneurs
The UAE is a popular destination among Indians for business and residency. Which is why, Dubai has been home to Indians for several decades, by way of employment, investment, and entrepreneurship. Residing in the UAE requires having a residence visa. It is the official permit granted to foreign nationals, allowing them to live in the country for extended periods.
Residence visas in Dubai are issued by the General Directorate of Residency and Foreigners Affairs (GDRFA) and are valid for anywhere between two to 10 years.
The UAE government also grants five-year and 10-year residency permits to Indian entrepreneurs under its golden visa programme with the aim of enhancing the ease of doing business in the country. The business owners, however, must have an established business worth at least AED 500,000 and should be approved by a UAE accredited business incubator. Moreover, for the five- and 10-year permit they have to make deposits of AED 5 million and 10 million respectively.
Three of your company's executive directors are provided the five-year visa. However, they would not be allowed to work for any other employer during this term.
Moreover, the Indian entrepreneurs are also eligible for a six-month multiple entry visa. So, this will help you to complete the formalities of your business setup in Dubai.
Residence Visa Renewal Cost
The UAE residence visa renewal cost depends on the type:
Employment visas
One-time government fee
Labour fee based on the category of your company
PRO service charge
Medical test and Emirates ID
Insurance fee for people with limited skills category
Partners or investor visas
Medical typing fee
Emirates ID typing
Residence visa typing fee
PRO service charge
– Faizan Bashir
Country Head, Shuraa Indi