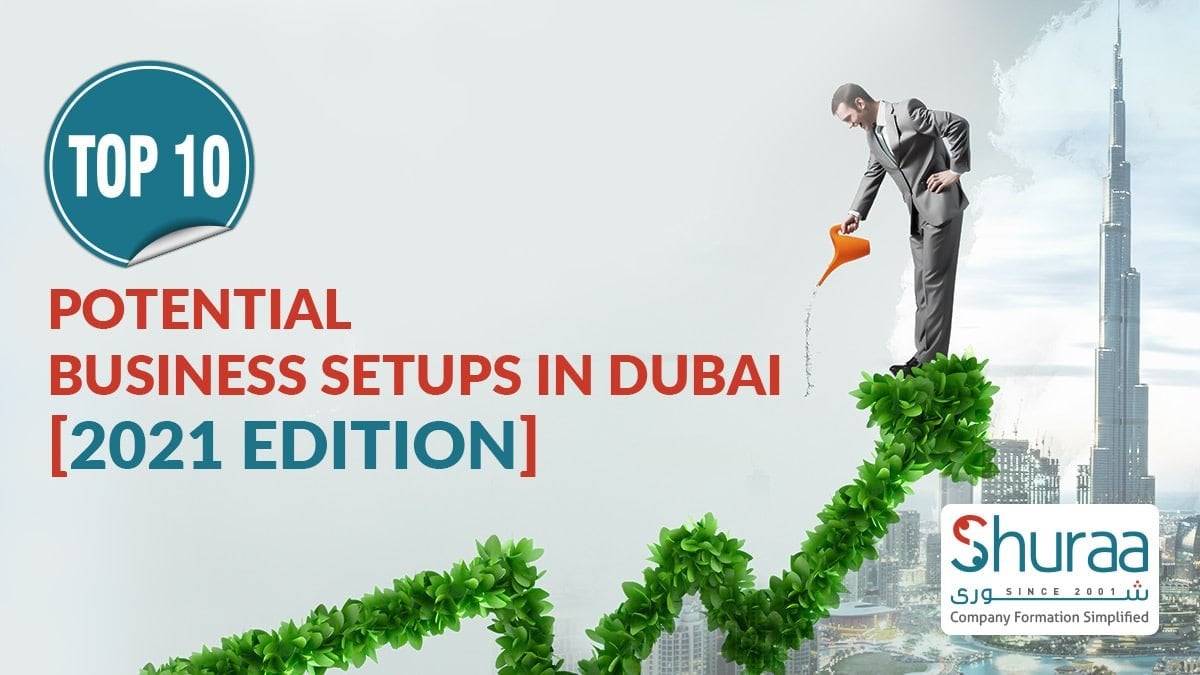 Top 10 growing business ideas in Dubai, UAE – 2021
Economies around the world have taken a massive hit since the onset of Covid-19 early last year. This naturally dampened the spirits of bothneurs  the business owners and the aspiring entreprewith startup business ideas in the UAE. This has led them to seek avenues with minimum investment to start a business in Dubai. This article will explore the top 10 business ideas in Dubai.
However, the latest figures from the Dubai Government's business license issuing body – Department of Economic Development (DED) – prove that there was a 4% jump in the issuance of trade licenses in 2020. Therefore, the figures for new company registration in Dubai stood around 42,640.
This implies that despite the pandemic causing chaos for the business community, entrepreneurs have devised new and innovative ways to sustain and conduct business in Dubai. And with Expo 2020 around the corner, the government has also been launching attractive initiatives to support entrepreneurs in the country. You might wonder what new businesses activities are faring well this year for you to invest in.
Top 10 Successful Business Ideas in Dubai in 2021
So, if you want to start a new business in Dubai, here are 10 business ideas in Dubai for your consideration:
1. IT Solutions
While many businesses in Dubai were already on their digital journey, few had accomplished the transformation goal. Covid-19, however, pushed other enterprises under the bus. With most activities coming to a standstill, going digital was and continues to be the only way out for entrepreneurs. This makes it an ideal time for tech geeks to act on their online business ideas. Technologies such as robotic process automation (RPA) and artificial intelligence (AI) have gained popularity in large organisations seeking to upgrade their legacy processes and cut on manual dependency. Technological services were one of the most successful business in 2020. Therefore, IT solutions is one of the best business to start in Dubai in 2021.
2. Manufacturing
The restrictions brought about by the pandemic have redefined the retail industry in various ways. From limiting the number of people who can be in stores at a time to restricting the trial of promotional samples to lure potential customers, the practices have changed. However, there continues to be a huge demand for Covid-19 essentials including face masks, hand sanitisers, gloves, PPE suits, immunity boosters, and vitamins, among others. And businessowners have been quick at their feet. Many existing companies, including F&B and retail industries, have added new business verticals and introduced their own manufacturing units to cater to increasing local demands for such essentials. These essentials will continue to be in demand. 
Read more: How to Start an Industrial Company in Dubai?
3. E-commerce
During the pandemic, the consumers were quick to adapt to the online mode of browsing and buying. However, their shopping experience has changed. The trend of touching, wearing, feeling and perhaps tasting products before purchase has nearly halted. With the e-commerce giants dealing with thousands of vendors, large-scale logistics systems and occasional complications on the digital front, entrepreneurs with online business ideas can go for company registration in Dubai.
4. Logistics
With the shopping business picking up online, the need for arranging deliveries, simultaneously, also saw a rise. Therefore, logistics business setup in Dubai is a fair entrepreneurial idea. Given Dubai's seamless geographical connectivity with suppliers, this business could be simple and quite profitable this year. Furthermore, the ease of import and export supported by the local laws add to the timeliness of the entire logistical process. Thus, this could be one of the most profitable businesses in Dubai in 2021.
5. Digital Printing
The printing industry in region has long been grappling with supply over demand due to mushrooming newcomers and credit period issues caused by clients. However, there could be a silver lining for printers brought about by the ongoing crisis. The need for labels, printed instructions and stickers, social distancing fit outs for hospitality, healthcare and entertainment and retail sectors, has created a new demand altogether. Therefore, starting your own digital printing shop in Dubai will prove to be a profitable business to invest in and make good profits.
6. Digital Marketing
We are living in a day and age where information and services are available with a few taps on our mobile phones. And so have the strategies for marketing evolved. The results of traditional marketing such as print advertisement or renting hoarding boards are not quantifiable. Whereas the targets achieved by digital marketing and advertising are proven to be much more fruitful.  Moreover, the higher education systems have also introduced tech-specific courses. Thus, those possessing such valuable skills should certainly consider making a living out of it.
7. Tourism Services
Dubai has been on the top of travel bucket-lists witnessing around 16 million tourists visiting the city for various reasons. This includes business, recreation, and health. Even during the pandemic, the city was one of the first destinations to open-up for visitors after ensuring that all safety measures and protocols were followed. Thanks to the visionary leadership of Dubai, economic activities bounced back soon enough. In December 2020, the city saw tourist flock here to escape lockdown fatigue. The hotel occupancy rates in Dubai rose to 71% in December. Therefore, small travel business ideas offering niche services for visa processing and lifestyle management are viable.
Read more: How to start a Tourism Business in Dubai? 
8. Consultancy 
About 27,307 business licenses, 64% of the total share, given out by the Dubai Economy were under the professional category. Whether you have a degree in psychology or clinical nutrition or you are qualified to impart interpersonal skills or simply write college essay for applicants, now is the time to execute your business startup ideas in Dubai. However, note that even online ventures require company registration in Dubai. One important requirement to setup any consultancy in Dubai is that the owner of the company should have complete higher education in the same field. For instance, you have to have a professional media degree if your want to start your media business in Dubai.  
9. Cloud Kitchens
Will the demand for food ever decline? It is true that the pandemic may have changed the way we choose to visit certain F&B destinations and the way we dine, but food is a basic necessity. With conscious consumers and work-from-home becoming the "new normal", the city has seen a rise in food aggregators. Therefore, giving rise to cloud kitchens which are economical and profitable.
Read Also: Benefits of Cloud Kitchens in Dubai
10. Specialty Clinics
The business of beauty, no matter under what circumstances, does not get hindered for long. Be it under the facemask or simply glamourising that mask, the desire to look good constantly fuels the business of making people look good, even via aesthetic procedures. Whether it is laser hair removal clinics or cosmetic surgeries, these "luxury" services continue to be popular.
Read more: How to set up a specialty clinic in Dubai?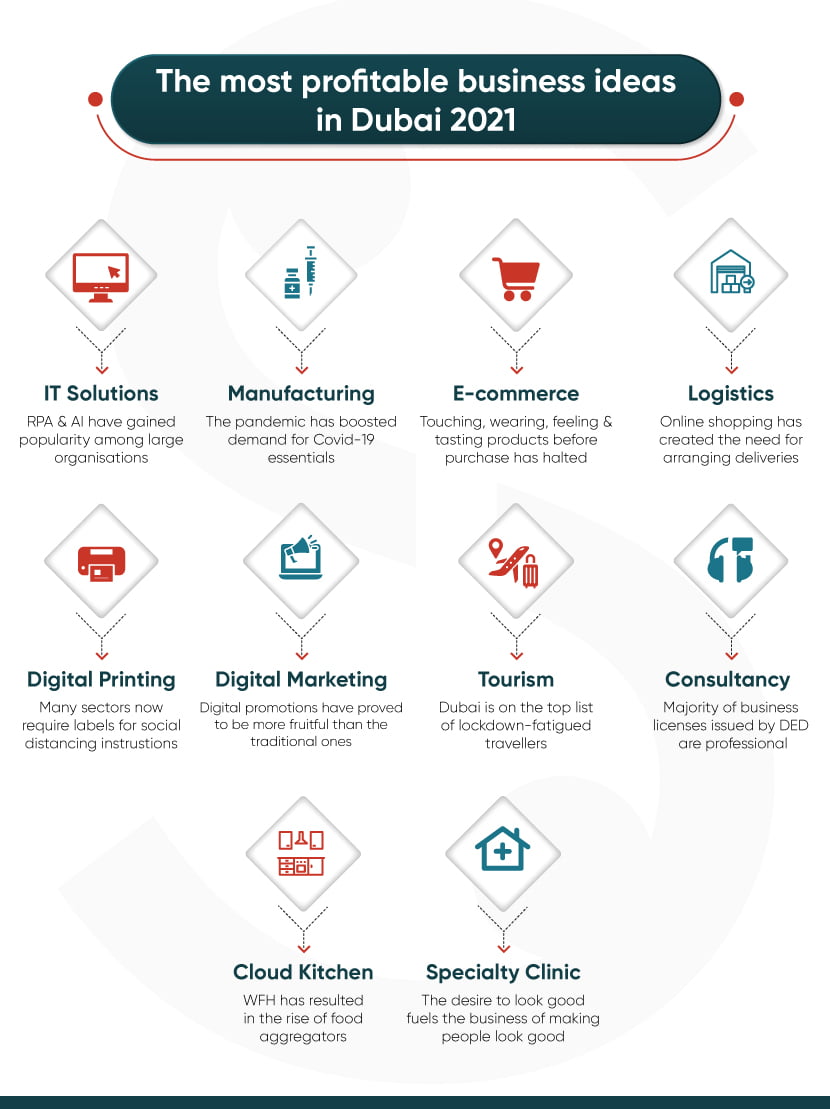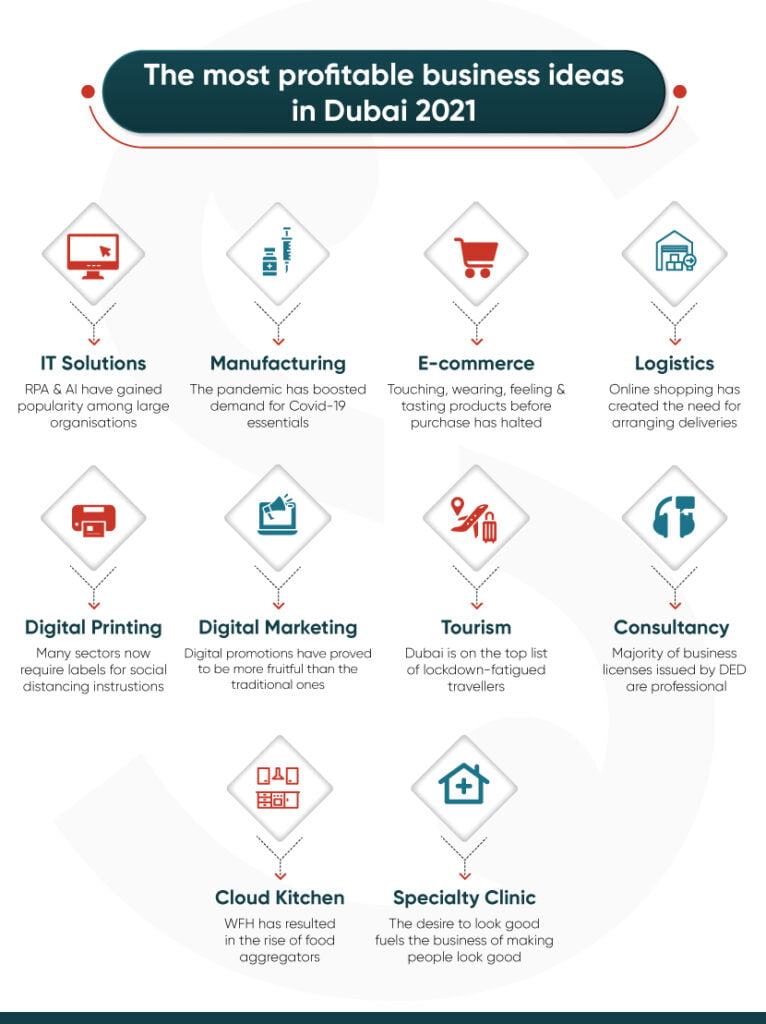 Discuss your business ideas in Dubai with the best company formation experts in the city
It is natural that you will have several queries and apprehensions before starting your own business venture in Dubai. Some of the common FAQs include:
Whatever is keeping you from acting on your startup ideas can be discussed and taken care off. Connect with Shuraa Business Setup to discuss the execution of your business ideas in Dubai. With more than two decades of expertise, Shuraa's company formation experts in Dubai and value-added services, including tax & accounting and free PRO assistance, will guide you. Leave them to do the leg work while you conduct your business in peace and focus on your vision.
To learn about minimum investment to start business in Dubai, book a free consultation with one of Shuraa's corporate advisors, simply call at +971 44081900 or send a WhatsApp message to +971 507775554. You can also drop an email to [email protected]