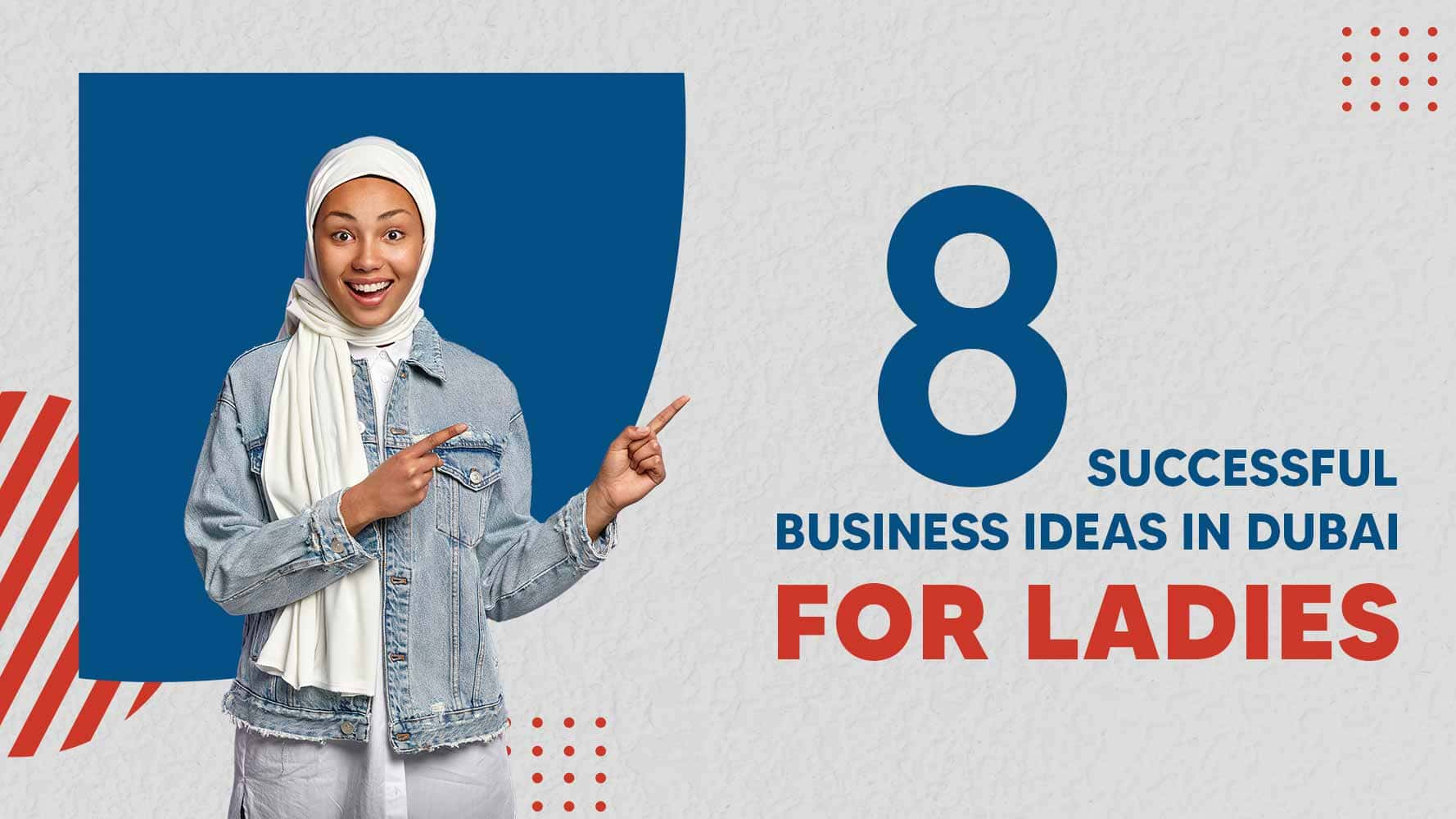 8 Successful Business Ideas in Dubai for Ladies
UAE has been seeing a steady rise in woman business owners over the years. One would ask, what business ideas in Dubai for ladies would be effective? The answer lies in the various initiatives taken by the UAE government such as: changes in the visa program (10-year property visas for expats and one-year residency extensions for recently divorced/widowed women), convenient maternity programs, low business setup cost, etc. Women can do any business they want to in the UAE, as long as they fulfil the necessary requirements.
Did you know? In 2017, a $50 million fund was set up specially to promote female entrepreneurship. This fund was able to close 64% of the overall UAE workforce gender gap in just one year. On this note, let's have a huge shout-out to all the woman entrepreneurs and leaders who are making it big.
What Are Some Good Business Ideas in Dubai for Ladies
We've compiled a list of successful business ideas for those women who want to launch a new business in the UAE.
1. Event planning and management Business
Event planners are always in demand in Dubai. A city that has events spread across varied industries and themes requires people who have an eye for detail as well as a passion for organisation and planning. From corporate events, product launches and meet and greets to party planning, customised experiences and art events, female business owners can carve their niche.
As a result, women get the opportunity to build their network, socialise, and grow, all the while conducting events that are sure to become the talk of the town making event planning a good business idea for ladies.
2. Henna application services
Applying henna is a standard cultural practice across most Middle Eastern and South Asian countries. Therefore, in Dubai, where the majority of the population comes from these nations, henna services are always in demand throughout the year. Opening a henna salon would be a feasible dream for even those women who do not have a traditional degree. With a professional license and by choosing the appropriate corporate structure, either LLC or sole establishment, one can easily translate their henna business idea to reality.
3. Consultancy services
Women holding professional degrees can set up their own consultancy services based on their expertise and area of interest. By paying a nominal professional license fee, women are free to set up shop in Dubai. As a business idea, consultancy services can be applied to several industries including, and not limited to, wedding consultancy, educational consultancy, migration services and much more.
4. Marketing and social media management
In a digital world, it is rare to find someone without a social media presence. This data can, however, be mined to create a profile in social media management and marketing. Companies across the world are looking to invest in Dubai and require help to promote their services. Therefore, women can open their own marketing companies and provide these services to global clients. Doing a business in Dubai as a woman can open doors to a global audience.
Dubai is home to some of the world's top influencers and celebrities who require constant social media updates across all platforms. Hence, social media management is a lucrative industry with a large pay-out. More and more people access these services to help handle their social media presence.
5. Boutiques – Profitable business idea for ladies in Dubai
Women skilled in the sartorial arts and with a detail for fashion can open their own boutiques. Among the most popular business ideas for ladies in Dubai, boutiques are also the most profitable. In a city as fashion conscious as Dubai, people always look for someone who can provide them with the latest trends along with quality products. Therefore, opening boutiques provides women the opportunity to not only display their artistic side but also build a lasting business.
6. Flower shop business
One would not expect flowers to bloom in the desert. But flower shops in Dubai are growing in demand every year and are emerging as a trending business idea for ladies. Flowers are meant to celebrate all significant moments in life. Thus, women can easily open a floral shop and work across multiple platforms. The major expenses incurred would be e-commerce licensing and logistics. Moreover, the opening of the Dubai Flower Center free trade zone will allow you to access the best floral options at convenient rates.
7. Wellness centers
In a world where people have an increased awareness of their health, and want to apply healthy lifestyle practices, opening a wellness center makes complete sense. To open a wellness center, you would need to ensure what services you will be providing. Certain facilities may require you to get a DHA license, at a cost of around AED 9000.
As a business idea for ladies, opening a wellness center would allow you to provide an amalgam of services that are lifestyle and healthcare oriented. As a result, this would appeal to a large audience and has the potential to become a brand.
8. Bakeries
Opening an elite bakery, complete with a unique selling point is rather easy in Dubai. Business owners can benefit from the huge footfall of tourists Dubai receives each year. So, once you get the initial approval from the Department of Economic Development (DED), you can move on to the other aspects such as formulating your business plan, deciding your menu and location, obtaining licenses and permits, getting an NOC from the Food and Safety Department, etc. Then, you are good to go and create magic with your hands.
You may like it: Top 17 Successful Business Ideas in Dubai, UAE
Making your business ideas reality!
There is no better time to set up your company than now. With expert guidance and a dedicated operation team, Shuraa Business Setup is here to make your business dream a reality. Take advantage of the exclusive mainland package at just AED 18,500* and get major benefits such as lifetime investor visa, professional trade license, name approval, and many more services from us.
Connect with us on +971 44081900. You can also chat with us by sending a WhatsApp message to +971 501287254 or drop an email to info@shuraa.com.