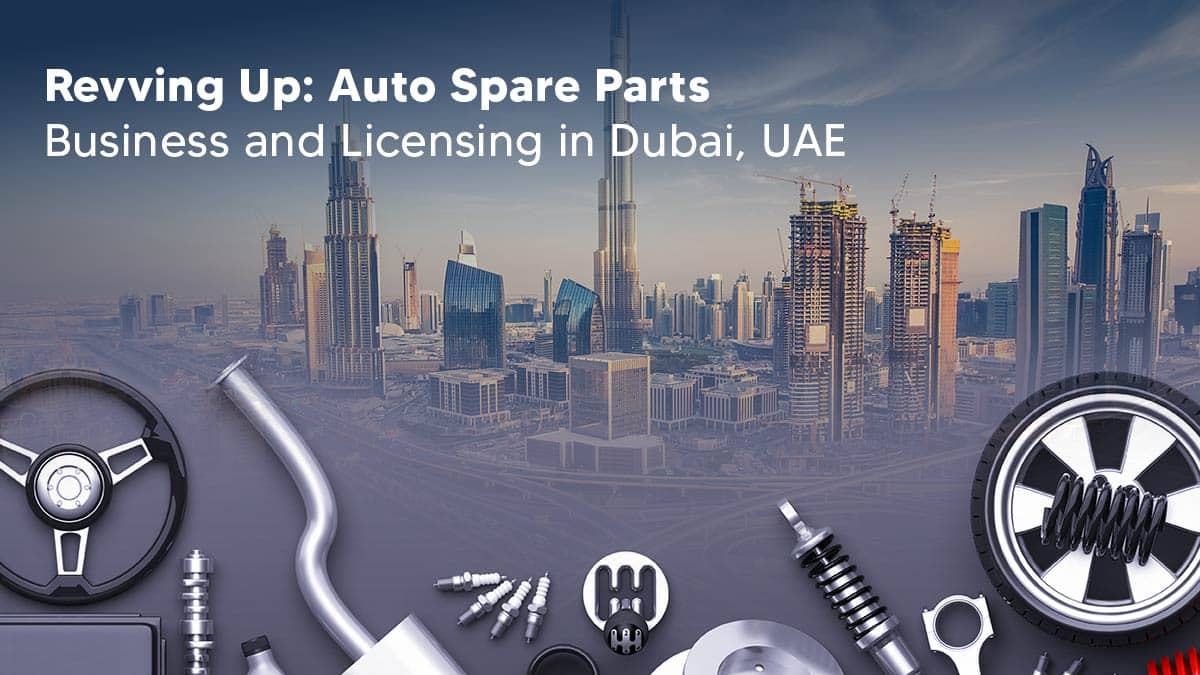 How to start spare parts business in Dubai, UAE
Dubai boasts a wide array of opportunities across diverse industries. The robust infrastructure, growing business setup in Dubai, and abundant resources create an ideal environment for entrepreneurs seeking to establish various UAE businesses. So, the strategic location of Dubai provides significant advantages to trading companies, offering seamless access to multiple transportation modes, including ports, airports, and local transit networks. However, this accessibility has benefited trading enterprises and catalysed investors to launch their regional spare parts business in Dubai, UAE.
Investors can choose between a mainland business setup in Dubai, allowing them to tap into the local market, or opt for a free zone or offshore establishment to explore international markets. Regardless of the chosen path, Dubai is an attractive destination for savvy investors seeking to establish their car accessories trading companies.
What Is a Spare Parts Business in UAE?
Automotive components are integral to a vehicle's performance but naturally degrade over time. However, this does not render your vehicle obsolete, as it can regain its optimal efficiency by replacing auto spare parts. All vehicles experience wear and tear on their components due to regular use.
So, suppose you deeply understand these internal mechanisms and aspire to establish your business in this industry. In that case, you can launch your own auto spare parts and components trading company in Dubai. However, starting a legitimate spare parts business in UAE involves several considerations, and seeking guidance from a local business advisor in the Emirates is recommended for a smooth and hassle-free business licensing process.
Advantages of Initiating a Spare Parts Business in UAE
If you are an Indian entrepreneur seeking to establish a retail presence in the automotive sector in Dubai, consider launching an auto spare parts business. Dubai provides a conducive environment for the growth of companies, both locally and internationally. Here are the key benefits you can enjoy when starting a spare parts business in UAE:
1. Strategic Free Zone Locations
Dubai's free zones offer favourable conditions for Indian investors in the UAE. As the owner of your auto spare parts business, you can enjoy full ownership, and there is complete repatriation of profits and capital in free zones. For a swift setup of your Auto Parts Store in the UAE, opt for a location within a Dubai-free zone.
2. Growing Car Manufacturing Sector
Dubai residents have a strong affinity for luxury cars and vehicle customisation. The demand for car modifications is substantial, emphasising making automobiles unique and enhancing performance. Given the significant growth in the car manufacturing sector, Dubai provides an ideal platform for Indian investors to engage in businesses related to motor vehicles, spare parts, and automotive accessories.
3. Supportive Government Initiatives
The Dubai government actively supports the expansion of the automobile sector and encourages global investments in the economy. Additionally, the government facilitates localised auto spare parts production through Original Equipment Manufacturers (OEMs), leading to cost reductions and increased auto parts sales nationwide. Furthermore, Dubai's well-established logistics and global transportation hubs offer logistical advantages for Indian investors in the auto spare parts business.
4. Desirable Work and Living Environment
Owning an auto spare parts business in Dubai can afford you a luxurious lifestyle in the city's most sought-after areas. Working anywhere in Dubai is conducive for Indian investors and business proprietors, thanks to low taxes, a high standard of living, and a fantastic overall lifestyle. Dubai's continual enhancements in quality of life outpace many other rapidly growing regions. The city boasts top-notch infrastructure and premium products, allowing you to live on your terms.
Starting an auto spare parts business in Dubai opens doors to business opportunities and provides an exceptional quality of life in a profitable global hub.
Establishing a Spare Parts Business in Dubai
To launch your auto parts enterprise in Dubai, following the prescribed procedure set forth by the relevant authorities is imperative. Additionally, strict adherence to all business regulations and compliance with the code of conduct outlined by the Department of Economic Development (DED) is essential. Here is a comprehensive outline of how to establish a spare parts business in Dubai:
1. Define Your Business Activities
Determine the scope of your company's operations beyond trading auto components.
Consider services like on-call maintenance or operating an e-commerce wholesale store.
Recognise that different business activities may require separate licenses, so understand your business thoroughly before proceeding with regulatory authorities.
2. Register Your Business Name
Select a legal trading name for your car accessories company.
Ensure the name does not contain religious, sentimental, offensive, or misleading references.
Using a person's name, use the full name rather than nicknames.
3. Choose the Right Business Location
Evaluate the ideal location based on your business needs, team size, and networking requirements.
Alternatively, opt for a free zone setup to enjoy 100% ownership.
4. Secure a Pre-Approval Certificate
Obtain a pre-approval certificate by submitting the required documents to the relevant authority.
This certificate is essential for obtaining a trading license and simplifies the licensing process.
You can also partner with Shuraa Business Setup for streamlined pre-approval certificate acquisition.
5. Acquire a Legal Trade License
Determine the appropriate trade license type based on your business activities and any special approvals required.
Submit all necessary documents for review by regulatory authorities.
You will be granted a trading license once the paperwork is approved.
6. Manage Visas
If you plan to reside in the UAE with your family while working, apply for family visas.
Explore visa options for employees, colleagues, partners, and other relevant individuals.
With these legal procedures completed, you can now focus on generating revenue and growing your car accessories business in Dubai.
Essential Documents for a Spare Parts Business in Dubai
Dealing with documentation can be complex, especially if you are not well-versed in the relevant legislation and Dubai's regulatory norms. Therefore, it is advisable to collaborate with experienced Dubai business setup consultants to navigate this process smoothly.
Here is a checklist of the necessary documents for a Spare Parts Business in Dubai:
Passport copies of all partners and the owner.
Passport-size photograph of all partners and the owner.
Having these documents in order will facilitate the establishment of your spare parts trading company in Dubai.
How Much Does It Cost to Initiate a Spare Parts Business in UAE?
The initial investment required to start an auto parts trading business in Dubai typically ranges between AED 25,000 and AED 30,000. However, the precise cost can vary significantly based on your company's specific nature and scale. Additionally, you should budget for potential extra expenses, such as equipment procurement, customs taxes (if importing certain parts), rental of premises, and other related costs.
Note: The amount is subject to change according to your requirements for the business.
Why Choose Shuraa Business Setup for Your spare parts business in UAE?
So, commencing an auto spare parts business in Dubai represents a strategic move for Indian investors and entrepreneurs. However, Dubai hosts one of the UAE's rapidly expanding automotive parts markets and establishing an Auto Parts Store in Dubai becomes a seamless endeavour with the right business consultancy.
Look no further – contact us, your trusted local business consultancy specialists in Dubai. We will expertly guide you through setting up your auto spare parts store in Dubai. Our dedicated team at Shuraa Business Setup handles every aspect, from company formation to location selection and licensing procedures. Feel free to get in touch with us for more information and expert assistance! Contact our business setup consultants at +971 4 4081900 immediately to explore how they can support your spare parts business in the UAE. You can also reach us via WhatsApp at +971 50 7775554 or email info@shuraa.com. We are here to assist you every step of the way.