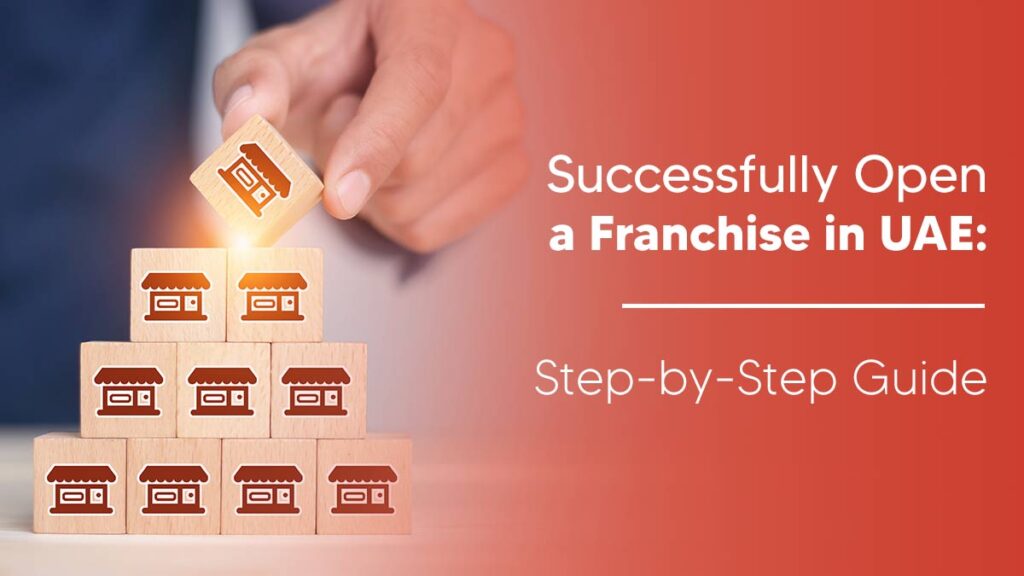 Successfully Open a Franchise in UAE: Step-by-Step Guide
UAE is a commercial hub that entices global business owners to establish franchises there. Franchises of all shapes and sizes are already active throughout Dubai, allowing their owners to increase their profits and return on investment. The business climate in the nation is encouraging in many ways. It provides first-rate facilities, a prime location, and more.
Some of the most well-known franchises include restaurants, fast food chains, dry cleaning, meal delivery, mail and packing services, and convenience stores. If you want to start a franchise in UAE, there are a few legal and regulatory criteria that you need to be aware of. Any investors who want to launch a franchise in Dubai must obtain a franchise license.
What is the definition of a Franchise?
A franchise is a way for a franchisor to offer products or services to customers. In exchange for using the brand's trade name, identity, operational methods, and trademarks, this franchisor must pay a royalty.
Individuals are given permission by the franchisor to sell its goods or services. Additionally, they must continue to be constrained and follow all laws and regulations of the state.
How to set up a franchise business in UAE?
In the United Arab Emirates, you can look at a number of franchise options. Over $30 billion is made by the franchise sector annually, and this figure is rising. To date, American franchisers or brands have the largest market share in the Middle East.
American brands dominate the market with a share of almost 70%. The UK, Germany, Italy, China, Japan, and the UK all have other well-known brands. Numerous additional franchisees and franchisors continue to ask for new franchise brands.
You can pick from more than 100 different sorts of franchises. Both low-cost and high-investment company prospects fall under this category. Your decision will be influenced by your interest, knowledge, and resources.
1. Conduct thorough due diligence
The UAE has a sizable franchise market. As a result, it's critical to exercise due diligence and carry out investigation to comprehend the market. Initially, the UAE restricted ownership of enterprises, including franchises, to its citizens or firms fully controlled by those citizens.
However, the UAE permits foreign investors to own and control their enterprises without needing an Emirati sponsor or partner to draw in more foreign capital. This implies that you can examine the most lucrative franchises and select the one that most closely matches your skills and knowledge.
In the UAE, there are two different kinds of franchise businesses: developed franchises with several units and single-unit franchises.
You can sell the franchisor's services or goods through a single business if you choose a single-unit franchise. While multi-unit franchises enable you to build numerous additional locations and manage them as a single business.
Knowing the kind of franchise business in UAE, you want to start, or purchase is crucial. You must also look for endorsements and reviews once you have identified an area that interests you.
Request the company's Franchise Disclosure Document if you can learn more about the business. This document is significant since it includes crucial details about the business and the franchising procedure. It must be made accessible to any potential franchisees.
Additionally, you may speak with the appropriate business expert to find out more about franchising in the UAE and how to launch a company there.
2. Plan your business
A business plan is required when purchasing or launching a franchise. A summary of the company's operations, competitive analysis, target market, and core competencies should be included in the strategy.
It would also be excellent if you have a marketing plan, financial plan, and any possible funding options. You must be aware of every risk involved with your business and have a plan in place to manage it to preserve your investment.
3. Get the appropriate trade and business licenses.
Both in the free zone and the mainland, it is possible to start a franchise or search for and purchase a Dubai franchise. The sort of business license you receive will depend on a number of things.
In contrast to free zones, doing business on the mainland is different. The kind of trade license you receive will also depend on the nature of your business operations and the quantity of stockholders or visa holders.
Let's say you decide to launch a company on the mainland. You will require a local sponsor. On the other hand, you can run a business in the free zone without the necessity for a local sponsor. In the free zone, business owners keep all of their ownership.
Whether you select a mainland or free zone setup will affect the license application process. To open a franchise in Dubai or any other UAE city, you also need a trade permit. You'll need the following paperwork to apply for the license:
a completed application.
a copy of your passport and, if applicable, your partner's passport.
two passport-size-colored photographs.
4. Request a visa
To work or launch a business in the UAE, you will also require a license. Possessing a visa gives you the opportunity to sponsor your family or a domestic worker, which is one of its benefits. You are allowed to sponsor a resident visa for a travelling foreigner under Dubai visa regulations.
The number of family members you can sponsor will depend on your franchise business's size, profits, setup, and proof of accommodations. You must pass a required medical examination before you can apply for the visa.
5. Establish a franchise agreement.
You must have a solid contract with the franchising business in addition to the licensing. A crucial legal arrangement between the franchisor and the franchisee is the franchise agreement. The agreement provides all of the details, guidelines, and norms pertaining to the two parties.
This agreement may include the following information:
The terms of the agreement, including obligations and demands.
Franchise costs.
Timeframe of the contract.
Quality control and instruction.
Choosing the site.
Conflict resolution.
Liability restraint.
Profit percentage.
Advertising.
Rights to intellectual property.
The franchise agreement should ideally be drafted with the assistance of a lawyer. To confirm you are beginning the franchise in the United Arab Emirates, both parties must disclose their agreement and sign the contract before a Dubai court or an Emirates court.
Keep in mind that the franchise agreement is a legal contract that must be followed by all parties. As a result, make sure the agreement accurately outlines all the pertinent business facts.
6. Opening a Business Bank Account
To conduct any business in the UAE, you need to have a corporate bank account. Before choosing one, it is a good idea to familiarize yourself with the numerous financial institutions present in the UAE. This will enable you to choose the bank that is most appropriate for your company. Opening a franchise in the UAE is similar in this regard.
The banking sector in the UAE is well-known, and it offers some of the most expertly tailored corporate banking services in the entire globe. These banks maintain a high standard of honesty and confidentiality.
Advantages of establishing a franchise in UAE
Opening a franchise Business in Dubai has various advantages, including:
Prospering economy.
Brand awareness.
Business support.
Greater capacity to buy.
Existing clientele.
Lower failure and risk rates.
Shared startup costs for businesses.
Access to exclusive goods and services.
Find the Best Franchise to Launch in the United Arab Emirates
You must conduct careful study and pick the greatest franchise to invest in if you want to build the top franchise in the United Arab Emirates. Working with a qualified business consultant may be preferable, regardless of the franchise you select.
We at Shuraa will assist you in starting your business and make sure everything is done correctly. We have years of experience establishing businesses in the UAE and are familiar with the regulations and requirements for doing so.
To chat with our specialists and learn more about franchising in the United Arab Emirates, get in touch with us right away. To find out how our business set-up consultants may assist you in realizing the full potential of your firm, call +971 4 4081900 as soon as possible. Additionally, you can contact us via email at info@shuraa.com and WhatsApp at +971 50 7775554.