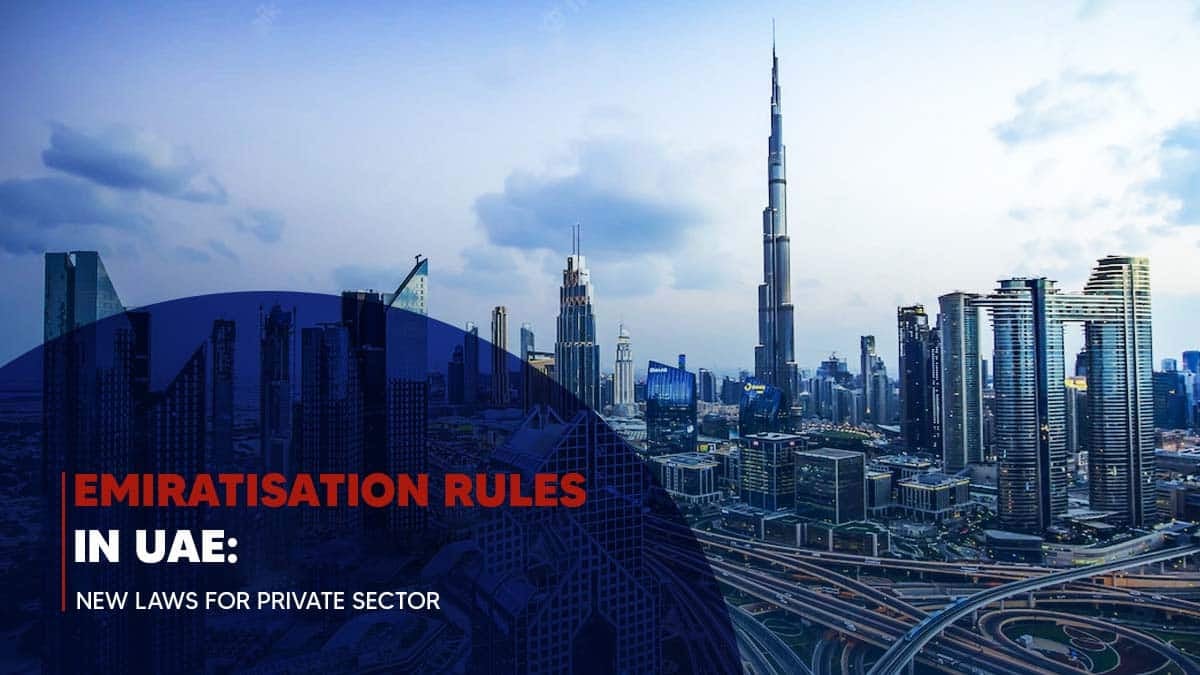 Emiratisation rules in UAE: New laws for Private Sector
The government has long since implemented regulations to increase Emiratistion in the UAE workforce. The key objective has been to increase the participation of UAE nationals in private sector jobs. UAE has introduced new laws, where private sector companies will be required to recruit 2% Emirati employees per year. These laws, specifically Ministerial Decision No. 279 of 2022, will definitely impact the organisational policies and recruitment strategies of businesses.
These resolutions are a part of Nafis, a "governmental federal program which aims to increase the competitiveness of Emirati human resources & empower them to occupy jobs in the United Arab Emirates' private sector over the next five years." The program aims to create over 12 thousand annual job opportunities for Emirati citizens covering all economic sectors.
Changes to the Emiratisation Laws
According to the regulations shared by the UAE government, also given below are the changes in the legislation that are coming into force:
Ministerial Decision No, 279 of 2022 – Emiratisation in the private sector (2% emiratisation Law)
Cabinet Decision No. 18 of 2022 (Classification Law)
New rules governing benefits under the Nafis scheme
Impact on Emiratisation in UAE businesses
Companies that fall under the jurisdiction of Ministry of Human Resources & Emiratisation (MOHRE) have to compulsorily follow the new Emiratisation laws. At least 2% of a private company's workforce are to be Emirati, on the provision that they have at least 50 members of staff on their payroll. This programme will be put in effect across the UAE mainland, with the exclusion of certain free zones (like DIFC & ADGM).
Requirements of the 2% Emiratisation Law in UAE
The Emiratisation rules state that if a private company has 50 employees or less on their payroll, they need to have 1 Emirati, and additionally, if the company has a headcount of 51 to 100 employees, they need to have 2 Emiratis on their payroll.
Therefore, to make their experice easier, companies can calculate their Emiratisation rate in reference to the number of skilled workers in the company:
50 skilled workers: minimum 1 Emirati employee
51-100 skilled workers: minimum 2 Emirati employees
101-150 skilled workers: minimum 3 Emirati employees
151 & above: 1 Emirati employee for every 50 or less workers
Also, MOHRE defines skilled workers as employees that:
Belong to any of these 5 worker categories:

Legislators, managers, business executives
Professionals in scientific, technical & humanitarian fields
Technicians in scientific, technical and humanitarian fields
Writing professionals
Service & sales occupations
Having secondary school certificate, its equal or higher
Relevant authority attested worker's certificate
Monthly salary no less than AED 4,000
Penalties for non-compliance
Companies that fail to fulfil the requirements of the emiratisation program will have to fufil the following penalties:
A minimum fine of AED 6,000 per month in lieu of each Emirati employee not hired. These fines will start to be issued from 1st January 2023 and will be increased on a yearly basis. As a result, failure to pay the fines can lead to the suspension of work permit applications by the company.
In case a company fails to comply with their Emiratisation quotas for two consecutive years, they will be demoted to the third category under the Classification Law.
UAE authorities have made stringent announcements to pursue non-compliant companies. The entities themselves can expect to suffer financial & reputational implications should they show consistent complacency towards hiring UAE nationals.
Stay updated with Shuraa Business Setup
With UAE opening its doors to a steady influx of foreign investors, it has become imperative for companies to stay updated with the necessary laws and regulations to ensure the smooth running of their business. Once they fulfil the basic requirements of the 2% Emiratisation Law in UAE, they will be free to pursue their commercial interests along with gaining access to the inner sanctum of UAE's national community.
Shuraa Business Setup is UAE's leading company formation consultancy that offers expert PRO services to investors. If your company is seeking information on the latest UAE corporate updates, our experts will guide you through the entire process. Reach out to us on +97144081900 or send us a WhatsApp message on +971507775554. You can also drop an email at enquiry@shuraa.com and get answers to all your queries.