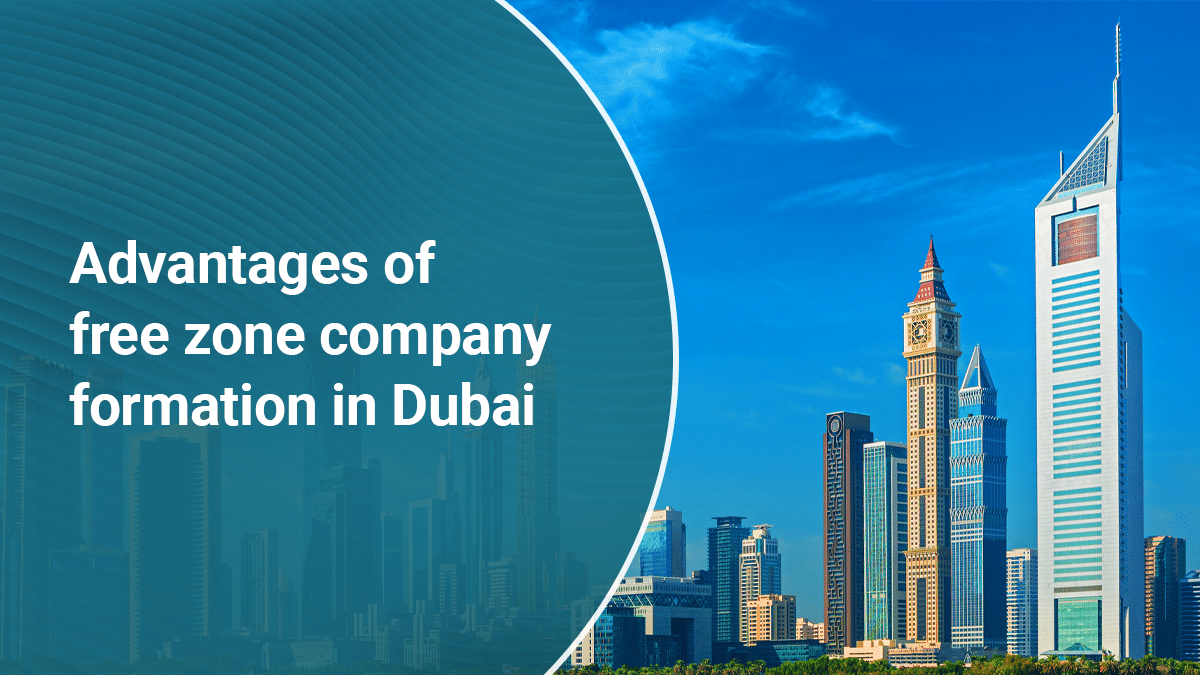 Advantages of free zone company formation in Dubai
There has never been a much better time for free zone company formation in Dubai. Over the years, the UAE has established itself as a hub for entrepreneurs to excel in the world of business. The UAE is now one of the top countries for business set up worldwide.  
The UAE has hit various milestones over the years. The IMD World Competitiveness Ranking 2021 ranks the UAE as the 9th most competitive economy in the world. Additionally, it also ranks 6th in Europe, Middle East and North Africa regions. Not to mention, UAE is one of the first countries to have bounced back since the onset of the pandemic. 
The country has gone through great lengths to adopt innovative methods to keep up with the ever-evolving industry of business. Furthermore, the UAE has set up free zones specifically to accommodate foreign investors by providing them with various benefits for business setup. 
This blog will enlighten you on everything you need to know about free zones and their numerous advantages. 
What is a free zone? 
Free zones are geographic areas within the UAE where goods, services and commodities are traded without the intervention of strict customs regulations. The objective of these special economic zones is to benefit expatriate investors in the UAE. These free zones provide 100% ownership to foreign investors, thus boosting international businesses. Additionally, free zone company formation costs are highly affordable. 
Jebel Ali Free Zone (JAFZA) is the first free zone to be established in the UAE in 1985. This free zone has been one of the key players in boosting the country's economy and is, therefore, the flagship free zone of Dubai Ports (DP) World. It is strategically located near the 7th largest container port named Jebel Ali Sea Port. This makes it the ideal free zone for import and export of goods.  
Most free zones generally deal with trading, service and industrial sectors. However, there are free zones in the UAE that are similar to JAFZA and cater to specialized industries or sectors. Some such jurisdictions include: 
Dubai Healthcare City (DHCC) for health and wellness industry 
Dubai Internet City (DIC) for tech industry
Sharjah Publishing City (SPC) for printing and publishing industry 
Dubai Multi Commodities Centre (DMCC) for trade and commerce industry 
Dubai CommerCity for e-commerce industry 
Fujairah Creative City for creative industry
Dubai International Academic City for education industry 
Dubai Outsource City for outsource and shared services industry 
Currently, there are about 45 free zones in the UAE. Free zones are also home to over 150,000 companies around the country. As time progresses, this number is on the rise with the UAE introducing new free zones almost every year. 
Free zones in the UAE and Dubai are governed by a special framework of rules and regulations which are applicable to a concerned free zone. The respective free zone authority manages and operates each free zone in Dubai. These jurisdictions also operate outside the federal laws of the Ministry of Labour. 
Free zones in the UAE are usually attached to a port. Free zones are also ideal for freelancers looking to venture into the world of business but do not want to settle with a single company. 
Various company structures in the UAE: 
Free Zone Establishment (FZE)- Single shareholder 
Free Zone Company (FZC)- Two or more shareholders 
Branch of a foreign company 
The various milestones of the UAE economy: 
Benefits of free zones in the UAE for company formation: 
When it comes to free zone company formation in Dubai, there are numerous benefits for investors. These various advantages of free zone company in Dubai are: 
Full foreign ownership of business: Free zones permit foreign investors to get 100% ownership of their business.  
Full profit repatriation: Free zone companies can repatriate all their profits to their home country. This gives them the freedom to transfer 100% of their capital to their country of origin without any requirements. 
0% corporate tax: The UAE law state that companies that set up a business in the UAE do not require to pay corporate tax out of their business revenue, thereby enabling you to keep all your profits. 
0% import or export tax: Unlike mainland, free zones are exempt from all customs duties. 
Strategic location: Dubai has world-class telecommunication, trailblazing financial intercessions, ultramodern industrial infrastructure, e-governance system, and service sectors. The location of the free zones makes for a highly cost-effective living. 
Global Connectivity: Dubai has a multi-national community and provides opportunities for you to connect with a global business community. 
Range of business activities: Free zones give you the freedom to undertake a range of business activities. 
Time-efficient process: The entire process of obtaining a license is fairly swift and easy. 
Convenient Registration: Dubai gives you the ability to register from the comfort of your home. You can send all the required documents to the free zone without being physically present for submission. 
Start the process of your free zone company setup in Dubai now, with Shuraa: 
Free zone company setup is without a doubt one of the best decisions an entrepreneur can make. This is because UAE free zones offer several benefits to entrepreneurs looking to venture into the world of business in the country.  
Shuraa is one of the leading business setup companies in the UAE. For over 20 years we have been helping entrepreneurs form and maintain their businesses in the country. We assure you that the entire process of your company setup runs smoothly. Our expert consultants will guide you through the entire process from registering your business, understanding free zone license cost, all the way to the process of obtaining approvals from the authorities. 
Contact our expert consultants to learn more about free zone company formation in Dubai. Call us at +97144081900 or send a WhatsApp message on +971507775554. Additionally, you can also drop in an email at [email protected] and get your queries answered in no time.