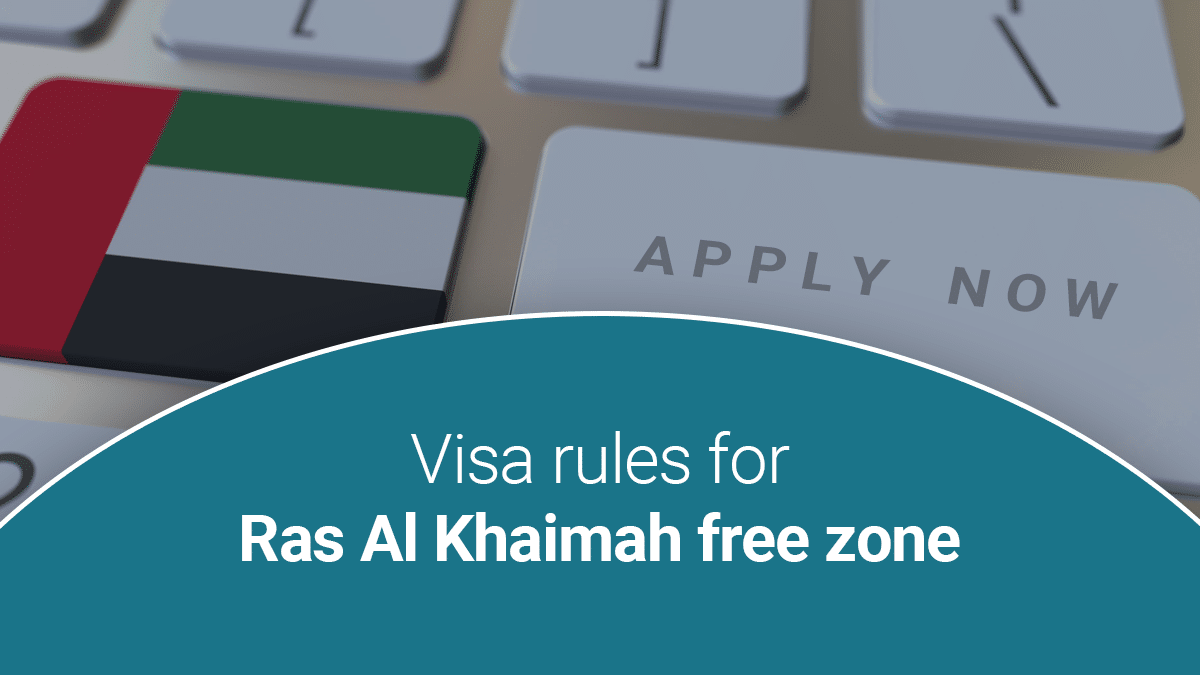 Visa rules for Ras Al Khaimah free zone
The Ras Al Khaimah free zone (RAKEZ) is one of the biggest free zones in the UAE. It offers considerable advantages to the business set up there. Setting up a business or working in the RAK free zone requires obtaining the relevant approvals, one of which is the RAK free zone visa. 
In this article, we provide you with an overview of the visa types and the process in simple terms so that you're all set to be a part of the RAK free zone. 
RAK free zone visa types
Obtaining a visa is the most crucial part of your business journey in the land of free zones in Dubai and the rest of the UAE. There are two kinds of visas, which further have two sub-categories each. The first type is the residence Visa which is to be obtained by the main party planning to stay in the UAE or the workers who are going to stay in the country.
For instance, a person who wants to set up a business in their name in Dubai, or is joining a company or firm in any capacity would require either one of the residence visas.
The next category is the non-residence visa, which is to be obtained by the family members or visitors of the working resident. This kind of visa is imperative for the non-working members of the family to stay legally in the country.   
Residence visas 
1. Investor Visa – Investor visas are applicable if you're investing in a company or are a shareholder of the same. These visas are valid for up to 3 years. Absence from the UAE exceeding 6 consecutive months will automatically forfeit the visa. It is not mandatory for a free zone investor visa applicant to buy property in the UAE or find themselves a local sponsor from the country to obtain the visa.
Qualified investors are eligible to apply for a real estate or property visa for them and their family's stay in the UAE on a temporary status. Real estate visa holders can apply for multi-entrance residence visas which must be renewed every 6 months and is applicable to property in different emirates. 
2. Employment Visas – Company managers, employees and staff are required to apply for employment visas in order to work in the UAE. Like investor visas, these are also valid for 3 years, and one cannot stay out of the UAE for more than 6 consecutive months for this visa to remain valid.
Employment visas, issued by the immigration department, requires prior approval from the UAE Ministry of Labour and Social Affairs. An employee in a free zone firm can bypass the approval from the ministry and apply for the permit straightaway.
Although this makes the process a lot more streamlined, you cannot work 'onshore' (firms not set up in free zones) on a free zone employment visa since you do not possess a full UAE labour contract. 
Non-resident visas
1. Family Visa – Family visas are for dependents of investors/employees working in the UAE. These are directly linked to the working status of the earning family member. Usually they have to be renewed every 3 years, One cannot be absent from the UAE for more than 6 consecutive months. 
The applicant's dependents, including parents, spouse and children below 18 years of age will be granted a residence visa. A crucial criterion for the granting of this visa is that the applicant must earn from AED 4000-3000 on a monthly basis and have accommodation arranged. 
2. Visit Visas – These are for temporary visits by business partners, clients, family members or anyone related in a professional or familial capacity with the rest of the three types of visa holders. A visit visa permits a one-time visit, ranging from 1 to 3 months which is dependent on the visa type.  
Procedure to obtain RAK free zone visas
Ras Al Khaimah free zone (RAKEZ) visa rules and procedures are the same as that of every other free zone. Important documents are to be submitted to respective agencies and approvals are to be taken. If you are planning to apply for a free zone visa, it will be helpful to go through the brief breakdown of the procedure given below –
1. e-Channel Service
The first step is to register with the e-channel service. This is an online visa approval platform that was designed by the authorities for a seamless visa application process. It cuts through unnecessary and repetitive paperwork and makes the process transparent and efficient. A mandatory registration fee and a refundable deposit are required.  
2. Entry Permit
The next step is obtaining an entry permit or an employment visa. Permits are issued 15 days post-application, but an AED 1000 payment can fast-track the delivery to 7 days. The permit is valid for 6 months. A visa applicant has to stay in the UAE till all the processes are complete. 
3. Status Adjustment
Status adjustment on change is a process necessary for activating the entry permit. There are three ways for status adjustment. 
The in-country process is for people living in the UAE. It involves submitting your passport to the immigration department, which will be returned in 3-5 days after being stamped. 
If you are not present in the UAE while the visa is issued, you can opt for the out-of-country process. Exit and re-enter UAE and present your printed visa to an immigration officer at the airport, who will stamp it. 
Medical Test & Emirates ID Registration
This is a mandatory fitness test involving a chest X-ray and blood test for infectious diseases. The results are given in 3 working days.
An Emirates ID card has to be obtained. You will have to visit the ID authority since biometric details like fingertips and eye scans are required. The ID card is important for verification when it comes to legal matters like opening bank accounts or signing tenancy agreements.
Call Shuraa for your business setup needs
Obtaining a visa is one of the most important tasks when it comes to working in the UAE free zones. Errors or omissions in the visa approval stage can set your business back by a lot of time, and can also attract legal scrutiny. 
Hiring a professional agency that knows the lay of the land is the best way to go. When you collaborate with us, you can say goodbye to all your business setup worries. Call us today on +971 44081900. We're also available on WhatsApp at +971 50777 5554. For an email inquiry, write to us at info@shuraa.com.