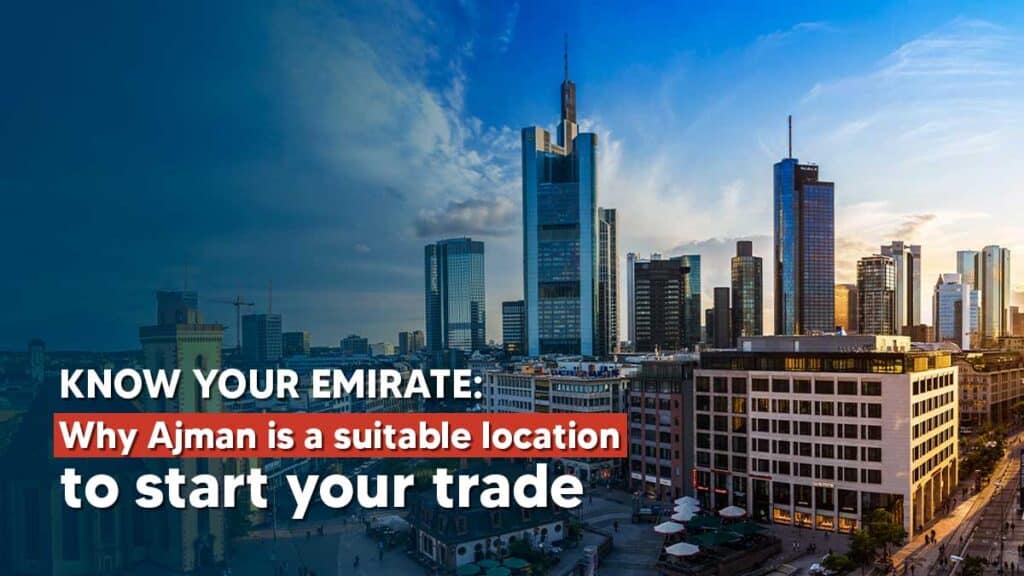 How to get a trade license in Ajman in 2023?
Here you will find all the information you need to secure a trade license in Ajman, one of the UAE's most dynamic economic centres. In this post, we'll detail the steps involved in applying for a business license in Ajman, including all the information you'll need to know to submit a competitive application. By adhering to our expert advice and direction, you can position yourself for success in establishing a business presence in Ajman.
Due to its proximity to Dubai and Abu Dhabi, its low corporate tax rate, free zone and mainland company formation facilities, and its high quality of life, Ajman is regarded as an ideal location for business by both local and foreign entrepreneurs.
Ajman is the earliest and smallest of the UAE's seven emirates. Sharjah has experienced accelerated economic growth and development in recent years due to its proximity to Umm Al Quwain and location on the Persian Gulf coast. Depending on the entity, you will receive a variety of trade licenses ranging from real estate to construction and transportation to e-commerce.
Why is Ajman more advantageous for company formation?
As one of the UAE's free economic zones, Ajman Free Zone Authority has permitted business proprietors to engage in a variety of industries and manufacturing services. Ajman is also one of the finest locations for business proprietors who wish to invest in the real estate market. The government has made it simpler and more convenient for investors to obtain loans and grants that will assist them in acquiring property at a potentially reduced price.
Understanding the Importance of a Trade License
Before delving into the specifics, it is essential to comprehend the significance of obtaining a business license in Ajman. A commercial license is a legal authorization to conduct business within an emirate. It is a requirement for all business entities, including sole proprietorships, partnerships, and corporations.
Types of Trade Licenses in Ajman
Ajman provides a variety of trade licenses to accommodate diverse business activities and requirements. Let's examine some of the most prevalent types of commercial licenses:
Trading or Commercial License
This is the fundamental form of license. You must obtain a trading license if your business is involved in the trading of specific services or products. It facilitates the importation, exportation, distribution, and re-exportation of commodities and entertainment products within the UAE.
Industrial or Manufacturing License
Under this license, the holder may incorporate manufacturing, processing, and assembly facilities, such as the importation of raw materials, the production of enumerated products or commodities, and the exportation of products.
Pioneers Package
This form of license has been created for youthful entrepreneurs to facilitate professional independence. Pioneers package is suitable for postgraduates and start-up businesses in a cost-effective manner with no limitations on long-term expenses.
Freelance License
The Ajman government is now granting freelancer licenses to support and grow this industry in the UAE. The economic renewal rates in this competitive freelancing market ensure advanced business growth.
E-commerce License
In the UAE, e-commerce is expanding at a rapid rate. E-commerce license permits online business proprietors and entrepreneurs to expand their electronic trading over B2B and B2C channels. This license covers the following e-commerce activities:
Fashion Retail E-Trading.
Media and Entertainment E-Commerce.
Industrial Equipment Electronic Trade.
Automotive E-Commerce.
E-commerce for Home, Office, and Personal Utilities.
Guide to Obtaining a Trade License in Ajman
Wondering how to start a business in Ajman, let's go through the following steps-
1. Conduct Extensive Market Research
Before initiating the application procedure for a business license, it is essential to conduct exhaustive market research. To acquire a competitive advantage in Ajman's dynamic business environment, familiarize yourself with the target audience, competitors, and industry trends.
2. Determine the Organization's Business Activity and Legal Structure
Specify the business activity you intend to pursue and choose the appropriate legal structure. This decision will determine the type of business license for which you must register. A consultation with an attorney or business consultant can help you make an informed decision.
3. Select a Company Name and Reserve It
It is essential to select a unique and memorable business name. Once a name has been selected, it must be reserved with the Department of Economic Development in Ajman to guarantee its availability. Typically, reserving a domain name entail submitting an application and paying the required fees.
4. Prepare the Necessary Documents
To expedite the application procedure for a business license, assemble all required documents.
Passport Copies of the shareholders or investors
Proof of residential address, phone & email
Full business plan
License application
Fees payment receipt
Name Approval letter from DED (Department of Economic Development)
Ensure that all documents are comprehensive, valid, and in accordance with the Ajman Department of Economic Development's requirements.
5. Submit the Application
You are now able to submit your application for a business license as you possess all the necessary documentation. Visit the Department of Economic Development in Ajman or submit an application via their online application portal. Pay the required fees and provide any requested additional information. 
6. Process of Review and Approval
Once your application has been submitted, the authorities conduct a comprehensive assessment of it. This evaluation entails authenticating the submitted documents, undertaking background checks, and evaluating compliance with the regulations. The duration of the approval procedure may differ, but typically a decision is rendered within a few weeks.
7. Obtain a Business License
Congratulations! You will obtain your business license from the Department of Economic Development upon approval. The license will specify the permitted business activities, the duration of validity, and any additional terms and conditions. Ensure that you comprehend and adhere to all the license's requirements.
8. Renewal and Compliance
Typically, trade licenses in Ajman are valid for one year. It is essential to renew your license before it expires to prevent interruptions to your business operations. Ensure further that you comply with all regulatory requirements and Ajman's laws and regulations.
Cost of Ajman Free Zone Company
The low cost of establishing a business in Ajman's Free Zones is a significant attraction for entrepreneurs seeking to establish a company in the UAE. Ajman Media Free Zone offers a competitive bundle for company incorporation, with all-inclusive services costing approximately AED 25,000 (approximately).
Similarly, Ajman free zone trade license cost provides an affordable option for enterprises, with all-inclusive services, approximately AED 25,000 (approx. It is essential to note, however, that the ultimate cost may vary based on factors such as the number of visas required, the rental space required, and the type of business to be conducted.
Both Ajman Media Free Zone and Ajman Free Zone provide businesses with a variety of benefits and incentives, such as 100 percent ownership, tax exemptions, and simple company registration procedures. In addition, businesses enrolled in Ajman Free Zone can take advantage of its strategic location near major airports and seaports, which facilitates the import and export of merchandise.
Ajman's Free Zones are a cost-effective and enticing location for entrepreneurs, thanks to a favourable tax climate, world-class infrastructure, and a variety of sector-specific business opportunities. This facilitates the growth and expansion of enterprises in the region.
Cost of an Ajman General Trading License
The Ajman business license cost is among the lowest in the UAE at AED 35,150. In addition, it offers foreign investors a cost-effective option for establishing a business in the emirate. The cost of a general Trading license in Ajman comprises initial approval fees, trade name fees, and license issuance fees, among others.
A general trading license in Ajman costs a variety of fees, including DED license fees, UAE service agent fees, and other extraneous costs. It is essential to note, however, that obtaining a general trading license in Ajman is relatively less expensive than in other Emirates in the UAE.
In addition, the Ajman government has simplified and streamlined the procedure for obtaining a general trading license. In addition, the license permits companies to conduct business within the emirate and to import and export products to and from other nations.
Ajman LLC License Cost
The cost of forming a limited liability company in Ajman can vary based on factors such as the scale of the business, the number of shareholders, and the type of business activity. However, the average cost of an LLC license in Ajman for the first year is approximately AED 14,000. This includes the DED license fees, a UAE service agent, a dedicated consultant, comprehensive documentation, and ongoing support.
Ajman LLC costs are generally lower than those of other Emirates in the United Arab Emirates, making it a popular option for entrepreneurs seeking to establish enterprises in the region. Moreover, Ajman provides a variety of advantages that reduce the overall cost of establishing a business.
Start your business in Ajman with Shuraa
Ajman business establishment cost provides scalable business platforms for entrepreneurs. With options like Ajman Free Zone, Offshore, and Mainland Company structure, investors have the flexibility to select the option that best meets their business requirements.
In addition, Ajman's world-class infrastructure, strategic location, and advantageous tax climate make it an attractive location for businesses seeking to expand in the UAE. The cost of establishing a business varies based on variables such as the type of company, the number of required visas, and the rental space.
Additionally, the city's strategic location, efficient government services, and low-cost business establishment alternatives make it a desirable location for entrepreneurs seeking to launch new enterprises. However, the Ajman business establishment cost can add significant value to the overall setup process, making it an investment worth making.
Contact Shuraa to speak with one of our well-trained experts on establishing a business in Dubai for free. You can contact us at +971 4 4081900, send us a text message at +971 50 7775554, or email us at info@shuraa.com.