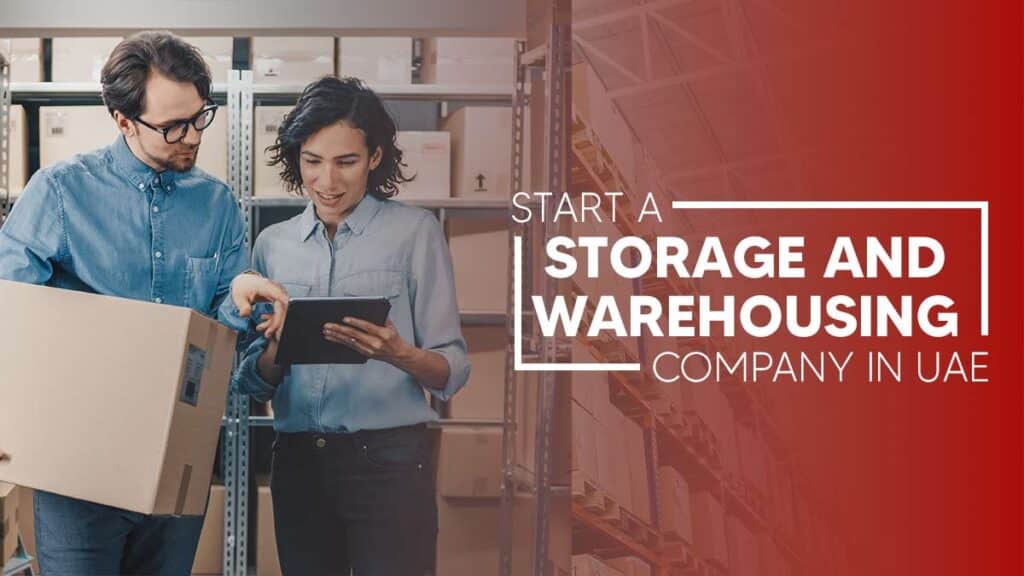 Start a storage and warehousing company in UAE
One of the world's largest trading centers, Dubai has flourishing industries in every sector. Due to Dubai's excellent trading location, many businesses buy goods in bulk from other nations, which are then stored and sold in the UAE. Numerous businesses in this area also produce goods that are later stored before being shipped around the world. Due to the increased need for warehouses, businesses that provide storage and warehouse services will see a significant increase in business. If you want to take a piece of this massive sector, this post will go over all the components and details you need to start a warehouse business in Dubai. 
Important Factors to Consider Before starting a Warehouse in Dubai
Understanding the complete endeavor in its entirety is crucial before engaging in any business action. To do this, you must: 
Carry out thorough market research
A thorough understanding of the market for your product or service, the top players in the sector, and your greatest revenue streams will all be aided by thorough market research. 
Requirements for Documentation
Even though it is a straightforward procedure, setting up a business in Dubai involves some paperwork. You should be knowledgeable about all the necessary paperwork and steps. 
Recognize the Logistics Industry 
Dubai's customs and clearance regulations are extensive and a little disjointed. Investors frequently decide to use the help of independent business consultants to manage these crucial company factors. 
Online conferences with prospective clients
Meeting in person with suppliers is a fruitful way for warehouse companies to network and connect. Meeting with them in person can improve your relationship and help you resolve any conflicts swiftly and diplomatically. 
Employ Qualified Workers
There is a sizable labour pool in Dubai. Your company will have the best possible chance of success if you choose the proper people for it. 
Bring in Customers
Create a focused and effective marketing strategy for your company. This will enable you to attract new clients and retain existing ones. 
Set long-term objectives.
Making the effort to create long-term objectives is one of the finest methods to guarantee success in any organization. As a result, you will be able to operate more effectively in the short term while making steady progress towards achieving your long-term goals. 
Advantages of a General Warehouse License in Dubai
You can provide a much-needed service to the numerous enterprises in the UAE with a general warehouse license. A nation with such large import and export rates always needs warehousing services. 
Easy incorporation process 
Low barriers to entry 
Incredibly welcoming business environment 
Requirements for Documentation
Starting a warehouse business in Dubai involves very little paperwork. The sole necessities are typically a filled-out application for a business license in Dubai, a copy of your passport, and color photographs of the firm owner and shareholders. 
But you should also have the following paperwork on hand: 
A legal document confirming the company's address on the ground. 
Passport copies of the shareholders. 
Memorandum of Association (MOA) and Attested Articles of Association (AOA). 
Evidence of a trade name.
The personal information of the managers and stockholders. 
Proof that the initial activity was approved. 
How to start a warehouse business in Dubai?
The process to open a storage company in Dubai are as follows- 
1. Describe the operations of your business
The warehouse industry includes a wide number of operations in addition to transportation, freight, and cargo. Therefore, if you want to start a warehouse business in Dubai, you must decide what kind of business operations you will conduct. 
2. Choosing a business name and an economic zone
You have a choice between the mainland and a free zone. Both jurisdictions have demands, benefits, and drawbacks. Choose the option that best satisfies your company's needs.  
The following are the three main business areas in Dubai where a warehouse can be opened: 
Choose a distinctive and uncommon company name to set your business apart from other warehouse companies. Don't include any offensive words in the name. 
3. Demanding a Trade Name
Choosing a company name and submitting a trade name request to the Department of Economic Development (DED) will involve the following steps. Your company name might not already be in use and might not be vulgar.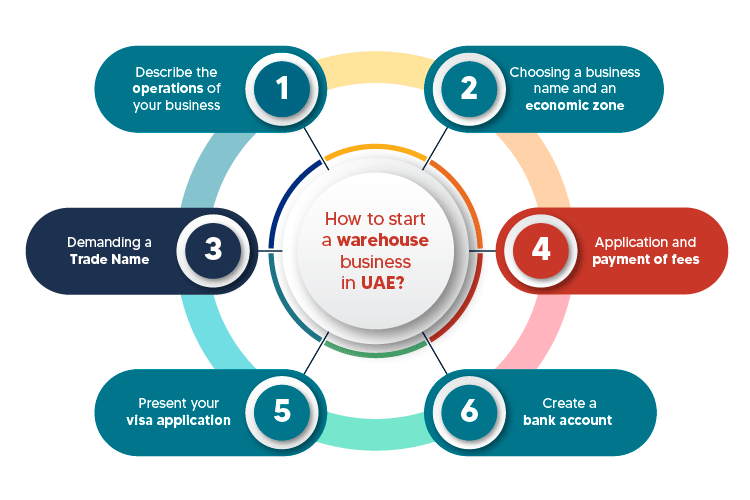 4. Application and payment of fees
At this stage, you should compile all the required data and submit your application to the Department of Economic Development. After paying the required costs, copies of your paperwork and your new business license will be mailed to you. 
5. Present your visa application
You'll need to get visas for both you and your staff after you've gotten your company license. You can also sponsor dependents like wives or children. 
6. Create a bank account
Your company will need a bank account before you can really get started. For individuals who are inexperienced with the laws and regulations of the region, opening a corporate bank account in the UAE can be a bit of a challenge. For handling banking applications, many investors choose outside experts like Shuraa Business Setup. 
Activities in which storage and warehousing Companies can engage
With so many different business ventures taking place in Dubai, you can choose your investments wisely if you have a clear understanding of your options. We'll go into more detail about a few of the numerous business activities this area has to offer below. 
Third-party logistics
Third-party logistics service agreements that cover product delivery, storage, and handling. 
Freight Brokering
This will cover customs, insurance brokerage, and goods that are transported by air, land, or water. 
Warehouse Maintenance
This commercial operation includes warehousing facilities, loading, unloading, sorting, and packaging. 
Customs Agent
When dealing with customs authorities, a customs broker represents declarants and prepares customs declarations. 
Transportation of Cargo
Transporting cargo involves handling it on land, in the air, and at sea using trucks, aircraft, and container ships. 
Dubai general warehouse license costs
Whether you want to run a warehouse for your own goods or a warehouse accessible to the public will affect the cost of the warehouse license. Dubai general warehouse license cost starts from AED 30,000. 
Put Your Best Foot Forward with the Aid of Shuraa Business Setup
No matter if you're a first-time investor or a member of a franchise with a long history, our experts have the knowledge and experience to handle your day-to-day business operations so you can concentrate on what really counts. We handle everything, from processing requests for company licenses to managing visa renewals! 
Do you intend to launch a company in one of Dubai's several free zones? We can assist! Do you require PRO Services' assistance? That is something that we also do! Do you need assistance finding suitable office premises for your staff? We have your back! 
You're on the correct track whether you've been thinking about starting a warehouse business in Dubai, want to learn more about business startup costs in Dubai, or are just visiting the area to make investments. Call our business setup consultants at +971 4 4081900 right away to learn how they can help you realize your full company potential. Additionally, you can reach us by WhatsApp at +971 50 7775554 and email at info@shuraa.com.