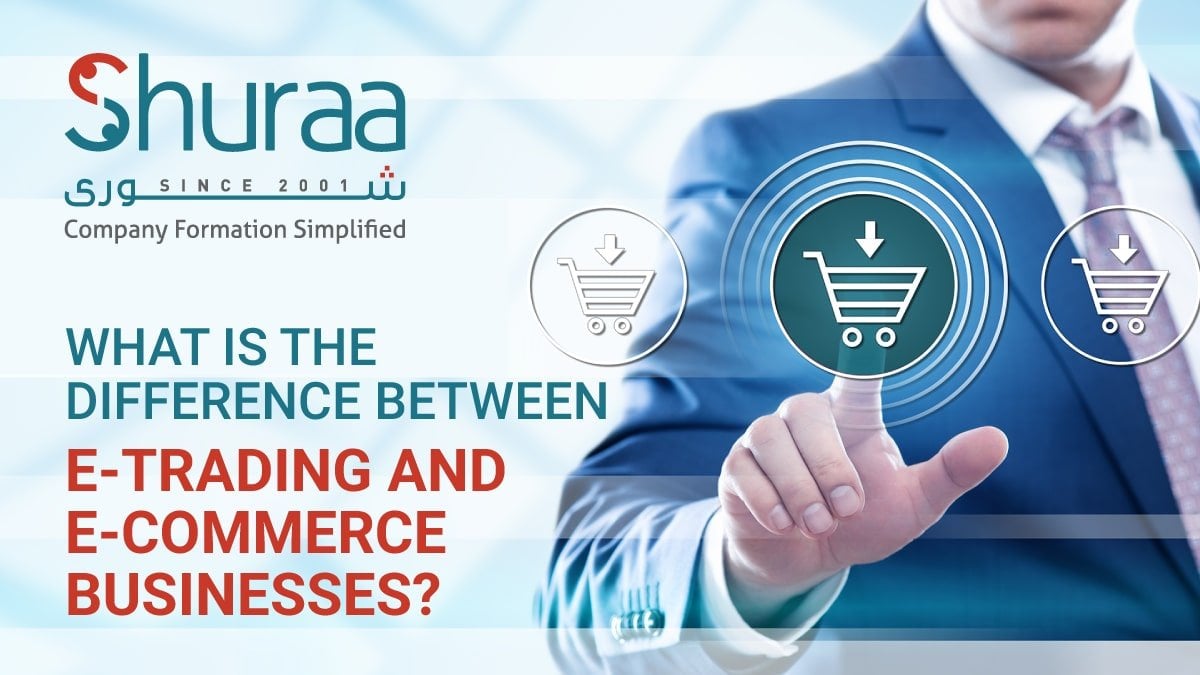 Difference Between E-Commerce and E-Trading
The digital business model comes with a breath of fresh air and unfurls new possibilities for various business activities. The online medium has opened the gates for entrepreneurs and SMBs who have limited budgets. Therefore, you can now set up your e-commerce business in Dubai at affordable costs and upgrade your business model once you achieve financial stability.
You can acquire the e-trader license if you wish to operate as a sole proprietor of your small business over multiple social media channels. E-commerce license Dubai is tailor-made for entrepreneurs who want to indulge in the sales of physical products online.
Read ahead to understand the key differences between these two businesses:
What is an e-trading business?
Investors and business owners prefer to launch their ventures in the UAE because the government has established well-defined laws for all business activities. You get a legal license to carry out your online business over social media platforms such as Facebook, Twitter, Instagram, Snapchat, etc. It's called the e-trader license and is issued by the DED (Department of Economic Development).
You don't need a local sponsor or national service agent to run your e-trading business. The day-to-day activities involve you selling your products and services over several social media platforms. Therefore, it is important to note that non-GCC (Gulf Cooperation Council) expats can only offer professional services (and not products) under their social media business.
Who should start this business?
New-age investors, people who want to operate from their residential premises, and low-budget business aspirants should prefer the e-trading business model in Dubai. The e-trader license doesn't permit you to sell outside of Dubai by default. However, you can get approval for the same from the concerned economic department of the Emirates.
Therefore, e-trading business is best suited for those whose primary target market are locals within the Dubai region. However, you aren't entitled to open a physical store or commercial unit under the terms of an e-trading license. Keep all these things in mind before you start an e-trading business in Dubai. In case you're stuck and need more clarity on how this business model works, consult with business experts in the UAE.
How can you conduct such business in Dubai?
You cannot sell products in Dubai without a legal license. With an e-trader license, you can legally sell products over social media and other digital platforms. It enhances system transparency and eliminates the risk of fake product selling alongside other malpractices.
Here are the requirements to obtain an e-trader license in Dubai:
The applicant must be based in Dubai (to sell both products and services) with a minimum age of 21 years
Must present the Makani and Eljari number
Should have a valid EID
After you finish with the paperwork, you'll need to:
Reserve a trading name
Pay the associated fees within 24 hours of license issuance
Ensure annual renewal of the license, failing to which the license shall be auto-canceled
Successful completion of the registration process with the Dubai DED
What's an e-commerce business?
Online shopping is now an integral part of everyone's lives. It's convenient, affordable, and gives you tonnes of options to choose from. An e-commerce business involves selling to the general public and requires you to secure an e-commerce license for the same. Therefore, you can utilize social media channels and various other online selling platforms to run your e-commerce business in Emirates.
The UAE's e-commerce market is estimated to be worth around $27.1 billion in 2022. Therefore, if you want to enter the prospering e-economy of Dubai, now is the time. There are numerous e-commerce license types, and each caters to a different audience segment.
Who should start this business?
People ready to maintain product inventories, secure office space, and deliver to a broader audience should apply for an e-commerce license. Your business's billing and documentation happen on a registered office address so ensure that you buy or rent an office space.
If your e-commerce business is based in any of the free zones, you'll need to obtain a trade license from the DED to sell products outside of the free zone.
An e-commerce license in Dubai costs you anything around 12,000 – 15,000 AED. Therefore, if you want to experiment with your online business, go for the e-trading license, which would cost you around 1,500 AED. Once you build a stable consumer base, upgrade to the e-commerce trade license.
How can you conduct such business in Dubai?
E-commerce businesses in Dubai are categorized as:
B2C (Business to Consumer): When you sell your products directly to the consumer via digital media platforms
B2B (Business to Business): An online transaction that happens between two business entities (you sell a product or service to another business)
C2C (Consumer to Consumer): An e-commerce business type where a consumer sells to another consumer
C2B (Consumer to Business): A business transaction where an organization avails the services or products from a consumer
Once you finalize your e-commerce business layout, you'll need to fulfill the following requirements to obtain the license:
Formation of an LLC or sole proprietorship company under the Companies Commercial Law 2015
A registered office for legal billing and business documentation
VAT registration with the Federal Tax Authority
After you match these requirements, you can apply to the concerned economic department with:
A legal trading name
Registration with any of the UAE's ports and custom authorities for import/export activities
Apply for an initial approval certificate (valid for six months)
Open a corporate bank account that suits your business needs
Connect with Shuraa
The process of setting up an online business in Dubai involves a lot of documentation and in-depth knowledge of free zones and mainland areas. With Shuraa, you don't have to worry about any of these aspects as our business consultants help you with all your business needs. Be it obtaining the concerned license or acquiring a business space, Shuraa is always there for you. Therefore, to get in touch with our experts, call us at +971 44081900 or send a WhatsApp message on +971 50 777 5554. For email assistance, you can write to us at info@shuraa.com.