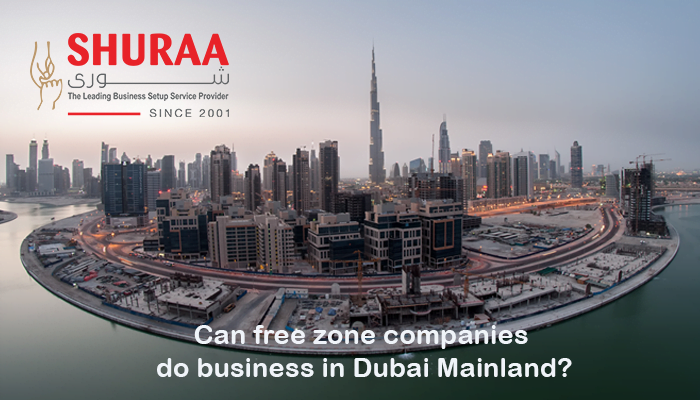 Can free zone companies do business in Dubai Mainland?
The simple answer to the above question is NO. Free zone companies are not permitted to do business outside their jurisdiction or in Dubai Mainland. However, before we analyse why free zones are not allowed to do business or learn ways through which free zones companies can do business in Dubai Mainland – it is important to understand free zones and mainland jurisdictions.
What is Free zone?
Free zone is a jurisdiction or a region that provides easy company formation, mainly designed for international business. Free zone in Dubai have tax advantages and offer 100% ownership to expatriates. Free zone companies can benefit through the single window administration convenience offered by most of the free zones in Dubai and across the UAE.
What is Mainland?
Mainland is a targeted jurisdiction termed to be more significant politically, economically and demographically. Mainland business and mainland companies have lesser restrictions and are free to operate anywhere across the UAE and globally. A mainland company also referred to as an onshore company is licensed by the Department of Economic Development (DED).
Why is a free zone not allowed to do business in Mainland?
As per the law no. 13 of 2011 the Department of Economic Development is the only accountable authority for issuing licenses outside the free zones. In accordance with the law, no one is permitted to conduct economic activities in Dubai outside the free zones except through a corporate entity licensed by the DED. Violation of the law can be fined up to AED 100,000.
How can free zone businesses do business in Dubai?
Free zone jurisdictions do not permit companies registered under free zone authorities to do business in Dubai Mainland. Most trading companies in free zone are completely restricted to do business in Dubai Mainland, certain professional activities are given a leverage.
However, in case a restricted free zone company wants to do business in Dubai Mainland specific licensing and documentation is required. Such free zone companies would have to obtain appropriate licenses from the Department of Economic Development in Dubai.
Free zone companies also have an option to get connected with a distributor who has a DED license and then does business in Dubai Mainland. Apart from this, free zone companies may do business in Dubai Mainland through a civil work company, limited liability company or establish a branch office.
Get FREE Business Setup Consultation:
To know the difference between mainland business setup and free zone company formation speak to a business setup consultant. Understand which jurisdiction fits your business activity; provides you with growth opportunities and is cost-effective at the same time.
Consult Shuraa Business Setup for Free call us on +97144081900 or WhatsApp us on +971507775554. You may also email us your concerns on info@shuraa.com or log on to https://www.shuraa.com/.