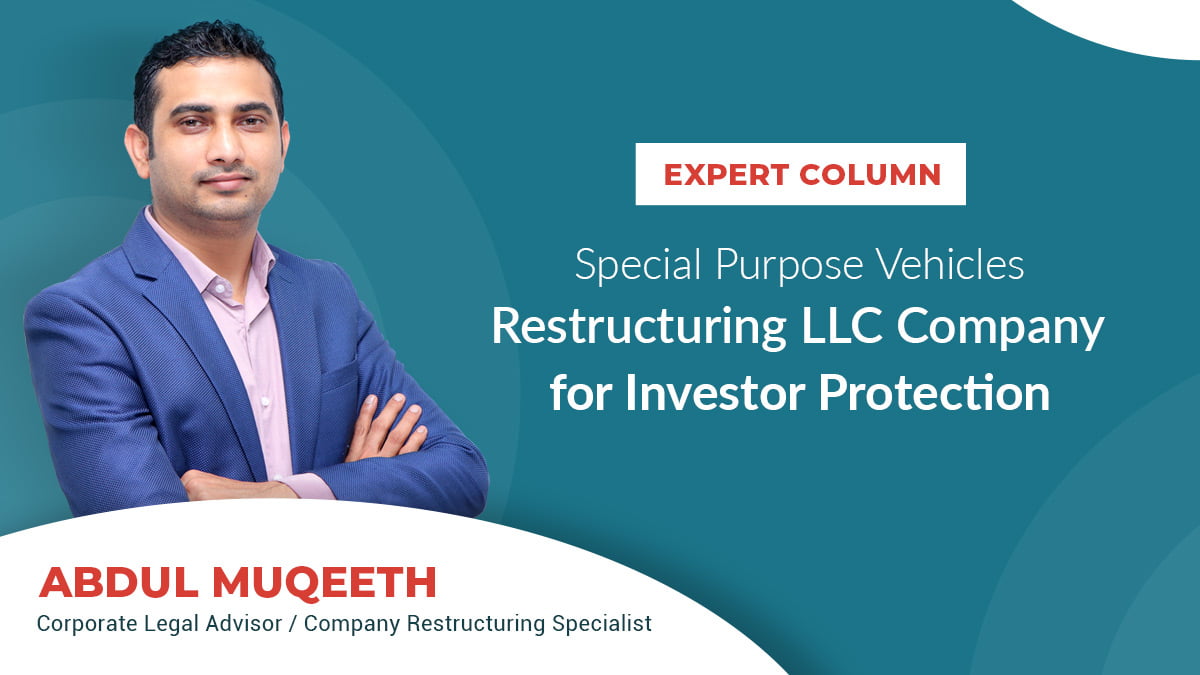 Special Purpose Vehicle: Restructuring LLC Company for Investor Protection
Are you a foreign national entrepreneur wanting to secure complete ownership of your Dubai mainland company? How is it possible to do so when the UAE law states that you must partner with a local sponsor who will own 51% shares of your LLC company? This is where company restructuring via Special Purpose Vehicle (SPV) or Special Purpose Company (SPC) comes in the picture.
Dubai is renowned globally as the business hub of the Middle East. Entrepreneurs from all around the world turn to Dubai to either start their entrepreneurial journey or to expand their existing business to a new region. With the freedom to set up your business in either the mainland or one of the many free zones in Dubai, there is no dearth of opportunities for you to explore the UAE market and to capitalise on its favourable international reputation.
Current Legal Structure for Mainland Companies
Based on the legal business structures outlined by the UAE government, a foreign national can form a Limited Liability Company (LLC) in mainland Dubai, albeit as a partnership. Mainland company incorporation in Dubai mandates you to partner with a local sponsor. A local sponsor, by definition, can only be either a UAE national individual (Emirati) or a company fully owned by an Emirati. As per UAE commercial law, the local sponsor must hold 51% shares in your company while you, along with any other foreign national partners in your business, will own the remaining 49%. In most cases, the UAE national is a silent partner without any operational authority in your company. However, legally, both the parties are liable up to the declared share capital of the company owned by each shareholder.

Oftentimes, a foreign investor and a local sponsor get into a side agreement. This agreement acts as a written consent whereby the UAE national declares himself/herself as a silent partner who holds no shares in the company. However, this is not a notarised agreement. The legality of the agreement is of a civil suit. It will not supersede the legally notarised Memorandum of Association (MoA), which is as per the UAE company law.

While a side agreement is based on trust and goodwill, should a situation arise where a dispute requires the intervention of the judicial system, the government will only take into consideration the terms stipulated by the law of the land. Thus, to safeguard the ownership of the foreign investor, there is a need to restructure the company by establishing the presence of Special Purpose Vehicle (SPV).
What are Special Purpose Vehicles (SPV)
Special Purpose Vehicles are subsidiary companies established to help you gain complete ownership of your mainland LLC company. High net-worth entities or companies with substantial investment and high-risk operations may have reservations about registering their company with a 51% local shareholding structure. Therefore, the creation of SPV is best suited for their needs as it will allow them complete control of their business, without having to conform to a shareholding structure.

Recent changes made to the Foreign Direct Investment (FDI) law by the UAE Federal Government has widened the scope of activities through which foreign nationals can have 100% ownership in an LLC structure. Though they have included more than 122 activities to the list, a majority of these are related to service, construction, or project-oriented businesses. Since the initial investment required for these activities is very high, it is not a viable option for SMEs. Company restructuring via SPV will be a more economical solution.

Special purpose companies can only be registered in a free zone governed by the English Common Law. Currently, there are only two free zones in the UAE that offer company registration under Common Law – Dubai International Financial Centre (DIFC) and Abu Dhabi Global Market (ADGM).
What is the process of Company Restructuring via Special Purpose Vehicle?
Restructuring the LLC is a 2-stage process and includes the involvement of both parties – UAE national sponsor and expat partner(s).
Stage 1 – Company restructuring in free zone
This stage involves registering either one or two separate entities as Special Purpose Vehicles (SPV) or Special Purpose Companies (SPC).
When incorporating 1 SPV
The SPV will be registered as a 100% UAE national-owned entity.
The registered SPV can then pledge all its shares to any individual(s) who will directly become the shareholder(s) of the mainland LLC company. This transfer of shares is carried out under the Call Option Agreement, as per the English Common Law.
When incorporating 2 SPVs
The first company, known as SPV A, will be registered as a 100% UAE national-owned entity.
The second company, known as SPV B, will be registered as a 100% expat partner(s)-owned entity.
Once the two entities are registered, SPV A will pledge all its shares to SPV B under the Call Option.
Stage 2 – New company registration in UAE mainland
The final step of completing your company restructuring process is to incorporate a new LLC company in the mainland. As per the UAE Commercial Law, this company will have two shareholders: the Emirati-owned SPV and the foreign national individual or the expat-owned SPV. Since the Emirati-owned shares were pledged off in Stage 1, the expat investor(s)thus becomes the 100% owner of the LLC.
What are the requirements for incorporating a Special Purpose Vehicle?
The documents required are dependent on the purpose for which the company is undergoing restructuring. However, the basic requirements are as follows:
Business plan of the company, including the objective of the company
Copy of passport information of each shareholder
UAE visa page copy of shareholders who are residents of the UAE
Copy of UAE visit visa page of non-resident shareholders
Copy of Emirates ID of shareholders who are residents of the UAE
For in-depth information about Special Purpose Vehicles, or to discuss how Shuraa Business Setup can help you restructure your LLC company and secure your ownership, book your FREE consultation with our corporate legal advisors today.

Connect with them on +97144081900 or WhatsApp them on +971507775554. You can also drop us an email at info@shuraa.com with your enquiry about business setup in Dubai or anywhere across the UAE.