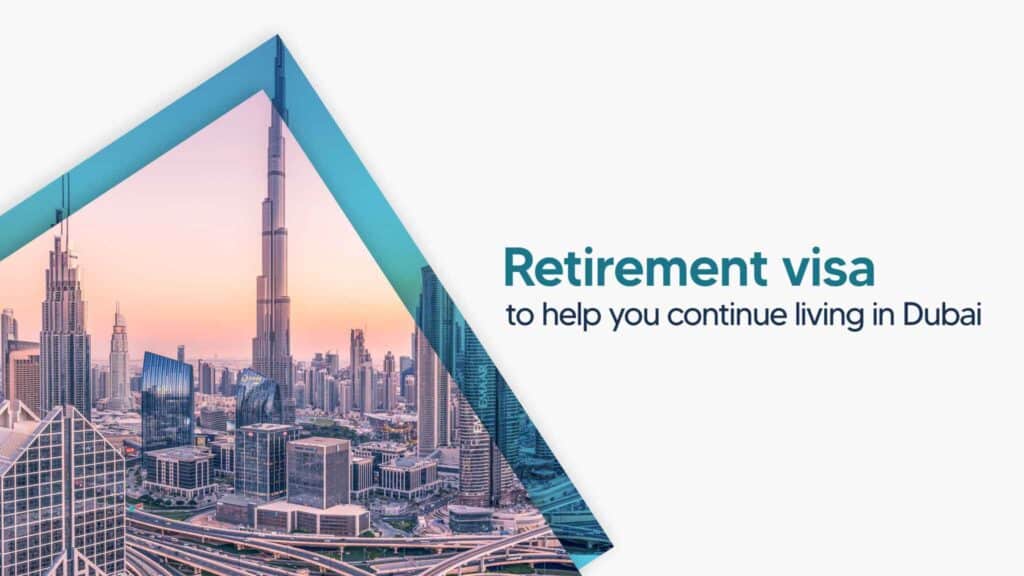 Apply for a Retirement Visa in Dubai, UAE
Imagine a place where your dreams can come true in retirement. Dubai, a beautiful city in the United Arab Emirates, offers amazing opportunities for those looking for an exciting retirement. It has a retirement visa that warmly welcomes retirees. However, Dubai is famous for its strong job market and diverse workforce, and it commits to providing a safe and enjoyable environment for people starting a new chapter in life. More than 85% of the population in Dubai are from other countries, which means there's a great chance for a retirement revolution in the future. Getting a retirement visa in Dubai is not that hard.
By retiring in Dubai, you not only have many possibilities but also get to experience a sustainable and fulfilling lifestyle. In this blog, we'll show you how to get a retirement visa in Dubai, explain the requirements, and share other important information. Get ready for an exciting retirement journey in one of the world's most amazing cities!
Retirement visa in Dubai
This special visa is for retirees who want to live in the UAE. It gives them the opportunity to stay in the country for five years; rather, they can renew it if they want to. It's like being a resident there. In the UAE, people who are 55 years old or older are respected and welcomed. So, If retirees have a letter from their previous employer or company saying they have retired, they can easily come and live in the UAE.
This retirement visa shows that the UAE government wants to have a community where everyone feels included and valued. However, It's a chance for retired people to start a new chapter of their lives in a country that celebrates diversity and encourages them to make their own unique mark.
Who is eligible for the retirement visa?
Retirees who are 55 years old or older, along with their spouses and dependents, are eligible for this opportunity. It's like a special invitation for them to come and live in the UAE. To qualify, retirees need to meet certain financial requirements in addition to their age. However, It's a way for the UAE to recognise the wisdom that comes with age and offer retirees a chance to experience something magical.
Eligibility criteria
To obtain the renewable five-year retirement visa, retirees are needed to fulfil the following criteria:
Investment in a property worth AED 2 million or more.
A minimum financial savings of AED 1 million is required.
An active monthly income of AED 20,000 or more is necessary.
Rather, The UAE government has eased the process of visa application by eliminating the compulsion of having medical insurance. Rather, the applicant must go through a medical exam during the process.
Applying for a Dubai Retirement Visa: Step-by-Step Guide
If you are presently residing in Dubai under a work visa:
Visit the Dubai branch of the General Directorate of Residency and Foreigners Affairs (GDRFA).
If you are abroad:
Check if you require an entry visa to enter Dubai.
Once in Dubai, apply for the Residence Retirement Visa.
Certain nationalities have the option to enter without a visa or obtain a visa upon arrival.
Verify your visa requirements based on your nationality.
Even if you enter visa-free or on arrival, you must still apply for the Residence Visa once in Dubai.
Reach out to the General Directorate of Residency and Foreigners Affairs (GDRFA) for further assistance.
The GDRFA is responsible for issuing visas for the UAE, including Dubai.
Approach the Dubai branch of the GDRFA or visit one of its authorised typing centres to initiate the visa application process.
However, Remember to gather all necessary documents and fulfil the required criteria for a smooth application process. The Dubai Retirement Visa awaits, opening the door to a vibrant chapter in the UAE.
Cost of retirement visa in Dubai
However, the expenses associated with applying for a retirement visa in Dubai comprise the following:
Medical exam
Emirates ID
Retirement visa
However, The estimated cost of retirement visa in Dubai starts from AED 2,500.
Benefits of the Retirement Visa in Dubai
Sponsorship for Spouse and Children:
Rather, Retirees can sponsor their spouses and children.
No limit on the number of children who can get sponsored.
Children must be under 18 years (boys) or 21 years (girls) to be eligible for sponsorship.
Sponsored children can study in Dubai.
Multiple Entries to the UAE:
Holders of the retirement visa are considered UAE residents.
Enjoy the freedom to enter and leave the UAE as desired while the retirement visa is valid.
Unlike standard residency visas, there is no requirement to spend a minimum number of days in the UAE within a year.
Access to Resident Privileges:
Enjoy the privileges of being a resident in Dubai.
Access to healthcare facilities, local services, and amenities.
Opportunities to engage in community events and social activities.
Financial Flexibility:
Retirees can manage their finances with ease.
Open bank accounts, invest and engage in financial activities as a resident.
Benefit from the UAE's stable economy and business-friendly environment.
Security and Stability:
Live in a safe and secure environment in Dubai.
Enjoy the stability and reliability of the UAE's legal system and infrastructure.
Renewal fees for retirement in Dubai
A Dubai retirement visa is valid for a period of five years. However, it can be renewed if the above-mentioned eligibility criteria are met. The GDRFA initiative focuses on employees who have worked in the Emirates for over a decade.
The main objective of this initiative is to provide a hassle-free retirement option for long-term residents and expats to enjoy the unique benefits of living in the UAE post-retirement. Tourism and foreign investments are also expected to boost the country's economy.
Investor visa in Dubai
The UAE investors visa is given to individuals holding professional licenses or free zone companies. The labour law denotes retirement at the age of 60; in some instances, companies also legally terminate workers.
However, an alternative solution to continue living in the country would be to become an investor in the UAE or get a Dubai partner visa. Investing in a venture or setting up a business in UAE allows you to continue your stay and make money with exciting investment avenues.
Below are some points to bear in mind before applying for a UAE investor visa:
Cost of Dubai investor visa
Getting your business started in Dubai without worrying about your investor visa renewals is possible. However, Company formation experts at Shuraa Business Setup will help you set up shop in the Emirates and pay for your investor visa for life! Avail our best-selling package worth AED 18,500, and we will take care of all the necessary documentation and formalities.
Get in touch now!
Whether you're establishing your business or seeking a retirement visa in Dubai, Shuraa Business Setup is here to assist you every step of the way. Our highly skilled professionals have extensive expertise in all the necessary requirements. Don't hesitate any longer – get in touch with us today. To learn more about investor visas in the UAE, call +97144081900 or drop a WhatsApp message at +971507775554. You can also email us at enquiry@shuraa.com.