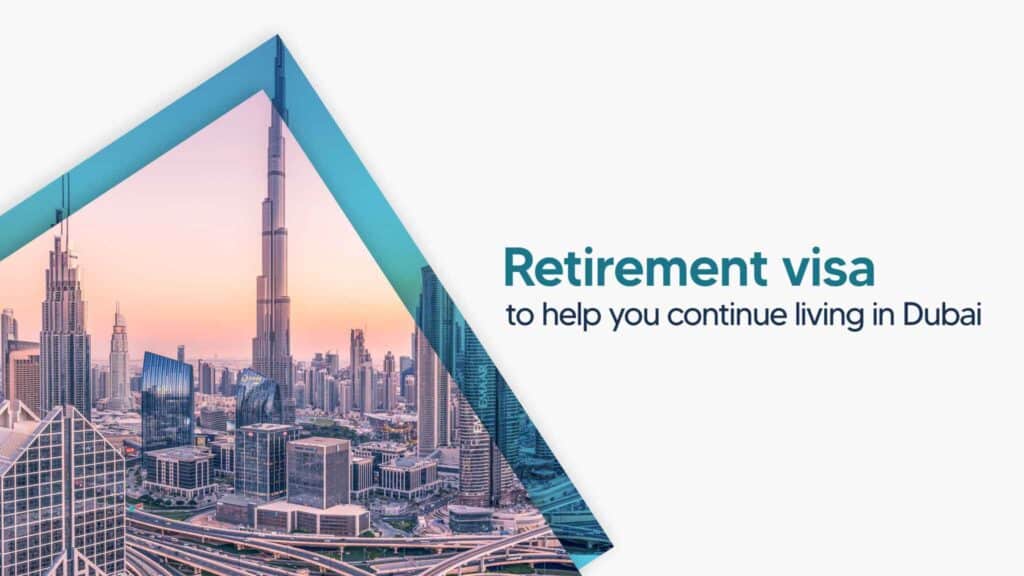 Dubai Retirement Visa – How to Retire in UAE
Why avail a retirement visa in Dubai? The UAE is a popular destination for foreigners seeking job opportunities as the country provides them employment visas along with several benefits. Also, the current population of the UAE comprises over 85% expatriates, mostly employed. Therefore, an enormous number of people are expected to retirement in the coming years. The UAE also provides a rich and sustainable lifestyle for those who wish to continue their stay in post-retirement. Here is the backup plan – UAE retirement visa or UAE investor visa.
Retirement visa in Dubai
According to a recent announcement, the UAE residents over the age of 55 can stay in the country for five years by availing for a retirement visa in Dubai. 'Retire in Dubai', an initiative by the Dubai Tourism and General Directorate for Residency and Foreigner Affairs (GDRFA), is the first of its kind retirement scheme in the region which can be availed by expats who fulfil specific criteria.
Eligibility criteria
To acquire the five-year renewable retirement visa, a retiree must meet the following conditions:
Investment in a property worth AED 2 million or more.
Financial savings of at least AED 1 million
An active monthly income of AED 20,000 and above
The UAE government has eased the process of visa application by eliminating the compulsion of having a medical insurance. Rather, the applicant must go through a medical exam during the process.
Costs involved
The cost of applying for a retirement visa in Dubai includes the following:
Medical exam
Emirates ID
Retirement visa
The total cost for these formalities would be approximately AED 2,500.
Renewal fees
The validity of a Dubai retirement visa is five years. However, it can be renewed if the above-mentioned eligibility criteria are met. The GDRFA initiative majorly focuses on the employees who have worked in the Emirates for more than a decade. The main objective of this initiative is to provide a hassle-free retirement option for long-term residents and expats to enjoy the unique benefits of living in the UAE post-retirement. Other than that, it is expected to boost the country's economy via tourism and foreign investments.
Investor visa in Dubai
The UAE investors visa is granted to individuals holding professional licenses or free zone companies. The labour law denotes retirement at the age of 60, and in some instances, companies also legally terminate workers.
However, an alternative solution to continue living in the country would be to become an investor in the UAE or get a Dubai partner visa. By investing in a venture or setting up a business in UAE, you can not only continue your stay, but also make money with the exciting investment avenues.
Below are some points to bear in mind before applying for a UAE investor visa:
Incorporation of a company or investing in a business qualifies a foreign national to apply for a UAE investor visa. 
To apply for an investor visa in the UAE, you would require sufficient funds or bank savings highlighting the ability to regulate a business. 
The UAE immigration department must grant you the consent to operate your commercial activity. 
This visa could be easily obtained once you produce your business permit – professional trade license or commercial business license. 
An investor in the UAE is eligible to sponsor his/her family members under the visa. 
Investor visa in Dubai, UAE is valid for three years.
Cost of Dubai investor visa
It now possible to get your business started in Dubai without worrying about your investor visa renewals. Company formation experts at Shuraa Business Setup will help you set up shop in the Emirates, and pay for your investor visa, for life! Avail our best-selling package worth AED 18,500 and we will take care of all the necessary documentation and formalities.
Get in touch now!
To learn more about investor visa in the UAE, call +97144081900 or drop a WhatsApp message on +971507775554. You can also email us at enquiry@shuraa.com