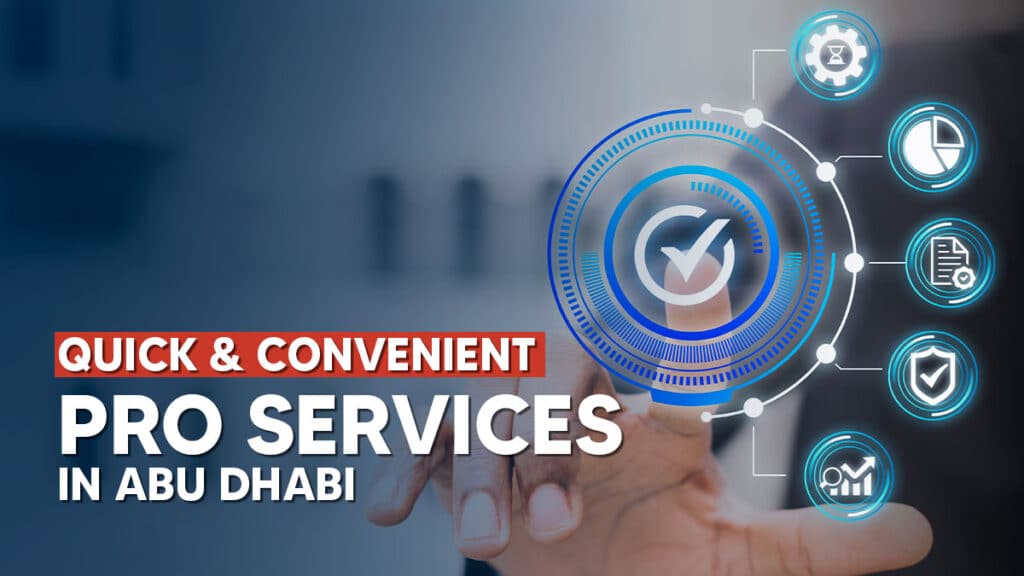 PRO Services in Abu Dhabi
Foreign expats who operate their businesses in the UAE need to follow the rules and regulations set out by the government. This also means being compliant with mandatory processes to ensure that their companies keep running smoothly. Entrepreneurs will therefore need trusted PRO services in Abu Dhabi, Dubai, or any other emirate in the UAE they have a business in.
Shuraa Business Setup offers the best PRO services in Abu Dhabi, UAE as well as the other emirates to ensure you focus on what matters most: your company. We offer end-to-end PRO services such as visas, documentation, government liaisons and anything else you may need to ensure seamless business operations.
Choose the best PRO services in Abu Dhabi, UAE
Shuraa has an extensive in-house team of PRO specialists who covers a wide range of PRO services. We offer custom packages curated to the specific nature of your business. It doesn't matter where your company is located, whether it is Dubai, Sharjah or Abu Dhabi, Shuraa has your back.
Here are some of the premier PRO services in Abu Dhabi that we provide:
Visa processing including application & renewal
Visa services for employees and dependents
Document attestation
Legal translation of documents (Arabic & English)
Trade License application and renewal
Government agency approvals
Trade name approval
Court Agreement letter/ Notary
End-to-end paperwork for all government departments
Certificate attestation
UAE business license services
Contract clearance
Visa amendment
Labour card and immigration card renewal
Why do you require PRO services in Abu Dhabi?
Entrepreneurs and investors coming into the United Arab Emirates may not necessarily be aware of the technical nuances of the laws of a foreign country. Whether they are small or medium businesses or they are global conglomerates, they will need the services from PRO companies in Abu Dhabi, UAE. Shuraa provides trusted PRO services in Abu Dhabi, that are not only affordable but also tailor-made.
With over 22 years of experience in the industry, we are leaders when it comes to providing PRO services to all types of businesses. We have direct liaisons with all key government agencies to ensure our clients do not have to stall when it comes to forming their company in the UAE.
To further streamline the process, we have an in-house Tasheel center, dedicated account managers, continuous availability to contact, legal PROs and more for the most efficient process. We constantly keep clients updated with the latest corporate news as well as the status of their documentation. Our process is transparent, straight-forward and timesaving.
Shuraa: The best PRO services company in Abu Dhabi
Corporate legalese is an unavoidable process if you want to successfully run your own business. There are various stages which require copious amounts of paperwork, applications, documentation and more. Rather that undertaking this daunting task and incurring errors, it is better to outsource PRO services in Abu Dhabi to a reliable third party like Shuraa Business Setup.
Let our PROs handle the process while you look after the operational growth of your UAE business. Get your business license, visas, Golden Visas, document clearance, all under one roof. And that's not all, Shuraa is your one-stop solution to company formation in the UAE. Even after all your documents have been prepared, we will submit them on your behalf and be there for all follow-up processes until completion.
Start your business in Abu Dhabi
The UAE has long since been a haven for investors looking for a larger global operational base. Abu Dhabi as its capital is undeniably the center for all economic prowess. It is truly a land of opportunities and an emerging economic power. Therefore, it is understandable that business would boom there.
Through the PRO services provided by Shuraa, you can create a significant symbiosis between your business and local and national government entities, thus accruing efficient functioning of your business. Call Shuraa and get in touch with the best business setup consultants in the UAE. We are just a call away at +971 44081900. You can also easily WhatsApp us on +971 507775554 or email us at info@shuraa.com.