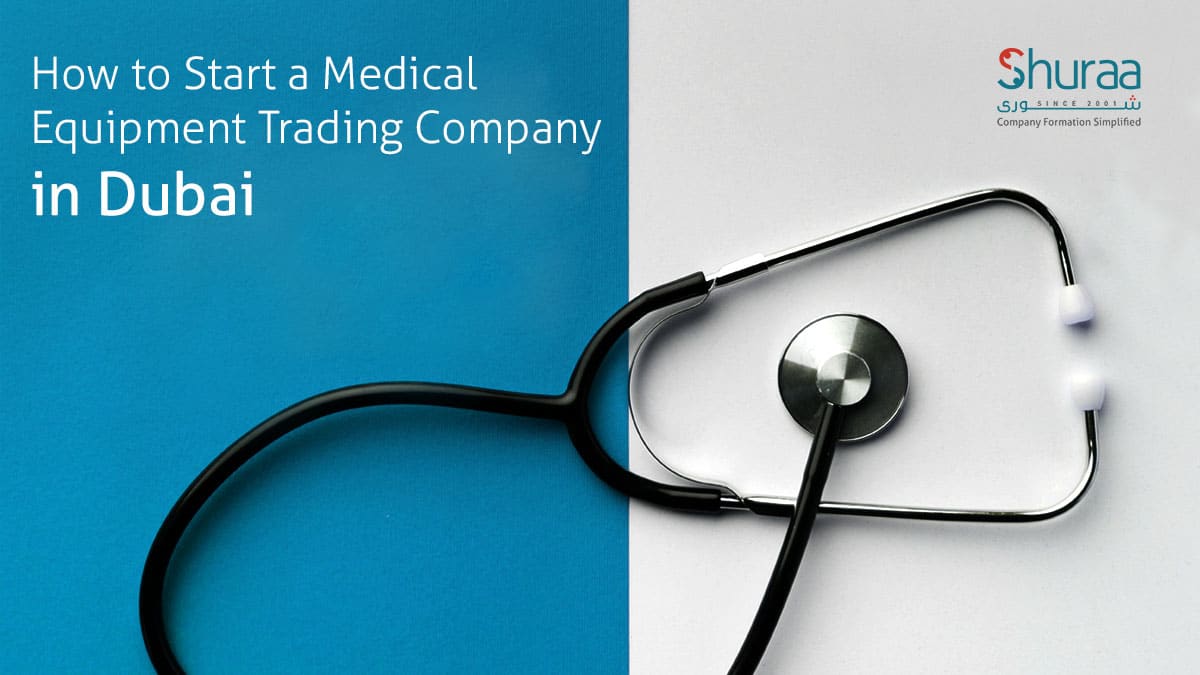 How to start a medical equipment trading company in Dubai
Healthcare is a very important sector for any country. It is also a major contributor to a country's economy and its overall development. The UAE government is actively working towards improving and increasing its healthcare offerings. It is building world-class hospitals, installing state-of-the-art medical equipment, and using the latest technologies. There is an increased scope for starting a medical equipment trading company in Dubai since many hospitals and medical clinics are being set up in the city.
The UAE is a popular destination for trade because of its strategic location, excellent transportation system, and a diverse, multi-national population. Its entrepreneur-friendly laws and ease of doing business also make the UAE is a very lucrative destination for setting up a medical equipment trading business.
The UAE Ministry of Health and Prevention maintains a register of all medical equipment and pharmaceutical products. The federal law states that only registered medicines, equipment, and other pharmaceutical products can be distributed within the country. Hence, only registered products will receive import permission. Any company that wishes to trade in medical equipment must also register itself and the equipment it wishes to trade, with the UAE Ministry of Health and Prevention.
What license is required to trade medical equipment?
Starting a medical equipment trading company in Dubai requires you to apply for a commercial license and register your business in Dubai mainland. The Department of Economic Development (DED) is the licensing authority that issues business licenses for companies registered in Dubai mainland.
As a foreign national, you can only register your business as a Limited Liability Company (LLC). To start an LLC in Dubai, it is mandatory to partner with a local sponsor (UAE National). According to the UAE commercial law, the local sponsor will be a 51% shareholder in the company while the non-UAE national partner/s will hold the remaining 49%.
What are the documents required to register the medical equipment trading company?
To register your medical equipment trading company in Dubai, you must submit the following to DED:
Trade Name Options: At least 3 alternatives for the company name
Business Activity: Specify the activity your business will engage in. The relevant business activities for medical equipment trading company are:

Medical, Surgical Articles, and Requisites Trading
Medical, Surgical Equipment, and Instruments Trading

Passport copy: Of all the shareholders
Visa Validation: Entry stamp or visa page if a partner is on Visit Visa or Residence Visa for partner residing in the UAE
Emirates ID: Of the Local Sponsor
What is the application process to start trading medical equipment?
Get Initial Approval from DED – getting this approval means that the UAE government has allowed your business to be established in the UAE. If you do not receive this approval, you cannot go ahead with the next steps in the application process.
Get Trade Name Approval from DED – the DED must approve one of the three trade name options submitted.
Prepare and sign the Memorandum of Association (MOA) – the Local Sponsor and at least one partner, if not all, must be present for the signing.
In the current situation, with several travel bans in place, signing the MOA is done electronically.
Rent a physical office or desk facility – it is mandatory for a Dubai mainland company to have a physical office location
Submit the tenancy contract
Get additional approvals, if any
Pay the fees
Get the trade license
There are two activity groups classified under Medical Equipment Trading:
Medicines Trading
Mechanical & Engineering Equipment Trading
Medical, Surgical Articles, and Requisites Trading
This includes the reselling of specific instruments and precise medical apparatuses for treating specific diseases and conditions. It also includes devices such as medical shoes, artificial limbs, batteries for cardiac patients, and replacement parts for damaged organs. This activity falls under the group of Medicines Trading.
Medical, Surgical Equipment, and Instruments Trading
This activity includes reselling instruments and equipment used in hospitals and clinics for diagnosis, treatment, physical therapy and rehabilitation, and x-rays. It also includes manual kits and instruments for surgical operations and bandaging, check-ups, and sterilization. This activity falls under the group of Mechanical & Engineering Equipment Trading.
Company registration with the UAE Ministry of Health and Prevention
To register your company, you must register and classify your products. You can choose from the following types of registrations:
If your company wishes to import the goods and sell directly to hospitals or any healthcare facility, you (importer) will need to be registered as an authorised reseller of the equipment. Your company will need to register with the Ministry of Health and Prevention and must meet its requirements, which includes taking a minimum warehouse space.
If your company will be using an intermediary registered seller to trade with healthcare facilities or hospitals, then no registration or warehouse is required.
Now is a good time as any to start a medical equipment trading company in Dubai. In light of the current global pandemic, there is a pressing need for necessary medical equipment to help and support medical professionals in Dubai and around the world who are working tirelessly to end this crisis.
To register your medical equipment trading business in Dubai in the quickest and most efficient way, contact Shuraa Business Setup. Our expert business setup consultants will help you through the entire process. Speak with them on +97144081900 or WhatsApp them on +971507775554. You can also drop us an email at info@shuraa.com