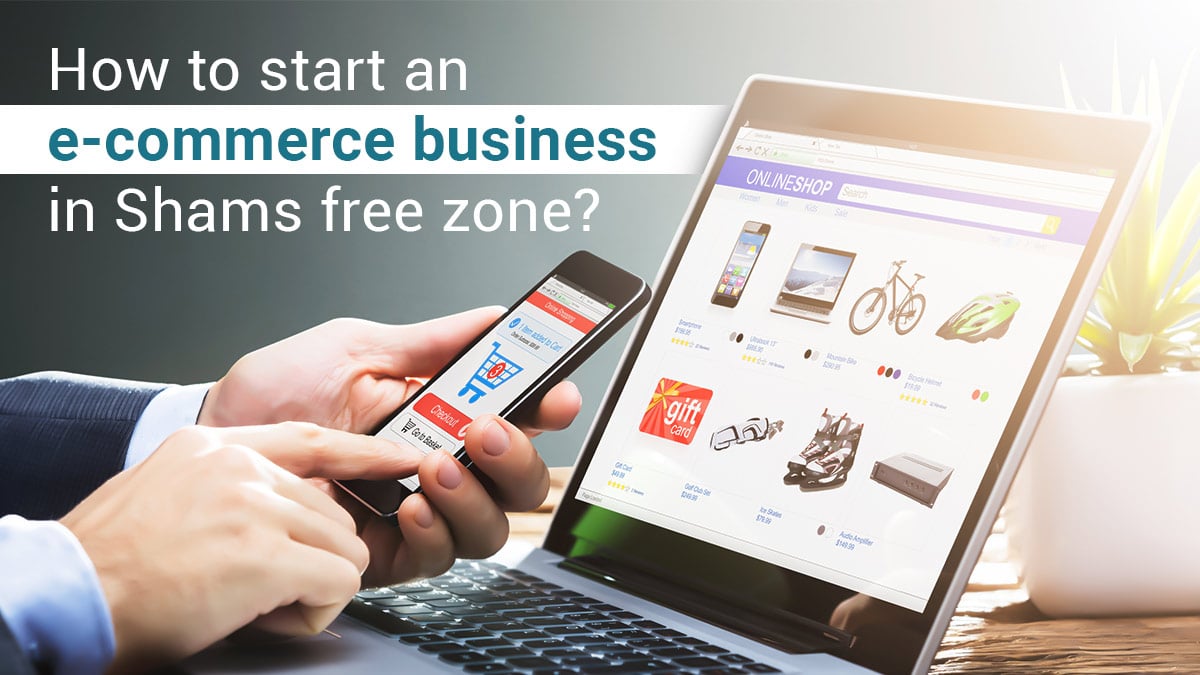 How to start an e-commerce business in Shams free zone? 
E-commerce is a thriving business worldwide, and there is an especially huge market for it in the UAE. With a diverse population and customers in every segment, one can greatly benefit by an e-commerce business setup in Sharjah or in anywhere in the UAE.
Due to the restrictions and lockdowns that have been enforced since the pandemic, many customers preferred the online medium for their purchases. As the digital age continues to prosper, the opportunity is huge.
Today, most of the population is tech-savvy and prefers to shop and do business via online platforms, making this the opportune time to shift focus from physical to digital.
For those looking to start an e-commerce business setup in Sharjah, the Shams free zone is one of the best options available. With huge investments and demands on the digital front, Sharjah Media City or Shams free zone is a popular option among young entrepreneurs and digital businesses.
The great benefits that the free zone offers to e-commerce businesses and other digital business setups make it the perfect option to cater to the Middle East's fast-growing market.
If you are among those who want an e-commerce business setup in Sharjah, here's all you need to know about the Shams free zone and the process to get an e-commerce license in Sharjah.
Why choose the Shams free zone?
Launched in 2017 as an initiative to promote business and digital activities in the region, Shams free zone is a world-class hub for businesses and entrepreneurs to embark on their journey in the UAE. Shams free zone offers an accessible and vibrant ecosystem for e-commerce, digital, and other futuristic activities to thrive in the region. 
The Shams free zone provides several benefits to companies such as: 
Full ownership of business: Free zones allow foreign investors to get 100% ownership of their business, unlike the mainland, where expats have to partner with a UAE national to be able to obtain a business license.
Full profit repatriation: Free zone expats can repatriate all their profits to their home country, meaning the freedom to transfer 100% of their capital to their place of origin without any requirements.
0% import or export tax
Range of business activities: The free zone supports a range of business activities, making it easy for individuals to connect and network. Shams free zone is the centre of activities in import & export, marketing consultancies, event management businesses, e-commerce, media and other services.
Fast & easy setup process for getting a business license.
Multiple license requirements: The Shams free zone offers four types of licenses which are – service license, industrial license, trading license and holding license. These are great for any type of business size and requirement.
Register from the comfort of your home, as all the required documents can be sent to Shams free zone without requiring a physical presence for submission.
Flexible visa packages, allowing shared desk facility and up to 6 visas for employees. SHAMS free zone additionally also allows holders to sponsor family members and dependents. 
Access to co-working spaces and cost-effective business setup for entrepreneurs and e-commerce companies. Shams free zone also offers facilities like Wi-Fi, printers, and other basic requirements at its facility.
Specifically for e-commerce companies, The Shams free zone offers great benefits such as –
Easy access to trade, service and industrial licenses
Great opportunity to expand in the region as it offers low-cost business setup and support
Availability of a huge market that can allow a range of products or services
Fast setup process and presence of a supportive community for e-commerce to yield maximum business benefits
What do you need for e-commerce business setup in Sharjah?
For your e-commerce business setup in Sharjah, you need to get a business license for e-commerce companies. To start this, there are a few things that you need to consider –
Products that you will be selling: In free zones, companies cannot sell products directly to the customers. But companies can have agreements with the suppliers before listing these on their platform. Licensing requirements also differ as per the products being sold. This requires the e-commerce business to have a proper plan of what they will be selling.
Warehouse requirements: Most e-commerce businesses directly sell the products from the dealer to the customer. However, if there are any storage requirements, the company needs to have a mandatory warehouse license.
Customs and product registrations: Since the dealers and manufacturers need to be registered with the local authority, e-commerce companies need not be responsible for the product registrations of customs. However, if you plan to procure the products yourself, you need to have the required supplier registrations and pay the customs duty as applicable.
To obtain an e-commerce license in Sharjah, you can follow a few simple steps –
Ensure that you have all the required documents for the application, including the Memorandum of Association. 
Register the trade name of your business; make sure this is unique and follows the required mandate.
Decide on office requirements, warehouse and staffing needs.
Pay the Shams fees – for starters, a media package with an e-commerce business and zero (0) visa allocation starts at AED 5,750. For companies that need to acquire a visa, packages start at AED 9425. Freelancers or a single shareholder with an e-commerce business activity and zero visa allocation starts at AED 5,750. 
You are all done – if you meet all the requirements, you can get your e-commerce license in Sharjah. 
Get started on your business journey with Shuraa
The Shams free zone comes with a business setup featuring extravagant office space, smart desks, and shared offices to fit every budget. With Shuraa Business Setup, we can help you start a business in the UAE and gain the Shams free zone License at low-costs.
Therefore, this is a fantastic opportunity for companies, freelancers, and entrepreneurs who want to expand their business in the emirate of Sharjah.
If you think that getting a business license in Sharjah is complex and time-consuming, having a knowledgeable advisor by your side is extremely valuable. By providing you with all the know-how on the process and the regulatory requirements, you can get a head start and get all the approvals faster.
For an e-commerce license in Sharjah, you need to provide the right documents, and any lapses carry the risk of instant rejection. So, while these steps will help you make the process a lot simpler, you need to consider having an expert by your side to seek proper guidance and help you out through the entire process.
To get started and find out more, you can call Shuraa experts at +971 44081900 or send a WhatsApp message on +971 50 777 5554 . You can even drop in an email at info@shuraa.com and get your queries answered.