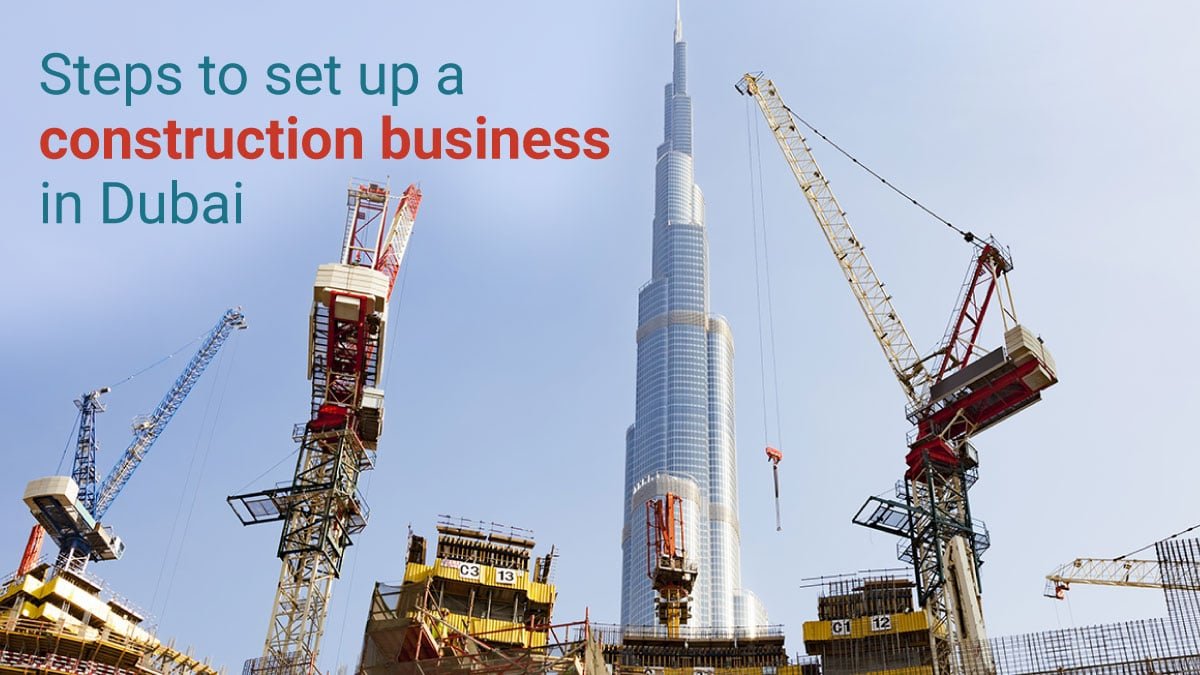 Steps to set up a construction business in Dubai
Dubai has shown unprecedented growth in the construction sector in the past decade. It now ranks number two in terms of construction growth, and the first position isn't far. Therefore, if you want to start a construction business in Dubai, now is the right time. You get adequate support from the governing bodies too as they ensure that investors and business aspirants get the appropriate resources and approvals needed for the construction business.
The continuous investment in tourism and travel also reflects in the booming sector of construction. Tourists rank the UAE among the most architecturally phenomenal countries in the world. Dubai has already reached the zenith of beauty, while others Emirates are quickly catching up. Therefore, your construction company in the UAE has ample opportunities to prosper.
How to start a construction company in the UAE?
The process to form a construction company in the UAE involves a lot of paperwork. Furthermore, you need to get numerous approvals and licenses to run a full-fledged construction company. Here's a stepwise procedure to go about it:
1. Decide the company's structure and location
If you want to commence a construction business in Dubai, the first thing to decide is whether to register for a mainland company or go for a free zone establishment. To form a company in the mainland, you need to partner with a local partner who'll hold 51% shares of the company (giving ownership rights). On the other hand, forming a company in a free zone does not require any local sponsor to own any share in your company. It gives you full ownership of the company. You must consider all the pros and cons of both forms and choose the one which is best suited for your business.
2. Apply for the license
Free zones have their independent jurisdiction authorities. Therefore, if you're applying for a construction license in the free zone, you have to approach the concerned authority. On the other hand, you need to approach the Department of Economic Development (DED) if you're applying for a license in the mainland. The legal license for a construction business comes under the commercial type. Moreover, different business activities account for different licenses and additional approvals. So, list down your activities before applying for the license.
3. Obtain the building permit
Once you obtain the license for your construction business in Dubai, you need to acquire the building permit to achieve allowances for various business activities. However, you can't do that on your own. Therefore, you need to partner with civil engineers and business consultants who'll assist in acquiring the permit. Business consultants at Shuraa help you acquire the same by doing all the heavy lifting for you.
4. Apply for other necessary licenses and approvals
Apart from the building permit, a construction company in the UAE also needs to get additional certificates and approvals. For free zone establishments, a G+1 permit is mandatory while mainland companies get the same allowance through a building license. Other critical licenses include the building maintenance license, steel construction contracting license, and more.
5. Understand your provisions and limitations
Any business establishment needs to follow the rules and regulations maintained by the government in that country. The UAE offers advanced infrastructure, lenient taxation laws, and business supportive policies to empower the working ecosystem in the country. However, you must know the limitations of your construction license to ensure that you don't go against any guidelines. The business experts in Dubai help you understand what you can do and what you should avoid to run a hassle-free construction business in Dubai.
6. Manage visas and open a corporate bank account
If you're a high-end investor, you can easily get an investor visa in Dubai. If not, you don't have to worry. There are well-defined laws for visa issuance, and all you need to do is follow them and file your visa application. You can obtain visas for your family members, domestic staff, and more, depending on your requirements. When everything else is done, you can open a business account for your construction company in the most suitable bank as per your operations and transactions.
Business opportunities for construction company in the UAE
The construction business is one of the highest-grossing business sectors in Dubai. The region is home to several tall buildings like the world's tallest building – Burj al Khalifa and also the world's highest residential building – Marina 101. Apart from these, Princess Tower and Burj al Arab are some of the finest structures in Dubai. In the GCC region, there's a competition for skyscrapers, and Dubai is above all regions.
The government of Dubai is undertaking many special development projects for the expansion of the tourism industry. Projects like man-made islands such as Palm Jumeirah and others like Deira Island, Maritime City have opened the doors for the advancement of the construction business in Dubai. For the development of transportation infrastructure, the UAE has initiated some projects with enormous investment plans. The expansion of Dubai International Airport and renovation of Abu Dhabi International Airport are some examples of major opportunities for construction companies in the region.
A construction company is a profitable avenue in Dubai irrespective of the type of construction business. Many such projects and opportunities are growing daily. If you successfully grab these opportunities, then a bright future is surely awaiting for your construction venture.
Essential approvals required to set up construction business in Dubai
Once you have acquired all the necessary licenses, you need to get the following approvals from the government authorities to start a construction company:
Dubai Water and Electricity Authority: approvals from these authorities are required to get the basic amenities for the company.
Drainage and Irrigation Department: it involves liquid waste management and other disposable services.
Building Department and Dubai Civil Defense Authority: these departments keep an eye on whether the construction company is regulating as per the legal norms of construction or not.
Connect with Shuraa
Nothing matches the feeling of owning a company in Dubai. It's the best place to establish your dream construction company because of friendly laws and the presence of healthy competition. Moreover, opening a business in Dubai isn't complicated when you take the help of Shuraa Business Setup. Our legal advisors and consultants provide unmatched assistance in setting up your construction business in the UAE. Be it paperwork, rental space, or additional approvals – we get it done for you in quick time. Furthermore, we do all of that and more at nominal prices, always prioritizing your budget. Call at +971 44081900 to connect with our experienced consultants. You can also send a WhatsApp message at +971 50 777 5554. For email assistance, you can write to us at info@shuraa.com.