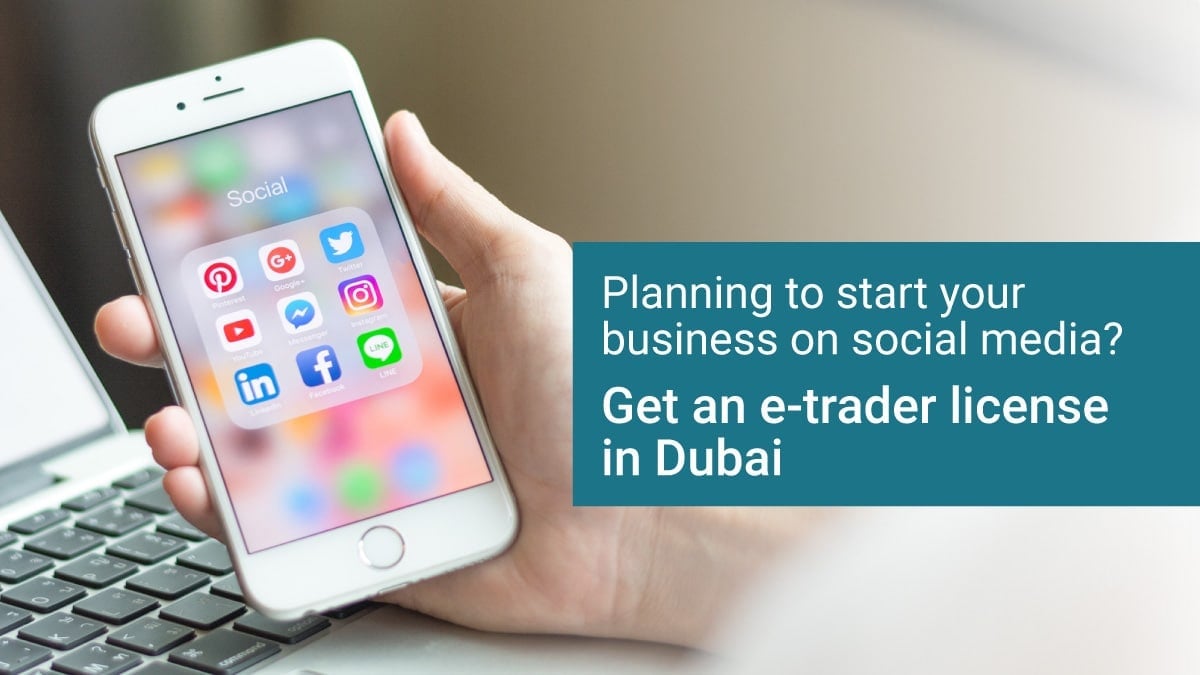 E-trader license in Dubai – start your online business now
You need to get an e-trader license in Dubai if you want to enhance your online business with the help of digital mediums. In the day and age of fast-paced technological growth, social media channels such as Facebook, LinkedIn, Twitter and Instagram have managed to become giant players in the world of advertising and marketing.
Now every entrepreneur, be it a small home-based company or just an individual, can push their product via social media channels to garner growth and create their market and niche. The same has been seen for a lot of fashion brands, local businesses, handicraft cottage industries, etc.
Therefore, realising the opportunity at hand and in an effort to stay abreast with the world in the age of social media, the Dubai government began issuing an e-trader license under the Department of Economic Development (DED). The bid is to encourage new-age investors, entrepreneurs, and business owners to invest in an online business, settled within one of the fastest-growing business hubs of the world, Dubai.
An e-trader license in Dubai helps businesses of all variants to function efficiently on the social media platforms and establish their brand of a business.
What is an e-trader license in Dubai?
Dubai e-trader license allows individuals and companies and to sell their products and services in the UAE, on social media platform like Instagram. This allows them to sell their products easily and also helps support the customers' confidence in investing time and money when shopping online. The license, moreover, aims to regulate the sale of products and services conducted through social media in Dubai. Launched in the year 2017, the primary intention of this initiative was to promote people to do business over social media. 
For UAE citizens, GCC Nationals and expats, provisions have been made available for them to apply for the e-trader license in Dubai, adhering to the condition that the individual is a resident of Dubai and is over 21 years of age.
In this blog, we will get to know how to use the e-trader license in Dubai efficiently and judiciously to grow your home business.
With an e-trade license in Dubai, the individual can legally set up a digital shop where they can market and sell products and services through their social media accounts which include Instagram, Facebook, and many other similar platforms. They can also push their product on their personal website or feature their products and services on online marketplaces.
The e-trader license also validates the owner of the license to attend exhibitions and workshops conducted by DED to help understand the powers vested under their e-trader license and use them judiciously to grow their business.
This license is strictly for a single-owner, home-based online business in Dubai. Freelancer and individuals with this e-trader license in Dubai cannot open a physical shop or issue visas. While the perks of having a business license are many, there are a few hiccups that arise out of an arrangement like this.
For this, the DED is always there as an integral watchdog to protect the privacy of one's business, or make sure of the authenticity of the product being marketed and sold via social media channels. To this effect, the DED regulates and manages business via a set of rules directed under an e-trader license in Dubai, within the gamut of which online trading, marketing, conducting legal payments and buying/selling of products and services are managed efficiently.
How to apply for an e-trader license in Dubai?
All businesses in the UAE must possess a valid business license to ensure that they don't land in any legal trouble or raise any compliance issues. The same also goes for online trading companies that need to acquire the e-trade license Dubai.
All you need to do is create a business account on DED's Trader website. You'll need to enter your personal details alongside the information related to your social media accounts that you want to leverage for your online business.
Once done, you can pay the fee for the online trading license Dubai and you're done. Ensure that pay for your e-trader license designated fee (~AED 1,050) and don't forget to renew it annually. You can always get in touch with the business experts at Shuraa to know more about the e-trader license in Dubai or any other queries concerning company incorporation in the UAE.
What paperwork goes into obtaining an online trading license in Dubai?
The UAE's government maintains a strict documentation policy to ensure that there aren't any fraudulent or unauthorized businesses. Therefore, you must submit these required documents to the concerned authority for obtaining your online trading license in Dubai:
An identity document for age verification (minimum should be 21 years)
Residential proof alongside a valid Emirates ID
Fee receipt of trading name reservation
Invoice of the payment made for the e-trader license
Boosting your business
So, apart from the prominent benefits enlisted within the license, let us get to know a few more salient features that this service registers within itself and are provided by Dubai: 
Anyone can register their own trade name and protect it via legal methods.
Any entrepreneur with an e-trader license can participate in exhibitions which are conducted in Dubai.
Ease of opening a bank account.
Ease of registering with the Dubai Chamber and gaining its membership to export and import the products easily.
Anyone with an e-trader license in Dubai can conduct and attend training and workshops pertaining to judicious use of the license and benefits under it.
One can advertise their online business on social media, marketing their products or services.
Now that we have discussed at length about the benefits of conducting business with an e-trader license in Dubai, that too from the comfort of your home, then what is it that you are waiting for?
Consult with Shuraa
There are many agencies that are working hard day and night to provide the most dependable local sponsors that align perfectly with the goals and ambitions of the company. The best agency in Dubai is Shuraa Business Setup.
Our experienced business consultants hold prolific experience in the business formation sector and do all the heavy lifting for you to ensure that you're always in a comfortable seat. Be it documentation, licensing, banking or anything else – we take care of it all. Get in touch with us today!
Click here to book a free consultation with our experts and know more about obtaining an online trading license in Dubai or call at +97144081900. You can also send a WhatsApp message at +97150777 5554. For email assistance, mail your query at info@shuraa.com.