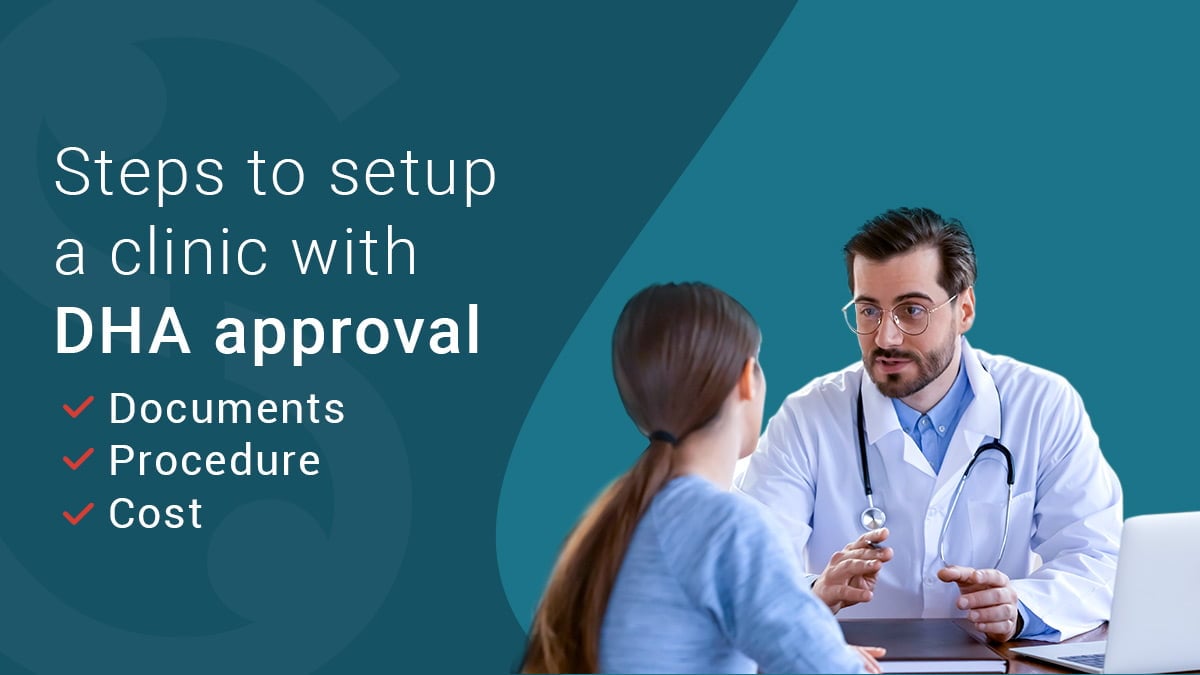 Set up a Clinic in Dubai with DHA Approval
Healthcare is a booming industry and will continue to grow exponentially, given the massive surge in population and lavish lifestyle. Dubai provides the best infrastructure and ample opportunities for medical practitioners who aspire to work in a growing medical ecosystem. In this article, we will be exploring how to set up a clinic in Dubai.
The UAE has dedicated an entire zone for premier medical facilities – DHCC (Dubai Healthcare City). It is an ideal location to start a healthcare business in Dubai as you get to learn from and work with the world's best medical practitioners. Therefore, when it comes to the healthcare sector and its workers, the UAE has rolled out well-defined laws to facilitate investors in setting up their healthcare business without any trouble.
The cost-effective healthcare model and supportive jurisdiction in the emirate of Dubai helps you set up a medical clinic in Dubai. However, you need to obtain necessary approvals from Dubai Health Authority (DHA) and the Department of Economic Development (DED). Therefore, you can hire a corporate service provider in Dubai to help acquire the DHA and DED permits for your specialty clinic in Dubai.
Required Documents to set up a medical clinic in Dubai
A valid medical certification from international agencies or the DHA. In case you do not have a medical degree and certification, appoint a medical director for your business.
Passport copies of all participating members, including business partners, local sponsor (also known as UAE national / Emirati partner / local agent), and the medical director
Tourist visa / entry stamp page of all the participating members. Conversely, you can submit the residence visa page along with a copy of Emirates ID
MoA signed by all the expat partners and the local sponsor.
Trade name along with the nature of your business activity. For instance, you can establish your private clinic in the fields of urology, dentistry, cosmology, and gynecology.
A professional license issued by DED.
Approval of all licenses obtained from DHA. These licenses differ for resident doctors, student interns, trainees, specialists, and general practitioners.
Guide to setting up a clinic in the UAE
Only the best get an opportunity to work in Dubai's robust healthcare industry. As per the laws set by the UAE government, a single medical specialist can cater to one medical activity only. If the same professional wants to take care of multiple medical activities, he/she should have the appropriate certification and relevant working experience in both the medical fields. Similarly, it also needs to be approved by DHA. In case DHA rejects such an application, separate specialist doctors must take care of the medical requirements.
How to Open a Clinic in Dubai, UAE
1. Trade name reservation
Decide a trade name for your medical venture. Ensure that you abide by the naming rules and regulations specified by the UAE government. Once you finalise the name, file an online application with the DED to reserve your trade name and wait for its approval.
2. Initial approval
Submit all the documents mentioned above to obtain DED's initial approval. Apart from the documents, a detailed business layout also needs to be forwarded to the Dubai Municipality for approval of the proposed specialty clinic.
3. DHA approval
Once you receive an approval from DED, you need to obtain DHA's consent for your clinic. Thus, you need to apply for a license to the DHA with a feasibility report for your clinic / business plan.
Read more: How to get a DHA license in Dubai?
4. Document submission
Provide all the necessary documents to the concerned authorities to register your specialty clinic. Make sure to double-check details to avoid procedural delays.
5. Final DED approval
For this you need to submit several documents, including the NOC, your building contract, the list of medical directors and healthcare professionals, and a copy of the initial approval document from DED. You will also need to pay a registration fee for the DED to issue your trade license when all approvals come through.
6. DHA medical license application
To obtain your clinical license from the DHA, you need to create a user ID on the DHA portal. Upload details of all medical consultants, other professionals working in your business, affection plan, lease agreement, etc. Once all documents are duly verified, you'll receive the permit to establish your specialty clinic in Dubai.
Approximately, the entire process takes around 25-40 days.
Minimum capital requirement
The limited liability companies (LLC) in DHCC free zone are required to have AED 50,000 as the minimum capital requirement for commercial medical settings. Also, the requirement elevates to 300,000 for clinical settings. However, there aren't any minimum capital requirements for establishing a branch.
Setting up a medical clinic in DHCC free zone has multiple advantages. You can enjoy tax benefits as you will be exempted from corporate tax, customs duty, etc. You will have access to world-class medical infrastructure at affordable operational costs. Moreover, you get a 100% business acquisition.
Start your private clinic with Shuraa
You need to prepare and furnish several documents to the governmental agencies for starting a medical clinic in the UAE. So, connect with Shuraa Business Setup, and we'll simplify the process for you. Apart from documentation assistance, we also help businesses find the right location to establish their business.
Call +971 44081900 to speak with our experienced consultants. You can also send a WhatsApp message on +971 50 777 5554. For email assistance, write to us at info@shuraa.com.