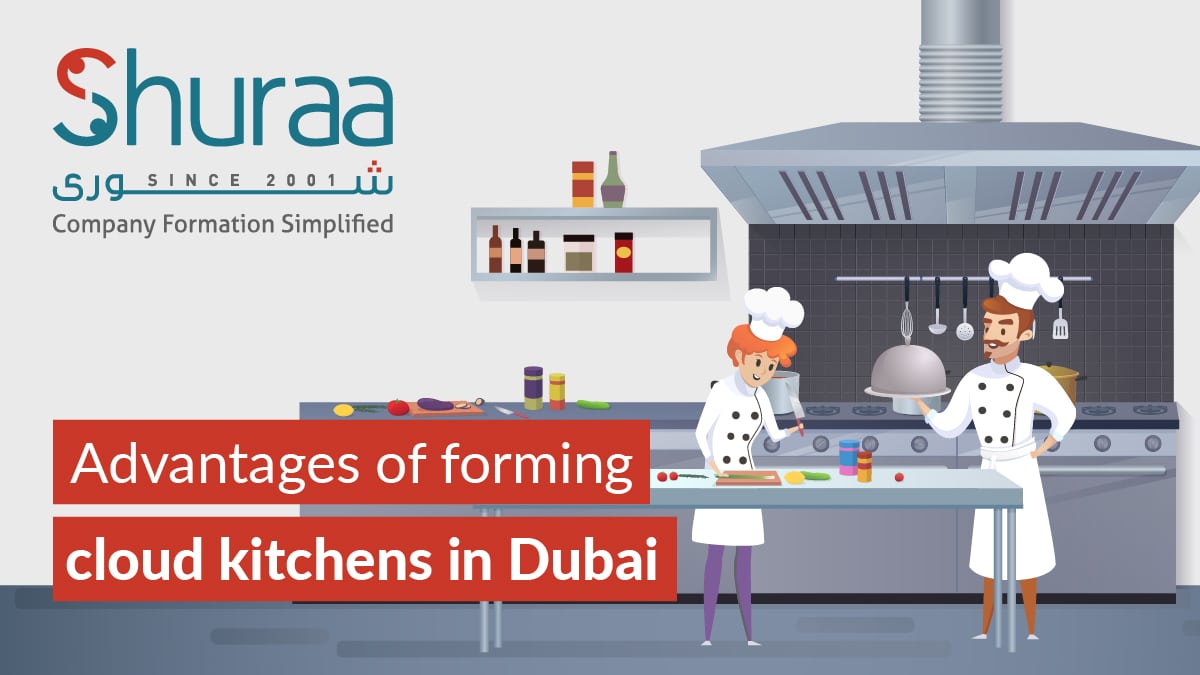 Benefits of forming cloud kitchens in Dubai
A smart businessowner knows the importance of positive return on investment (ROI). A luxurious full-fledged restaurant might sound like a lucrative option to kick start your hospitality venture. However, the initial cost and maintenance can give you sleepless nights if things don't go as planned. But don't worry. You can still explore the evergreen food industry by setting up a cloud kitchen in Dubai. These are kitchens with no storefront or dining facilities, which enables them to operate cost-effectively. Quality food is prepared within the premises, and customers can order the food of their choice through various digital platforms.
With the outbreak of the COVID-19 pandemic, even the traditional dining restaurants had to adopt the cloud kitchen model. The latest buying trends also suggest that virtual kitchens would dominate the food sector in the coming years. And why not? They're convenient, there's no compromise with food quality, and customers can get the food they want at their doorstep.
Why should you establish a cloud kitchen?
There's no turning back when you invest in a brick-and-mortar restaurant. Therefore, entrepreneurs and investors in the UAE have found a reliable option in the cloud kitchen model to experiment with their idea at minimal costs. Plus, you get the perfect infrastructure and business atmosphere to manage your cloud kitchen in Dubai conveniently.
The Food Control Department of Dubai Municipality monitors the food quality and production process to maintain high food standards.
Licenses
You need to acquire a trading license and food license to legalize your cloud kitchen in the UAE. You'll get the trade license from the DED or the concerned free zone authority while the Food Safety Department in Dubai handles the food license.
Advantages of a cloud kitchen in Dubai
Cloud kitchens have numerous advantages that make them a go-to choice for new-age investors. They are:
1. Savings on infrastructure
Ghost kitchens provide a low barrier to entry for startups, helping them to offer flexible food menu options. You don't need to purchase expensive real estate in posh areas when you run a virtual kitchen. Select a site that keeps you in close proximity to residential townships and the inner city's parts.
Traditional dining restaurants need massive initial deposits and hefty periodic rents. With a cloud kitchen, you have the breathing space to take a day off, and you feel less burdened as a food businessowner.
2. Expansion opportunities
Establishing a cloud kitchen venture isn't restricted to startups and low-budget businesses. Reputed restaurants can expand their reach within and outside the city with the help of a cloud kitchen. This way, they can cater to a broader audience segment that already loves their food.
There are many up-and-coming cloud kitchens in the UAE that compete neck-to-neck against many credible restaurants. However, once your food venture gains considerable recognition, you can open multiple branches and expand your brand gradually at minimal risk.
3. Large audience pool
When you have your menu listed on digital platforms, any person with access to the internet is your prospective customer. Moreover, around 70% of consumers prefer ordering food from quick-service outlets and cloud kitchens.
Therefore, if the menu is attractive and you advocate food hygiene, you'll receive more orders than you expect. It all boils down to customer retention, and for that, you need to cook flavorsome food that makes the customer a permanent buyer.
4. Easily manageable
Easy management doesn't imply that you'll never face difficulties or "feel the heat." However, in comparison to a dine-in outlet, you have fewer tasks to handle. This makes you maintain composure, and even the stress hours are short-lived.
Once you enter a cloud kitchen, your focus is to cook delicious food and ensure timely delivery. Order management is straightforward, and chances of error are minimum since the process is tech-oriented. Query management is also done via telephone calls and chats and doesn't consume a lot of time.
5. Cloud kitchen model helps you make data-driven decisions
Customer trends help you improve your offerings. Utilize technology for order management and analyze the data to gain rich consumer insights. You get to know about your best-selling food items and those that haven't gone down well with the audience.
This helps you modify the existing food menu as per the customer's liking. You can boost your sales, increase satisfaction levels, and grow your business with consumer data. In a competitive food industry like Dubai, you need to be at your best at all times to make a name for your business.
6. Low risk, high profit
When you set up a cloud kitchen, you tone down the risks of financial instability. You don't require a large operational team, and there aren't any high overhead costs too. If you can offer quality food at competitive prices, you'll quickly establish a loyal customer base.
Furthermore, business closure doesn't cost you much if things don't go as planned. For dine-in restaurants, closing the venture isn't as straightforward because of the massive investments. Therefore, cloud kitchen is best for investors who wish to run a low risk, high-profit business.
Consult with Shuraa Business Setup
The food industry in the UAE is on the rise, and your cloud kitchen business can thrive in the region. Therefore, you should know of the areas to set up your cloud kitchen in Dubai as it decides your geographic audience. With Shuraa Business Setup, you get end-to-end business assistance that helps you secure the business licenses.
Our industry experts also solve your dilemma of business location for your cloud kitchen venture. When you collaborate with us, you can say goodbye to all your business set up worries. Call us today on +97144081900. We're also available on WhatsApp at +971507775554. For an email query, write to us at info@Shuraa.com.