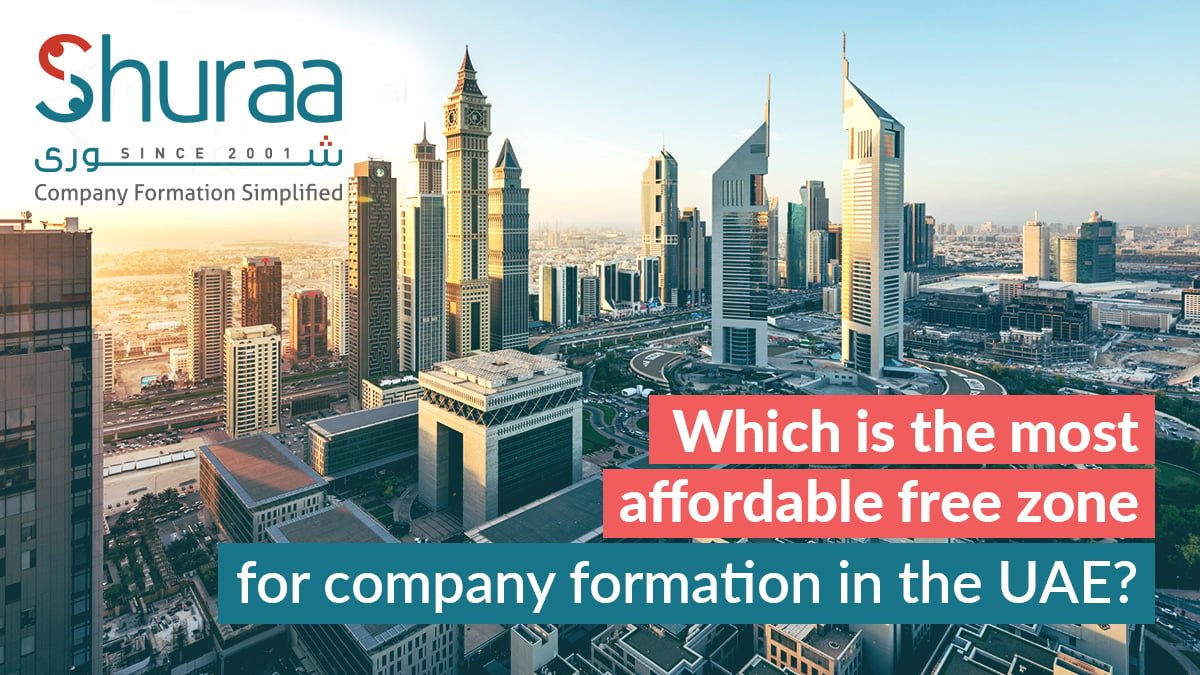 Which is the cheapest free zone in the UAE?
Entrepreneurs and foreign investors are often keen to set up their business in the UAE. Be it a budding venture or a multinational business extension – all prefer Dubai to carry out their business activities. And why not? You get everything from superior business infrastructure, exposure for startups, legal support from the UAE Government, hassle-free business licensing, and the list goes on. Words like "luxury" and "opulence" best define Dubai. However, there's one word that many don't associate with Dubai – "affordable". Business owners and new-age investors can find cost-effective business settings in Dubai, thanks to the cheapest free zones in the UAE.
There are more than 30 affordable free zones in the UAE that cater to various business activities. You're free to choose the one that suits your business needs. Each free zone has a unique set of laws and jurisdiction that governs your business operations. You need to understand your business requirements related to budget, location, etc., to select a free zone.
There are many cheap free zones in Dubai, however, the Dubai International Financial Centre (DIFC) deserves a separate mention.
Dubai International Financial Centre (DIFC)
The DIFC is a premier financial business hub for various businesses like fintech, lifestyle, and more. It ranks among the top 10 onshore financial centers in the world.
The highlight of this free zone is the inclusion of a common-law framework. The region has an independent regulator, the DFSA (Dubai Financial Services Authority), alongside a separate law judiciary – the DIFC Courts.
When you establish your business in DIFC, you get several benefits like:
Finance-oriented free zone (there are only two financial free zones in Emirates)
100% foreign ownership
A robust legal framework to carry out cross-border activities
No limitations on capital repatriation
Zero tax on employee income
English-speaking, common law judicial system
More than 2,000 firms currently operate in DIFC. This has developed the region into a financial ecosystem where diverse institutions interact, plan, and grow together.
You can launch your financial business in various sectors like investment banking, brokerage, fund management, financial consultant, etc.
Apart from finance, DIFC is a hotspot for lifestyle-related businesses too. Ventures such as saloons, gymnasium, coffee shops, restaurants – all enjoy prosperity and surplus in the Dubai International Financial Centre.
Top 6 Cheapest free Zones in the UAE
Here's a list of the cheapest free zones in the UAE apart from DIFC that you should have an eye on:
1. International Free Zone Authority (IFZA)

IFZA has grown increasingly popular becoming one of the leading investment hubs in the UAE. Over the years, IFZA has grown into a powerful platform with an extensive global network of more than 800 partners around the world.

Benefits of company formation in IFZA:
Offers an array of packages for investors to choose from
No requirement for the investor to submit an annual audit report
Up to 3 years visa for owners and employees
Permission to have a virtual office
2. Dubai Silicon Oasis (DSO)
DSO is the mecca of cutting-edge technology and development in Dubai. It's a free zone that provides employment and residential amenities for the employees. You'll find several tech giants, telecommunication companies, etc., in Dubai Silicon Oasis.
Technology is the obvious attraction in this free zone, nevertheless, you'll find law firms, consultancy agencies, among other businesses here as well.
Benefits of business setup in Dubai Silicon Oasis:
Exemption from various taxes (import/export, income, and corporate taxes)
Close to Dubai International Airport, Jebel Ali Port, and Port Rashid
Tier 3 data center and advanced IT infrastructure
3. Jebel Ali Free Zone (JAFZA)
It's the oldest free zone in Emirates. Furthermore, JAFZA also ranks among the largest free zones in the world. Logistics, commodity trading, and shipping companies cannot ask for a better free zone than JAFZA to run their business in the UAE.
The free zone offers six types of business licenses for you to carry out the business of your dreams. You can establish manufacturing, trading, development, and service-related business in JAFZA.
So, here are the benefits of business setup in Jebel Ali Free Zone:
Near the Jebel Ali Seaport and Al Maktoum International Airport
Zero tax and duties
The most powerful business community in the MENA (the Middle East and North Africa) region
4. Dubai Media City (DMC)
If you're looking to launch a media business, then your destination is Dubai Media City. It's a global media hub with the best-in-class infrastructure that facilitates enterprises to operate in and out of Dubai.
DMC is one of the cheapest and the best free zones in the UAE that has quickly transformed into a global media hub. It's home to businesses like event management, advertising, news media, and many more.
Therefore, listed below are the benefits of business setup in Dubai Media City:
100% foreign ownership
Exemption on custom duty (goods and services)
24-hour visa service
5. Dubai Healthcare City (DHC)
DHC is the world's first medical free zone in the world. Premier healthcare institutes, clinics, pharmaceutical education, medical equipment trading, etc., are the sectors that dominate this free zone. It is supervised by DHCA (Dubai Healthcare City Authority).
Many luxurious 5-star hotels, villas, and residential flats are also present in the region. Thus, everyone involved in DHC aims to make it the global leader in healthcare.
Benefits of business setup in Dubai Healthcare City:
Complete exemption from taxes and custom duty
100% foreign ownership
Administrative assistance from DHCA
6. Sharjah Media City (SHAMS)
Sharjah Media City, also known as SHAMS, is offering business setup packages starting just AED 5,750. The package includes a professional media license and one of the 13 listed activities. To add more activities one would have to pay AED 1,000 per activity.
The media activities include:
Advertising
Digital marketing  
Programming and consultancy  
Media production  
Photography  
Web portal
Printing  
Market research  
Graphic design  
Fashion design  
Interior design
Publishing  
Translation services
Since this company formation package does not include any visa, the media license is best suited for new entrepreneurs, UAE residents, and existing business owners.
Steps of starting your business in the cheapest free zone in the UAE
Choose the ideal free zone for your business
Determine the type corporate structure
Select a trade name for your company
Application and submission of all required documents
Choose an office space
Open a bank account
Setup your Business in Free Zones with Shuraa
Shuraa Business Setup helps you compare and find the cheapest free zone in Dubai. Therefore, they assist you choose from the numerous jurisdictions and laws that apply to specific free zones. Our specialists can guide you through this process to ensure you don't commit a mistake.
It's imperative to execute your business idea in the perfect free zone setting in Dubai to enjoy maximum returns and exponential business growth.
To consult with our experienced professionals, call us on +971 44081900. Send a WhatsApp message for chat query on +971 50 777 5554. Email us at [email protected]