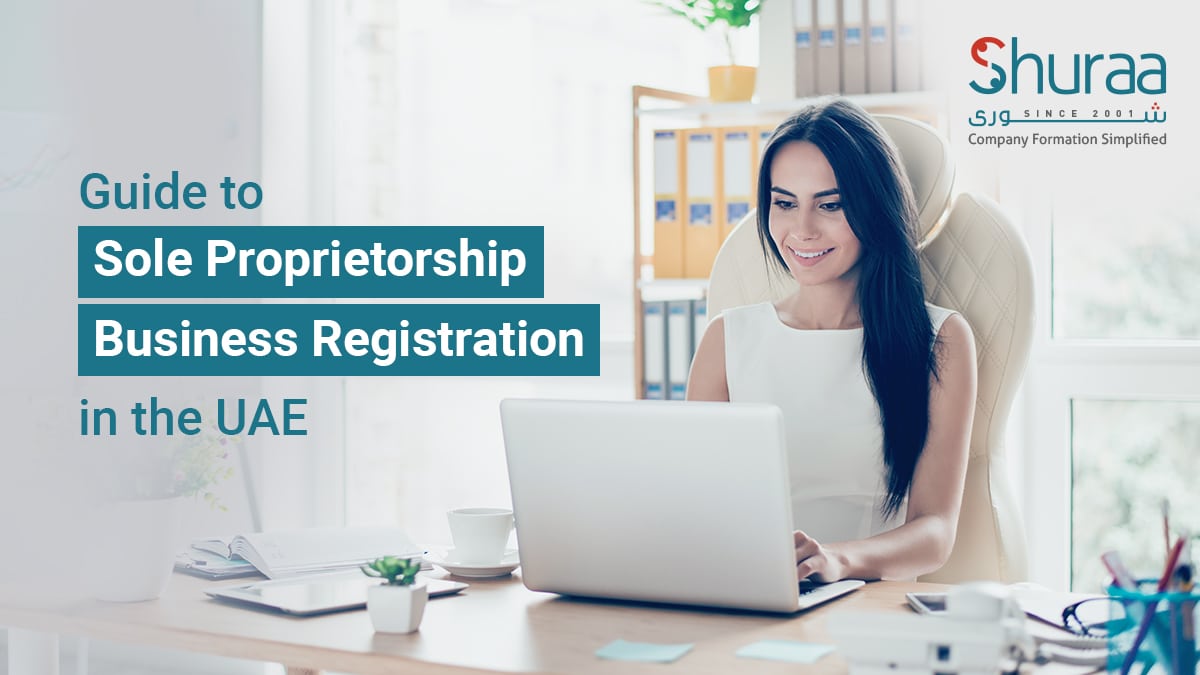 Sole Proprietorship Business Registration in the UAE [A Guide]
The UAE is an entrepreneur-friendly country that offers businessmen several options to start a business in Dubai or any other emirate in the country. You have many options for the choice of your business activity, the type of company (also called legal form) you want to form, the number of shareholders you can have for your business, and the jurisdiction in which you want to set up your company. Here, you will learn everything about sole proprietorship business registration in the UAE.
Sole Proprietorship Meaning
A business owned and operated by one person is a sole proprietorship or a sole establishment. The owner of such a business is a sole proprietor. A company or a corporate body cannot own a sole proprietorship. It also cannot have more than one shareholder. In a sole establishment, the entrepreneur is entirely responsible for controlling the business and bears all the profits and liabilities alone.
Here is a quick look at the features of sole proprietorship in the UAE:
Single owner
No shareholder
100% ownership of the business
Complete control of business operations
100% profit retention
Solely responsible for business liabilities and financial obligations
Low start-up cost
Quick business registration
No business capital requirement
Who can form a sole proprietorship in the UAE?
UAE nationals, Gulf Cooperation Council (GCC) nationals, as well as foreign nationals can form sole proprietorships in the UAE. But the conditions and requirements differ.
If you are a UAE national or a GCC national, you can form any type of sole establishment. It can be an industrial, commercial, tourism, or professional activity. You can also set up consultancies across a range of activities under your professional license.
If you are a foreign national, you can only apply for a professional license for your sole proprietorship. All professional activities are eligible for a sole establishment. You can also engage in consultancy activities. However, certain consultancy activities can only be practiced by UAE nationals. As a foreign national, it is also mandatory for you to have a Local Service Agent (LSA)* to register your sole establishment in the UAE.
*A local service agent is either a UAE national individual or a UAE national-owned corporate entity. It holds no stake in your business. Unlike a local sponsor, who must have a 51% share in your business, an LSA is required purely for administrative purposes. Their services are restricted to visas, licenses, permit applications, and other similar administrative tasks. They are not involved in any decision-making, day-to-day operations, or profit-sharing of your business. You only pay the LSA a mutually agreed yearly fee for their services.
Requirements
Before you start the process of sole proprietorship business registration for registering your sole establishment in the UAE, you should keep the following requirements in mind. You will have to provide these during your trade license application process.
Your passport copy
Your UAE residence visa or visit visa copy
3 trade name options for your establishment
The business activity your sole establishment will engage in
The type of office you will require
Your local service agent's Emirates ID copy
Sole proprietorship business registration process
The Department of Economic Development (DED) is the government body responsible for registering and issuing trade licenses to new businesses in the UAE. The process for registering your sole proprietorship in the UAE is quite straightforward. However, depending on your business activity, there may be additional requirements or steps to follow to complete the registration process.
Get Initial Approval
You must get this approval from the DED, which is the licensing authority in the UAE. This approval is an acknowledgement that the UAE Government has no objection with you starting your business in the UAE.
Get Trade Name Approval
You must submit 3 trade name options. Of the options submitted, you must receive approval for at least one of the names.
Sign Local Service Agent (LSA) Agreement
Prepare and sign the agreement. You and the Local Service Agent must be present at the time of signing.
Finalise Office Space
To form a mainland company, it is mandatory to have a physical office. Once you have arranged for your office space, you must submit the tenancy contract as well as the Ejari* for the office.
*Ejari is the regulatory system for the rental market in Dubai. It is governed by the Real Estate Regulatory Agency (Rera). It was introduced to ensure transparency and fairness between the landlords and tenants in Dubai.
Get Additional Approvals (if any)
Some business activities are required to submit additional approvals from specific government or non-government agencies. DED will communicate these requirements to you. Only after you have submitted the relevant approvals can you move on to the final step in the registration process.
Make the Payment
Once you complete all the above steps, you will receive a payment voucher. Make the payment and collect the trade license for your sole establishment.
To know more about which professional activities you can apply for as a foreign-national sole proprietor, or to avail our exclusive business setup packages, contact Shuraa Business Setup today! Book your FREE consultation with our company formation experts to get answers to all your business-related queries. Speak with them on +97144081900 or WhatsApp them on +971507775554. You can also send us an email on info@shuraa.com.