Ever considered setting up a business in the country of opportunities? Exploring the list of best free zones in the UAE is just the right first step for you.
The UAE has established itself as the hub for entrepreneurs to set up a business. The UAE is also an ideal place for investors because of its attractive tax regime, countless incentives, incubator schemes, and more.
Free zone company setup is the right place to start. Free zones are the jurisdictions that will boost your business and ensure your entrepreneurial journey is on the right track.
This blog will enlighten you about the 7 best free zones in the UAE and everything about them. It will help you pick the most suitable options for your business requirements.
Advantages of setting up a company in a free zone in the UAE:
100% foreign ownership
No personal, income, or corporate taxes
Full repatriation of capital and profits
Strategic location boosting opportunities
Simple and quick set up process
World-class infrastructure
Exemption from all import and export duties
List of best free zones in the UAE:
Jebel Ali Free Zone Authority (JAFZA)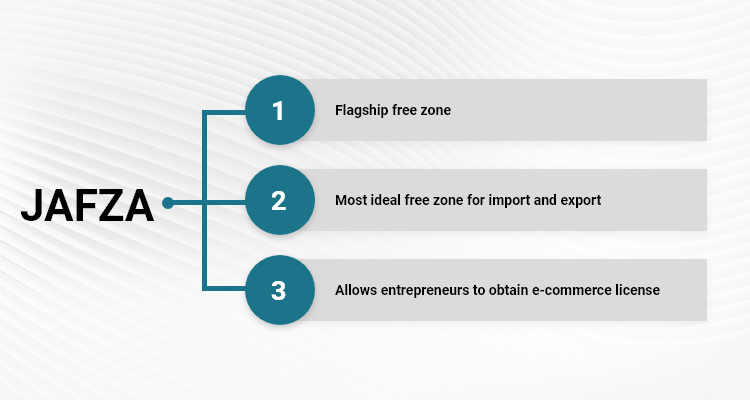 JAFZA is named the flagship free zone of Dubai Ports (DP) World. It plays an integral role in the DP World UAE region's integrated business hub. Built in 1985, JAFZA is amongst one of the oldest free zones in the UAE. It is strategically located near the world's 7th largest container port named Jebel Ali Sea Port. This makes it is the most ideal free zone for import and export. 
Over the years, JAFZA has created a benchmark for other free zones to follow. This is because of its unique positioning and progressive work procedures. The jurisdiction has further gained ISO certification and allows diversification of business modules.
JAFZA issues various kinds of licenses including trading license, service license, industrial license and even e-commerce. Due to its popularity and growth, JAFZA makes for an ideal free zone for multinational corporations (MNCs).
Dubai Multi Commodities Centre (DMCC)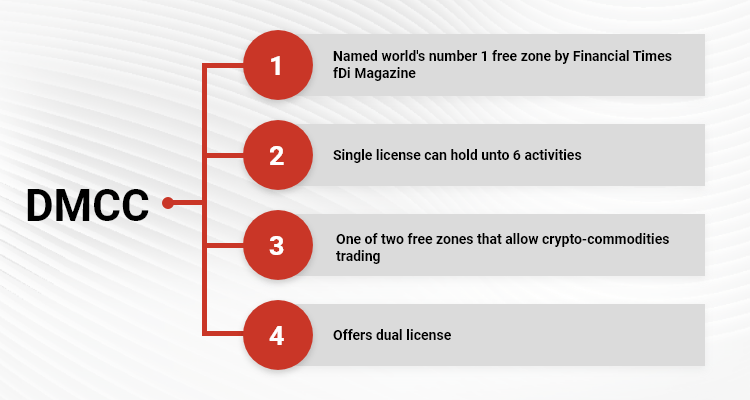 DMCC has established itself as one of the most prestigious free zones in the UAE. It is recognized globally as the world's number 1 free zone.
DMCC has also been a major contributor to the development of trade and commerce in Dubai, making it an ideal industry to penetrate and start a business in the UAE. DMCC free zone is open to almost every business activity and offers a wide range of office solutions.
A single license issued by DMCC can hold up to 6 business activities from the same group. The license issued by DMCC free zone is not only limited to industrial, service or general trade but it is also one of two free zones that allow crypto commodities trading.
Another attractive point to note about DMCC free zone is that it is one of the few free zones that allow entrepreneurs to obtain a dual license. Dual licencing enables businesses to extend their business to mainland or onshore. In order to be eligible for a dual license, entrepreneurs will be required to obtain DMCC license and mainland license.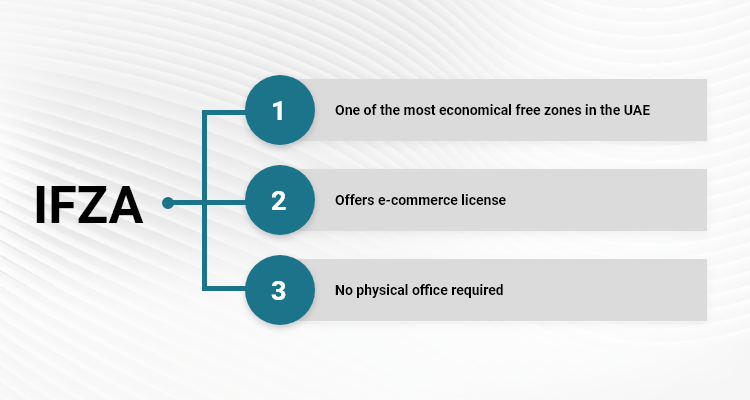 IFZA is one of the most sought-after free zones in the UAE. This is because despite being relatively new, the free zone gained instant attraction for being one of the most economically free zones for company setup in Dubai.
The free zone is located strategically and offers a highly cost-effective setup process. This makes it one of the most potential free zones for business opportunities and growth. IFZA also offers an array of licenses to entrepreneurs. These licenses include consulting, service, e-commerce, commercial and trading license. 
An attractive benefit of company formation in IFZA is that it is not mandatory to have a physical office space in order to start a business. This makes it convenient for entrepreneurs who want to set up an online business because unlike other jurisdictions, they will not require to have a physical space.
Fujairah Creative City Free Zone
Fujairah Creative City free zone is one of the fastest-growing media free zones in the MENA region. It offers a variety of flexible options for business entities to set up.
Additionally, its rise in popularity is due to the convenience of setting up a business there. Not only is it highly economical but it is also one of the few free zones that require the least amount of effort and documentation.
Creative City in Fujairah allows entrepreneurs to conduct a wide range of business activities. These activities mainly revolve around the sectors of media, events, consulting, education, marketing and more. It is also one of the few free zones that enable entrepreneurs to have a virtual office, giving them the freedom to work on the go.
As an advantage, the company can be formed without the requirement of a visa for the investor and staff. It also offers cheap solutions for those who do need visa. What makes Fujairah Creative City stand out amongst other free zones is that the entrepreneurs can obtain up to 20 visas under one trade license.
Sharjah Media City Free Zone (Shams)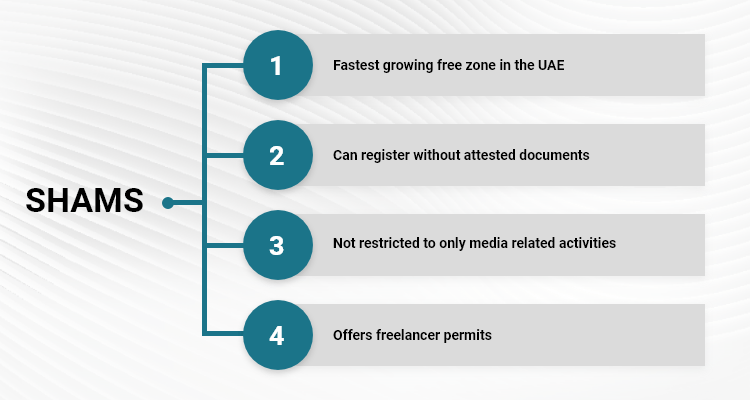 Launched in 2017, Shams free zone is one of the few free zones in Sharjah that offer a simple and quick setup process with minimal upfront and renewal costs. Soon after, Shams has made a name for itself as the fastest growing free zone in the UAE.
Due to its hassle-free setup process and cost-effective pricing, Shams is the ideal free zone for branch companies that want to expand their business. They also have the choice to pick between LLC company formation and branch set up. The free zone also enables entrepreneurs to register without the need for attested documents. 
Despite being named Sharjah Media City, the free zone is not restricted to media-related activities but also branches out to many more. Shams offers various licenses such as service, industrial, freelance, trading as well as holding license. 
Sharjah Publishing City Free Zone (SPCFZ)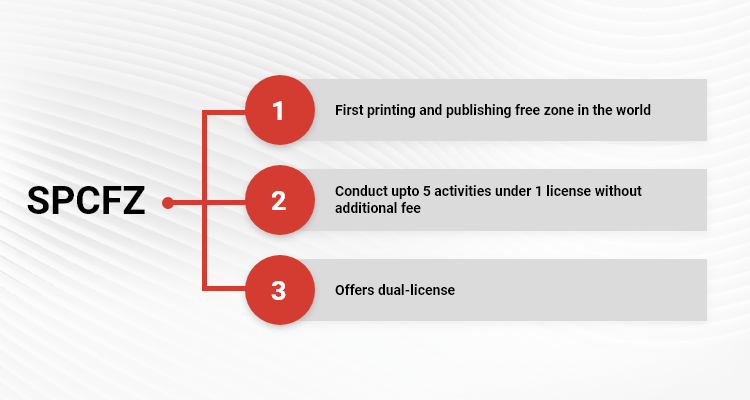 Another fairly new but promising free zone with endless opportunities. Sharjah Publishing City is the first Printing and Publishing free zone in the world. The free zone caters to various business needs providing world-class infrastructure and a business-friendly environment.
Although the free zone's core activities revolve around publishing and printing, they do allow other activities related to trading, consulting, e-commerce and IT-related businesses. A great advantage of company formation in the free zone is that it enables entrepreneurs to conduct up to 5 activities under one license without any additional fee.
Entrepreneurs who form a company in SPCFZ also have the opportunity to obtain a dual license. They also offer an array of packages for UAE residents. There are three company structures that are allowed in the free zone which are free zone establishment (FZE), free zone company (FZC) & branch company.
Ras Al Khaimah Economic Zone (RAKEZ)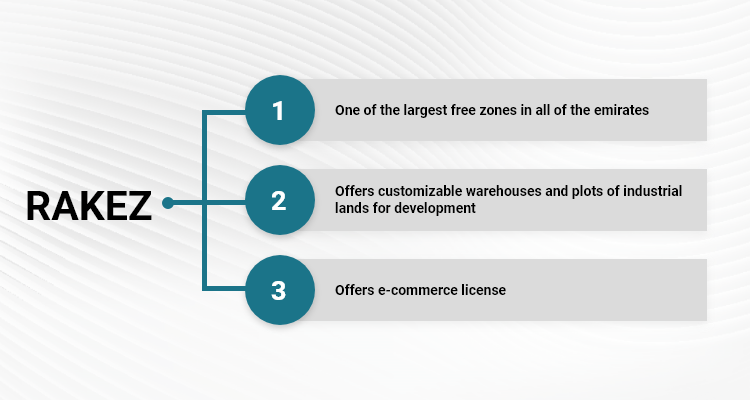 RAKEZ is one of the free zones most opted for when it comes to business setup. One of the most notable advantages of setting up a business in the free zone is its strategic location. The jurisdiction is located near a seaport and is also in close proximity to Ras Al Khaimah (RAK) airport.
Although RAKEZ caters to almost all business types, it is the most ideal for businesses involved in manufacturing activities. This is because it is one of the few free zones in the UAE that offers customisable warehouses and plots of industrial lands for development.
RAKEZ is one of the largest free zones in all of the emirates and allows various activities to be conducted. The activities in the free zone are divided into various categories ranging from commercial, media, e-commerce all the way to educational activities.
Set up your free zone company with Shuraa
Business registration in the UAE free zone is undeniably one of the best opportunities for entrepreneurs looking to venture into the world of business in the country. Shuraa is one of the best business setup companies in the UAE and can help you get your company registered within a week.
Shuraa ensures that the entire process of your company setup runs smoothly. Our business setup consultants will guide you through the entire process from registering your business, understanding free zone license cost, all the way to the process of obtaining approvals from the authorities.
To get started or to find out more, contact our expert consultants at +97144081900 or send a WhatsApp message on +971507775554. You can also drop in an email at [email protected] and get your queries answered in no time.