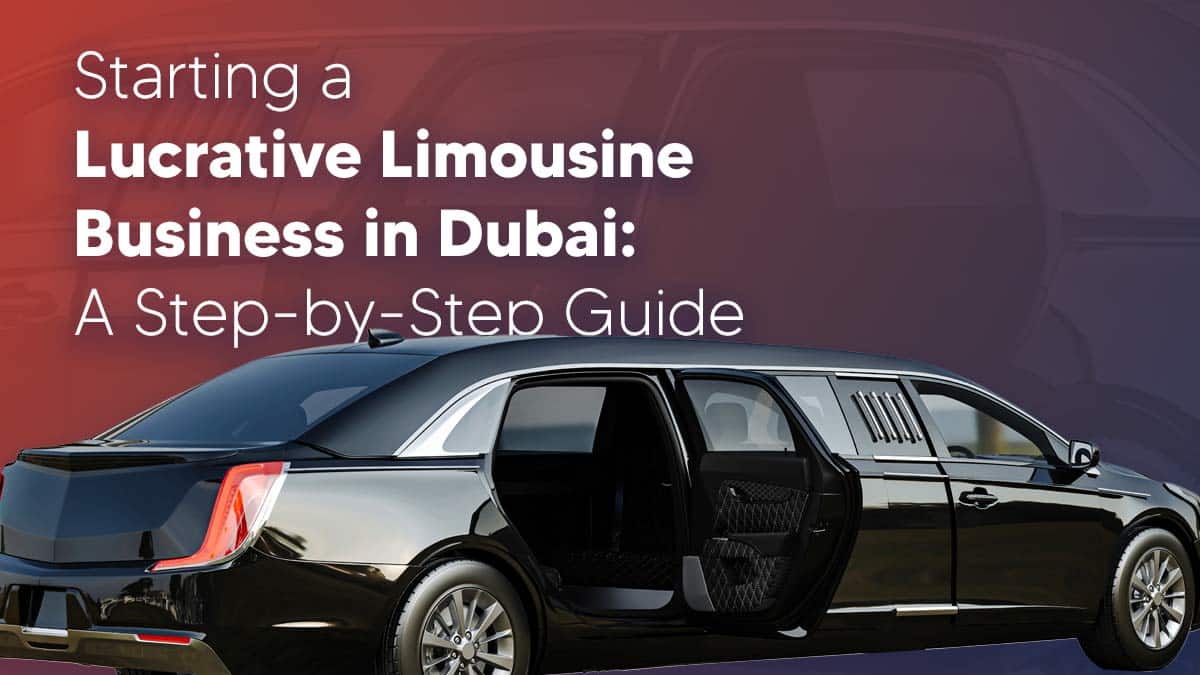 Start a Limousine Business in Dubai
Step into a world where luxury and convenience intertwine, where every occasion is elevated to unforgettable heights. Whether it's a vibrant night out, a crucial business meeting, a romantic dinner, or a momentous celebration like a wedding, a Limousine license in Dubai holds the key to crafting cherished memories. Unveiling exceptional service, limo companies in Dubai offer an unparalleled experience to their customers. In this blog, we delve into the significance of this extraordinary business, exploring the rules and regulations that accompany operating a Limousine license in Dubai. From envisioning grand functions to understanding the intricacies of obtaining the limousine trade license in Dubai, we shed light on the steps ahead.
How to Start a Limousine Business in Dubai?
Simply obtaining the license is not enough; the success of your venture lies in a comprehensive approach to business development. Fortunately, you need not navigate this process alone. We are here to guide you every step of the way, ensuring that your limousine business in Dubai is set up for success and ready to thrive. 
Dubai's succeeding market offers a wide array of lucrative opportunities for a limousine business. From prestigious hotels seeking top-notch transportation services for their esteemed guests to large corporations in need of chauffeur-driven excellence for their clients, the demand is ever-present. This is precisely why numerous individuals, like yourself, are contemplating the prospect of how to start a limousine business in Dubai. However, it's essential to acknowledge that launching such a substantial venture requires careful groundwork and strategic planning. 
Limousine Business License in Dubai – step by step
Navigating the process of setting up a business in a foreign land can be overwhelming, especially for international expats who may be unfamiliar with the local customs and legal requirements, particularly when it comes to obtaining a limousine license in Dubai. At Worldwide Formations, we understand these challenges and are here to assist you in simplifying the process. Below, we outline the step-by-step guide to establishing a limousine company license in Dubai.
1. Choosing a Trade Name
Selecting a legitimate and unique trade name for your company is crucial to begin obtaining a limousine license in Dubai. Register the chosen trade name with Dubai's Department of Economic Development (DED). To simplify this process, consider utilising the services of a business consultant in Dubai.
2. Submitting the Required Documents
Gather all the necessary documents as requested by the DED for registration. Ensure that you have the documents in the correct order. Submit these documents to the Road Transport Authority (RTA), which is responsible for handling your limousine company's registration.
3. Completing the Training
Before obtaining the license, you are required to undergo training. Apply for a temporary license from the RTA, which will be valid during your training period. The RTA will conduct the training and issue a theory test consisting of a series of questions that you must answer.
4. Taking the Road Test
After completing the training and theory test, the next crucial step is passing the road test. The road test is mandatory and must be cleared to proceed further in obtaining your limousine license. This test evaluates your practical skills and knowledge in driving a limousine.
5. Registering Your Company
Once you have passed the road test, collect the approval certificate from the inspector. Additionally, obtain an Establishment Card from the Ministry of Labour. These documents are essential for registering your workers with the Ministry of Labour. Completing these steps will contribute to the successful establishment of your limousine business in Dubai.
How to get a limousine license in Dubai
1. Arrange Sufficient Capital
Before delving into the process of acquiring a limousine license in Dubai, ensuring you have the required capital is crucial. The total cost of this business includes the license fee and the cost of purchasing the cars. The exact amount needed can vary based on the number and type of cars you plan to acquire. Different car models come with varying costs, so it is advisable to have a diverse selection to cater to different customer preferences. While using leased cars is an option, careful consideration must be given before making this choice. 
2. Apply for Registration
Submit your application for registration to the appropriate government entity responsible for overseeing the issuance of limousine licenses in Dubai. Ensure that all required documents are completed accurately and include any supporting documentation as requested.
3. Prepare and Notarize Your Company Memorandum of Association (MOA)
Draft the Memorandum of Association (MOA) for your limousine company, outlining the company's objectives, structure, and operations. Once prepared, have the MOA notarised to ensure its legal validity and compliance with the regulations.
By following these steps diligently and fulfilling the necessary requirements, you can pave the way for obtaining a limousine license in Dubai and embark on your journey as a licensed limousine service provider in the vibrant city.
Limousine License Registration Process in Dubai
Office Space Requirement: To meet the regulatory requirements, you must have a minimum office space of 225 square feet. This office will serve as your operational base.
Approval from Road & Transport Authority (RTA): Obtaining approval from the Road & Transport Authority (RTA) is crucial for acquiring the Limousine License. This process involves submitting your business setup plan, which should outline the financial liability of the project as per the requirements specified by the RTA.
Proof of Fund Availability: As part of the registration process, you are required to demonstrate the availability of AED 5 million in funds to the RTA. This serves as evidence of your financial capacity to operate a limousine business.
Minimum Vehicle Requirement: To commence your business operations, you must have a minimum fleet of 20 vehicles. This requirement ensures that you have the necessary resources to meet the demand for limousine services.
Agreement with RTA: Upon the issuance of the license, the shareholder(s) of the company are required to sign an agreement with the RTA. This agreement outlines the terms and conditions for operating the limousine business in compliance with the RTA regulations.
By following these steps and fulfilling the necessary requirements, you can successfully register your Limousine License and legally operate a limousine service in Dubai.
What is the Cost of running a limo business in Dubai?
Several factors, including the size and composition of your vehicle fleet, influence the expenses associated with running a limousine business. The total startup cost comprises the license fee, vehicle procurement expenses, marketing efforts, and ongoing maintenance. The price range for these costs can vary between AED 51,400 and AED 110,000. However, it is feasible to minimise initial expenses by initially operating with a limited fleet of one or two vehicles.
How Shuraa business setup can help?
Establishing a Limousine Business in Dubai offers enticing prospects for aspiring entrepreneurs; however, possessing in-depth knowledge of the local landscape and market dynamics is crucial. This is where Shuraa business setup services can be invaluable. As seasoned experts in facilitating business setups in the UAE, we streamline the process, ensuring a quick and hassle-free experience when establishing your company in Dubai.
Shuraa business setup provides comprehensive support, acting as a one-stop shop for company formation. Our services encompass a wide range of value-added assistance, including license applications and VAT registration. Over the years, we have successfully guided numerous aspiring entrepreneurs in transforming their business aspirations into reality. Get in touch with Shuraa to speak with one of our seasoned Dubai business establishment experts for free. Call us at +971 4 4081900, contact us via WhatsApp at +971 50 7775554 and reach us at info@shuraa.com.