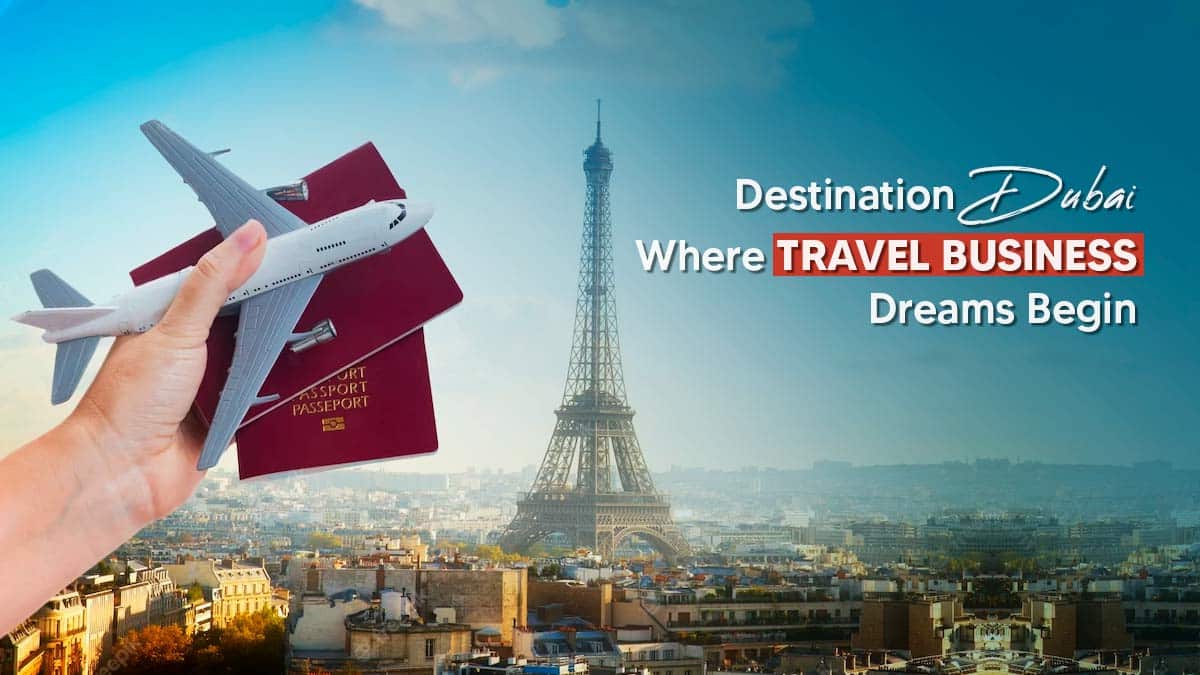 How to Start a Travel Agency in Dubai, UAE
As one of the most popular tourist destinations in the world, Dubai offers a thriving travel industry with endless opportunities for entrepreneurs. With its stunning architecture, luxurious resorts, and vibrant culture, Dubai attracts millions of visitors each year.
Since the tourist number is on the course to hit the government's Tourism Vision 2020 target of 20 million visitors to Dubai alone, it's an ideal time for you to set up a travel agency business in the UAE.
Official statistics also predict tourism will be worth AED 116bn by 2027 – that's 5.4% of UAE GDP – directly or indirectly supporting over 750,000 jobs.
Therefore, we are here to guide you through the essential steps on how to open a travel agency in Dubai. We will also share the valuable insights and benefits of this vibrant city has to offer to each business.
Benefits of Starting a Travel Agency in Dubai
Starting a travel agency company in Dubai, UAE can be a highly rewarding venture with several significant benefits.
Here are some of the key benefits:
1. Growing tourism industry
Dubai is a world-renowned tourist destination, attracting millions of visitors annually. Its iconic landmarks, luxurious resorts, and vibrant cultural scene make it a prime location for travelers. The tourism industry is also expected to continue to grow in the coming years, creating opportunities for travel agencies.
2. Tax-friendly environment
The UAE, including Dubai, has a reputation for being one of the most business-friendly and tax-efficient jurisdictions globally.
3. Free zones
Dubai has several free zones, which offer special benefits to businesses. These benefits include lower taxes, easier visa requirements, and 100% foreign ownership.
4. Strategic Location
Dubai's geographic location bridges Europe, Asia, and Africa, making it a convenient stopover for travelers going to or coming from these regions. And hence, this strategic location can give your travel agency a competitive edge in connecting travelers to various destinations worldwide.
5. Abundant resources
Dubai has a well-developed infrastructure and a wide range of resources that can be used by travel agencies. These resources include hotels, transportation, and tour operators.
6. Well-connected
Dubai is well-connected to the rest of the world, with direct flights to over 200 destinations. This makes it easy for travel agencies to book flights and other travel arrangements for their clients.
How to Open a Travel Agency in Dubai, UAE?
Starting a travel agency in Dubai, UAE involves several steps and requires compliance with local regulations. However, for many entrepreneurs the process can be overwhelming.
Here's a step-by-step process to guide you through the establishment of your travel agency in Dubai:
1. Establish your travel business activity
Firstly, you need to decide exactly what sort of business activity you want to conduct; will you specialise as a travel agency business, an inbound tour operator or an outbound operator? There are plenty of activities to choose from across all the different markets you could carry out.
2. Choose a company name
Before deciding with any name, you should get familiar with the rules; words such as 'global', 'international' are acceptable but can sustain extra fees, and several restrictions would apply.
Offensive words are judiciously forbidden, like God's name, either in English or Arabic.
3. Apply for a business license
In Dubai, trade or business licenses (commercial, professional, industrial) are issued by the Department of Economic Development (DED). However, if you're planning to establish a business in the Dubai free zone, you'll need to obtain a license from that relevant authority only.
In many cases, you may also require approval from other concerned authorities such as the Department of Tourism and Commerce Marketing (DTCM) or Civil Aviation Authority.
5. Set up employee visas
Be sure to apply within 30 days of an employee's entry into the country, and soon you would receive a tourist visa.
Simply register on the Ministry of Interior's e-channels portal for a staff entry permit. Once issued, employees can perform an 'in-country status change' to activate that entry permit, a difficult step in getting a full employment visa.
You'll need your trade license, passport copies, and establishment card – a service that files your company with the General Directorate of Residency and Foreigners Affairs (GDRFA). Remember, it's also your responsibility to obtain 'OK to Board' approval prior to inbound travel for employees from the South Asian subcontinent.
6. Open a corporate bank account
Finally, you need a corporate bank account for all final transactions. No bank will recognise your business without a trade license but select your bank wisely; a poor choice may become a bad decision for your travel agency business.
Please note that the sector is tightly synchronised, so if you're confused about how to open a travel agency in Dubai whilst complying with the rules, advice from Shuraa Business Setup specialists can save you from high-budget extravagant headaches of tourism business in Dubai, down the line.
Travel agency license requirements in Dubai
The requirements for opening a travel agency in Dubai vary depending on the type of license you need. Generally, following are the common requirements for opening a travel agency in Dubai:
Business License
Passport
Passport size photograph
Approval from the Department of Tourism and Commerce Marketing (DTCM) (If applicable)
Office space
Any other documents from external authorities, if required
Travel Agency License Cost in Dubai
Overall, the total cost of starting a travel agency company in Dubai can start from AED 20,000. However, this is just a rough estimate, and the actual cost may vary depending on the factors including the size of the agency, the location of the office, travel agency license in Dubai, and the types of services offered.
Therefore, if you are considering starting a travel agency in Dubai, it is important to do your research and make sure that you are prepared for the challenges and expenses involved.
Why it pays to use a company formation expert
Company formation specialists can save you time by making sure you have all the right paperwork. Some banks may require business plans and reference letters from business partners.
However, most will ask for your trade license, a board of directors' resolution and a copy of the company's memorandum and articles of association.
Smooth processes for travel agency business save time and money.
Six important steps can set you on course to establishing a successful travel agency business. However, they require substantial paperwork and plenty of hidden traps.
Can you afford to get it wrong? Setting up your own business has never been easier. SHURAA BUSINESS SETUP takes care of it all so you can focus on what matters – building your business.
For more information about company formation in the UAE mainland or free zones, please call us at +97144081900 or WhatsApp at +971507775554. You can also drop an email on info@shuraa.com.