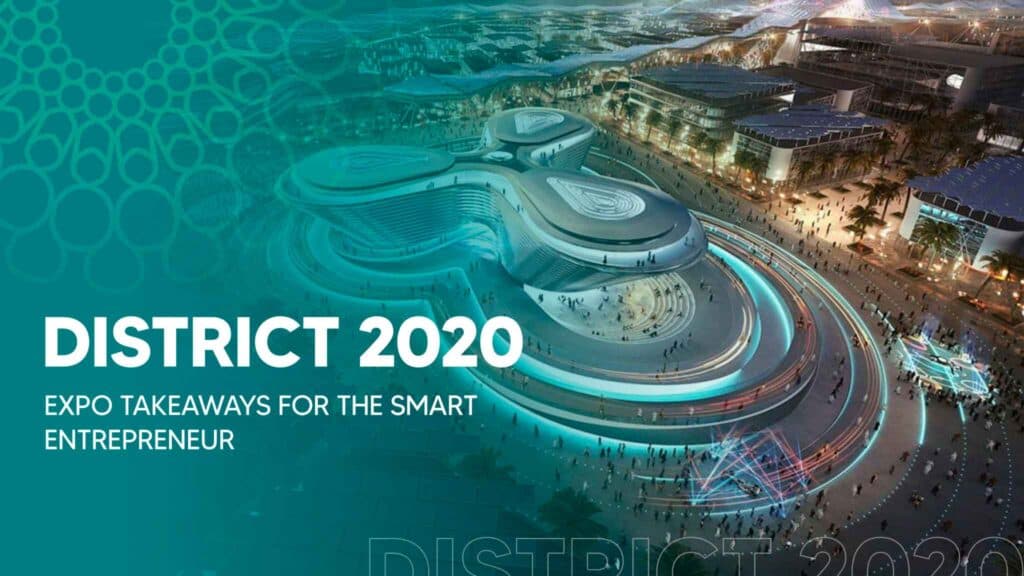 District 2020: Expo takeaways for the smart entrepreneur
Deemed as the 'world's greatest show', Expo 2020 finally ended this March. Upon its completion, the Expo site will evolve to become District 2020, proposed as "a blueprint for a human-centric, sustainable smart city." Reports state that this global fair has had a footfall of over 11 million visitors from over 200 countries, thus making it an unparalleled experience in ages.
As of now, 85 emerging startups and small businesses from 27 countries are poised to set up shop in District 2020, an innovative ecosystem. Given the reach of the entire event, it is inevitable that new business ventures will start to emerge as a result. Therefore, we have compiled some key takeaways one needs to take from Expo 2020.
Key takeaways from Expo to make your District 2020 business unique 
Creating a global business setup 
Expo 2020 had numerous business opportunities to offer, providing innovators across the globe a chance to highlight their talents. Whether it is an established company, or a start-up, you will have access to promote your business on a global scale to a range of people. The promotion would extend to both potential investors as well as potential customers.
Business owners can access the latest business development models in District 2020 and become part of the global commercial community.
Forging meaningful connections 
Business opportunities in District 2020 were augmented by Expo which connected potential investors and partners. So, people looking to startup their business in the UAE could utilise Expo's exclusive 'Business Matchmaking App' and connect with relevant leads. The collective platform lets investors, businesspeople, entrepreneurs to come together for innovative business strategising.
Expo 2020 is not only a melting pot for cultures but also for business opportunities. Who would not want to grab the bull by the horns and build a lasting impact in the business world?
UAE is the business capital of the new world 
People who want to set up their business in the UAE gain a significant foothold in countries of the Middle East, Southeast Asia, Africa, and Europe. With its tax friendly policies, convenient financing and investment laws, UAE has always been a haven for company formation opportunities.
UAE provides different zones (Mainland or Free Zone) suited to diverse industrial needs. Organisations across the world choose among these designated zones because they provide several benefits to boost business. Benefits include 100% repatriation of profits, low corporate tax, 100% foreign ownership and more.
Global innovations and modern industries 
It is time to break away from outdated commercial practices and embrace the new and dynamic. Expo was a global showcase of some of the most outstanding innovations across over 190 countries. Entrepreneurs and companies presented cutting edge technology designed to change the course of modern commercial and industrial practices.
Entrepreneurs inspired by the plethora of ideas can apply them to their own business processes in District 2020. Expo offered strategic innovations to boost your company beyond expectations.
Become part of a reimagined global economy 
Companies wanting to make their presence recognised should take advantage of the moment and integrate themselves into the economic landscape of Expo 2020. Set up your business in the newly established District 2020 in the Expo site. Benefits of the programme include visas and workspace for up to 2 years, access to special rates for service providers, funding opportunities, banking, and IT services. And this is just the tip of the iceberg.
Building your business inside out 
Revamp your business. Aesthetic appeal is now a predominant factor in boosting company sales. It has been proven time and again that audiences gravitate towards services that have an established brand. This includes components such as your logo, your website, interface, your social media presence,
Brand awareness is now an expected aspect of corporate growth. Therefore, invest in your company's design and see more people flock towards your services.
Partnerships and Collaborations 
Expo 2020 was the perfect platform to create meaningful partnerships and engage in effective collaborations. One aspect to take away is that people looking to broaden their company in specific regions can do so from the convenience of an individual location.
Imagine a network of like-minded professionals, all in one place, collaborating and brainstorming to produce the next big idea. This is what you and your company can be in District 2020.
Creating a legacy 
It is rare that events take place on such a grand scale. The amount of preparation, the planning and attention to detail is unparalleled. Therefore, people are going to remember Expo 2020 for ages, and they should remember your company as well.
Imagine the legacy you want your company to leave behind and its impact on future generations. How is the business performance going to make an impact on the global market? With steely determination and clear vision of the future, lay down the foundation of your company.
Expo takeaways come to life with Shuraa 
Business is booming in the UAE, and this is the best time to form your company here. These key takeaways from Expo 2020 are there to make your company successful and enhance your growth. The experts at Shuraa Business Setup are experienced professionals who will make your dreams a reality. Get 100% ownership, avail tax benefits, get lifetime investor visa and several other advantages. Book an appointment with a dedicated corporate advisor today.
To get started and find out more, contact our expert consultants at +97144081900 or send a WhatsApp message on +971507775554. You can also drop in an email at enquiry@shuraa.com and get your queries answered in no time.