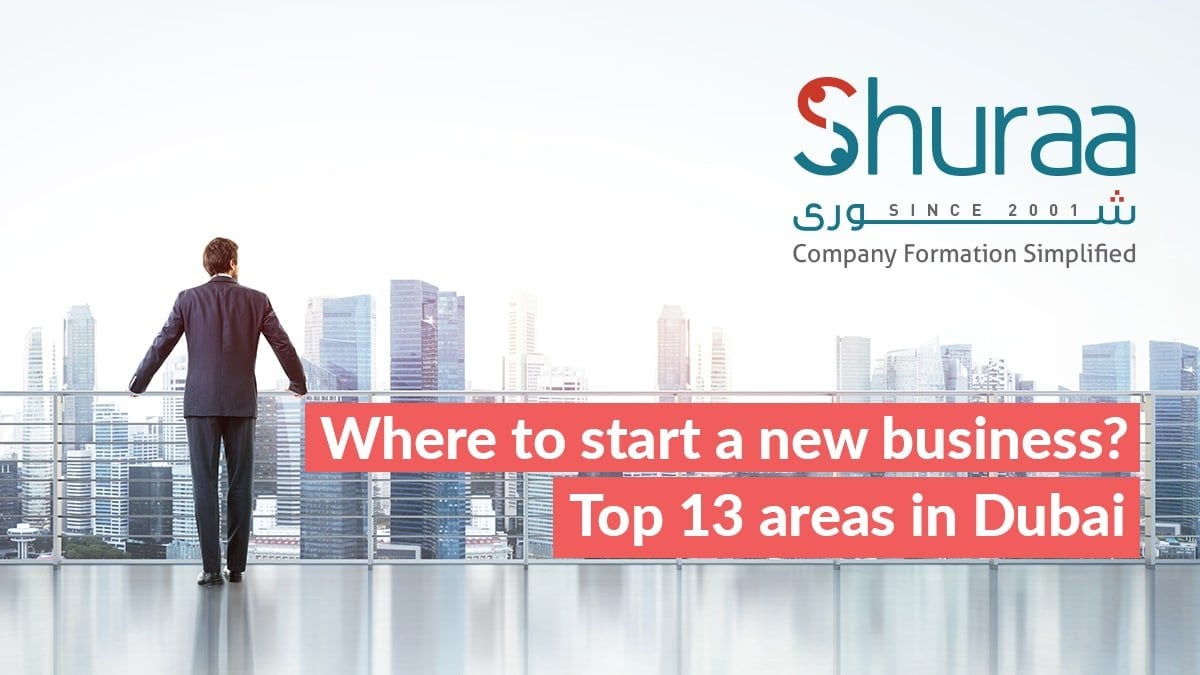 Top 13 areas for new businesses in Dubai
Dubai is the economic hotspot of the Middle East given its strategic geographical location. Majority of the businessowners across the world who want to tap into the international market consider company formation in Dubai. This is also because the government has contributed to creating a highly supportive environment for new businesses in Dubai.
However, since the city will spoil you for choices, how should an entrepreneur choose the perfect area for setting up a business in Dubai? The answer to this will be based on the business activities you want to conduct. Depending on the type of products and services you want to offer, you can find the most suitable area for company registration in Dubai.
There are two broad classifications of areas for starting new business in Dubai – mainland and free zones – under which there are varying jurisdictions supporting various activities.
Company formation in Dubai Mainland
Mainland companies in Dubai are free to carry out their business across the UAE. However, the maximum cap on foreign shareholder equity is 49%. This means that you require a local sponsor to partner with. Listed below are some of the most suitable areas for company registration in Dubai:
Sheikh Zayed Road – Decked with high-rises on both sides, the road cuts through the centre of the city. This incorporates some of the most iconic buildings such as the Dubai World Trade Centre and Emirates Towers.
Business Bay – This is the hub of high-end corporate offices of international companies. Centrally located, the area provides a good connectivity with the rest of the city. It is well suited for companies in the hospitality industry.
Deira – One of the oldest areas in Dubai, Deira included the city's gold souk. It primarily houses a major portion of the city's labour force and small to medium-sized enterprises.
Al Qusais – The area is mainly known for affordable apartments in its spacious neighbourhoods. It also comprises an industrial zone. The area is close to the airport as well as Sharjah, thus making it good for logistics business.
Bur Dubai – This historical area is located next to Dubai Creek, attracting tourists. It is popular for shops specialising in textile and computer accessories.
Al Quoz – This huge area is a major spot for manufacturing companies and warehouses with low rentals. This also serves as a connector between Sheikh Zayed Road and Al Khail Road.
New businesses in Dubai free zones
The free zones have varying jurisdictions, and thus, their own benefits and limitations as well. These free zones are also favourable for certain kinds of business activities. Find out below:
7. Jebel Ali Free Zone (JAFZA) – Located in the far west the city, it is one of the largest free zone's in the world. It is ideal for manufacturing and trading.
8. Dubai Airport Free Zone (DAFZA) – Situated in the periphery of the Dubai International Airport, this free zone is well suited for sectors such as telecommunications, IT, aerospace and aviation, logistics, electronics and luxury goods.
9. Dubai Media City (DMC) – The are is host to companies, such as news agencies, advertising and broadcasting, in the media industry.
10. Dubai Silicon Oasis (DSO) – Suitable for technology-related firms, this area is located near the airport as well.
11. Dubai Healthcare City (DHC) – This area is the hub of clinics, hospitals and medical centres. Ideal for companies in the healthcare sector, it hosts several professional medical workers from across the globe.
12. Dubai International Financial Centre (DIFC) – The area attracts local as well as foreign financial institutions as it follows the international legal framework. This provides the companies ease of operations and transactions.
13. Dubai Multi Commodities Centre (DMCC) – This is one of the fastest growing free zones for trading international commodities. It houses companies which deal across a range of goods from gold, diamonds and other precious metals to foodstuff, beverages and industrial material.
Deciding which area and what jurisdiction is best suited for your company can be a tedious and time-consuming task. However, Shuraa, pioneer business setup consultants in Dubai, can help you. So, for the best business setup services in Dubai contact Shuraa Business Setup.
Call +971 44081900 or WhatsApp +971 50 777 5554 or drop an email to info@shuraa.com