The United Arab Emirates has no taxes. The UAE as a country offers some of the best company structures that can help foreign investors channelise revenue and save immensely on taxes.
The UAE is divided into commercial jurisdictions that enforce territorial principals. These territories represent a set of commercial laws and levy taxes accordingly. The government's encouragement on creating a tax-free environment has further appealed the tax saving investors to start a company in UAE.
The country provides a tax-free business atmosphere -with no tax on private income, capital gains as well as profits, no inheritance tax, no tax on income from property sale and so on. Apart from excise tax on few commodities and value-added-tax (VAT), the UAE has no other taxes. VAT is charged at 5 percent, which is lower than most countries in the world. These features ensure UAE remains on the high competitiveness on an international scale amongst multiple tax jurisdictions.
So, why is the United Arab Emirates a tax haven?
To attract investor
The UAE is one the most substantial and diversified country in the world. The nation offers various investment opportunities and is a commercial hub for international investors. The financial structure, the innovation, the infrastructure and the globalized approach are some of the factors that attract investors. However, being a tax haven tops it all!

Increasing foreign collaboration
Increasing foreign collaborations is a significant feature. It is vital to emphasise the global credential and appeal on a worldwide platform. Taxation on international trades are also reduced through collaborations. This makes company formation in UAE even more alluring. The demand of the UAE business setups also doubles up as tax-free environment makes a path for easy exchange controls, trade quotas and offers limited economical barriers.
Offer niche market trends
Tax free company registration in UAE provides a niche market for several commercial as well as industrial businesses. The liberal polices enforced by the government allows businessmen to create a distinct place in the market for themselves. For instance, the import and export market of Dubai – makes immense profits as there are no import, export or custom duties along with several exceptions providing 100% repatriation.
But foreign investors presume that company registration in UAE can be tedious and expensive.
Any international market has its own specific set of challenges. But with Shuraa – UAE's leading business setup service provider, company registration is affordable and easy. Just like any other international business setups, company setup in the UAE requires certification, documentation and approvals. Shuraa Business Setup reduces hassle and offers you a convenient route towards setting up a business in the UAE.
Hence, we are offering you the best and cheapest UAE business setup packages. Our business setup packages aim at providing A-to-Z assistance on UAE company formation. Our UAE business setup packages offer A-to-Z assistance. The all inclusive packages help you with everything you require to setup a business in the region.
Listed below are the four best business setup packages in the UAE –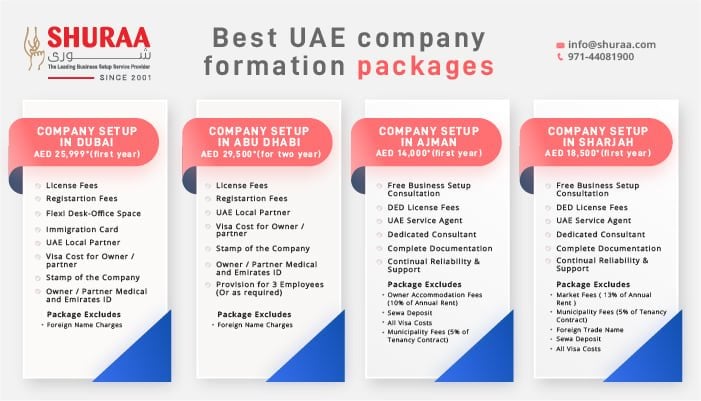 Setup a company in UAE with 100% ownership and a foreign bank account to reduce your tax burdens. Do you need to know about company setup in offshore or free zone?
For any kind of company registration in UAE, get in touch with our group of UAE company formation advisories, consultants and legal experts.
Visit us, call us, request a call or send us an email to book a free business setup consultation.