Organization Structure
Shuraa Business Setup is built on the corporate values of communication, reverence, integrity and excellence – that is practiced not only with the clients but also with the associates and colleagues at Shuraa Business Setup.
The Organisation Structure at Shuraa stands on deep-rooted principles, that guide the company's action and serve ethical cornerstones towards establishing entrepreneurship. The administrators at Shuraa Business Setup uphold integral and sacrosanct work-values. In collaboration, associates of Shuraa strive for distinctiveness and maintain veracity at all costs.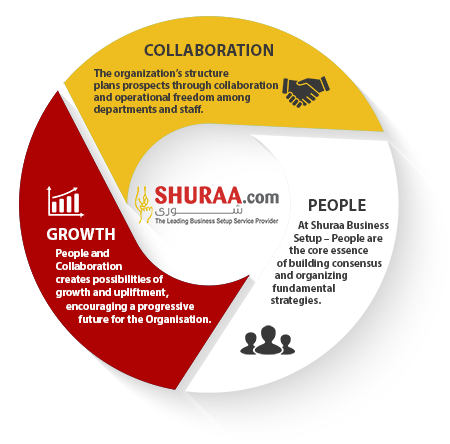 At Shuraa, the organizational structure is carefully crafted and managed to ensure 100% execution in every departments and among all the staff member.
The efforts driven by every department contributes towards the efficiency in work, tireless pursuit, unique culture, a can-do attitude – that results to cater to a much wider market. The various layers in the Organisation perform successfully, in order to generate a strong philosophy around reliability, dedication, and self-motivation by assimilating these values into every system that directly touches the clients.
Sheikh Zayed Road, Office no. 501, 5th Floor, Aspin Commercial Tower - Dubai

+971-44081900

, +97143510077

+971-507775554

+971501577739

+97143510078

P.O. Box: 78029
Subscribe to our newsletter to receive latest updates and exclusive offers.

---

Cards accepted