Shuraa Mission and Vision
Shuraa Mission and Vision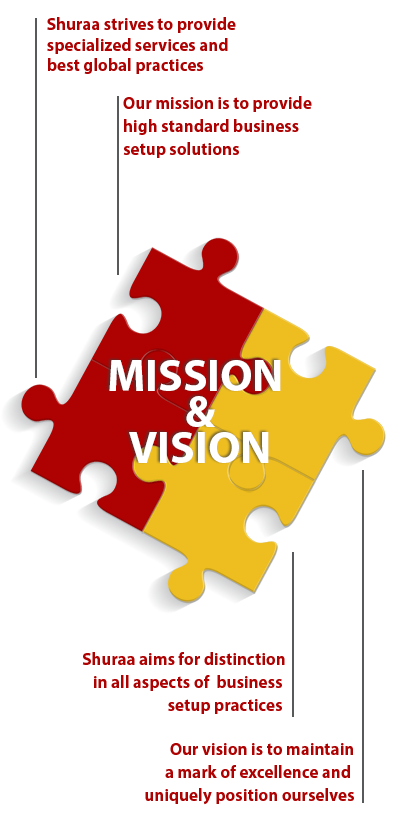 Mission
At Shuraa Business Setup, our mission is to provide complete solutions by setting high standards of specialized service combined with the best global practices. Thus, we nurture a collective environment and value employee – as an efficient employee leads to the highest level of customer satisfaction.
Further, our mission is also to ensures that our services are delivered faster, more resourcefully and with greater returns on investment. To attain this, we have identified the key commitments of business setup and, subsequently, deliver those to the budding entrepreneurs as well as leading businessmen in UAE. Our business consultants take ownership of your commitments and manage the consistent delivery of your business needs. It is a privilege to be an authorized entity for business formation in UAE.
Vision
Shuraa Business Setup service providers have already established a presence in the lucrative markets in the UAE as a leading business setup company in Dubai, but our vision is to maintain that mark of excellence.
We strive for distinction in all aspects of business setup practices and uniquely position ourselves to facilitate such transitions. We make sure we are updated with the business laws of UAE as well as fluctuating rules and regulations related to any kind of business setup procedures. We also seek to continue our exceptional endeavor by efficiently delivering best results every time to our clients.
Shuraa is willing to share risks and rewards, thus we collaborate with you through business partnerships and help you raises the value of your business, develop trust and ensure that your experience exceeds their expectations. Our vision is to increase such avenues, deliver consistently through sustainable cultural and behavioural change.
Sheikh Zayed Road, Office no. 501, 5th Floor, Aspin Commercial Tower - Dubai

+971-44081900

, +97143510077

+971-507775554

+971501577739

+97143510078

P.O. Box: 78029
Subscribe to our newsletter to receive latest updates and exclusive offers.

---

Cards accepted