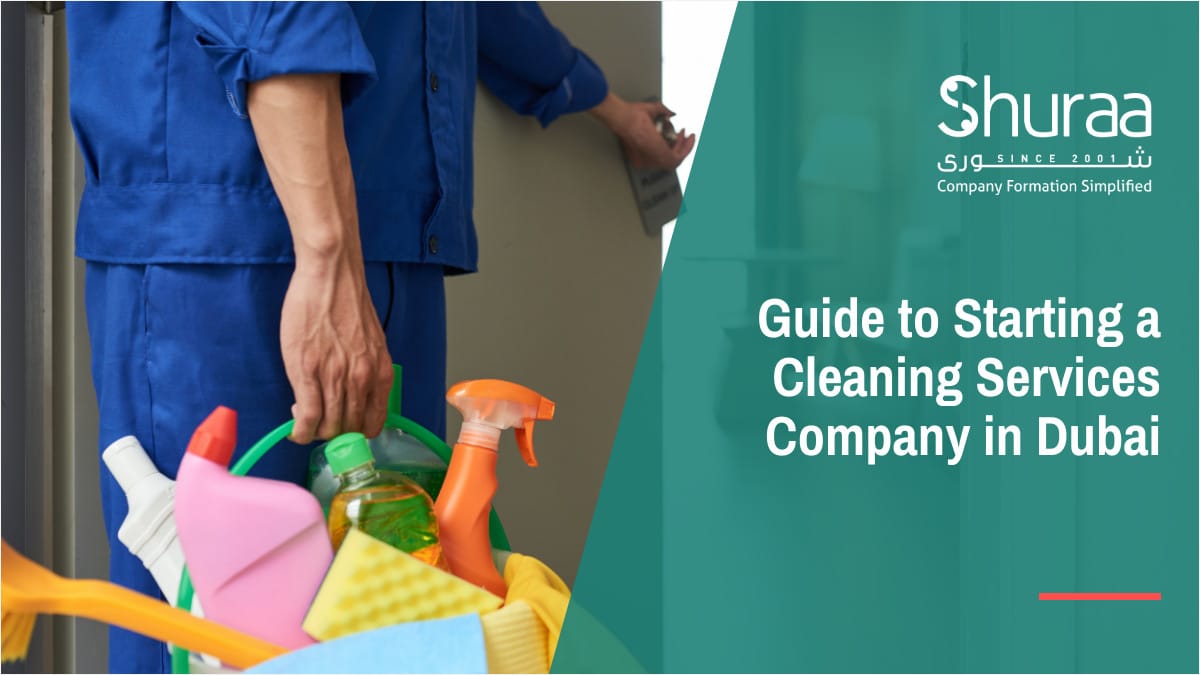 Guide to starting a cleaning company in Dubai
Cleaning services is one of the most sought-after business activities in the UAE. As a land of expats, the UAE is home to millions of professionals who spend a major part of their day out of their homes. Leading busy lives leaves little time to get any cleaning done, and many may not be inclined towards keeping a full-time house help. As a result, they rely on cleaning services companies for the upkeep of their homes. This, in turn, has made starting a cleaning services company in Dubai a lucrative business venture.
Cleaning services is a large sector that includes residential cleaning, commercial cleaning, and industrial cleaning. Each of these categories has further sub-categories that specialise in one activity such as carpet cleaning, water tank cleaning, air conditioner and kitchen duct cleaning, etc. However, it can be hectic for an expat to handle all of it alongside the planned business activities. Therefore, you should connect with the legal advisors at Shuraa, and we'll guide you on how to register a cleaning company in Dubai municipality while also taking care of documentation, licensing, and more.
Types of cleaning services
Residential cleaning services, like the name suggests, tackle residential spaces such as apartments and villas and specialise in cleaning areas such as bedrooms, kitchens, bathrooms, and other home spaces. Furthermore, residential cleaning requires basic cleaning equipment and supplies and is best suited for SMBs and startups.
Commercial cleaning services cater to commercial spaces such as offices, retail stores, hospitals, and buildings. Since these spaces are usually bigger than residential spaces, they require specialised, heavy-duty equipment and cleaning supplies.
Industrial cleaning services are called in to sanitise and maintain industrial buildings, factories, and warehouses. These spaces can have very specific requirements such as commercial waste clean-up, hazardous waste clean-up, etc. Industrial cleaning deals with a whole different type of clientele and therefore requires industrial-grade cleaning machinery, chemicals, and other industrial solvents and cleaning supplies.
How to start a residential cleaning services business in Dubai?
To start your residential cleaning services business in Dubai, you must register your company with the Department of Economic Development (DED). The DED is the government body responsible for issuing trade licenses for businesses in Dubai mainland.
Depending on the type of shareholding structure you want for your business, a cleaning services company can apply for either a professional or commercial license.
If applying for a professional license,
You can have 100% ownership of your company.
Your business can be registered as a sole proprietorship or a civil company.
A sole establishment setup process involves trade license fee, name and initial approvals, Tasheel fee, LSA notary fee, stamp of the company, Emirates ID and visa stamping, among others. This will cost around AED 14,500.
If applying for a commercial license,
A limited liability setup process involves trade license fee, name and initial approvals, Tasheel fee, MoA notary fee, stamp of the company, immigration card, change of status, medical test, Emirates ID and visa stamping, among others. This costs approximately AED 25,500.
How to register a cleaning company in Dubai municipality?
Registering your cleaning company with Dubai municipality is straightforward and doesn't take a lot of time. All you need to do is follow the steps mentioned below:
Register yourself as a customer on Dubai's municipality's official website and log in with the same credentials once the account is created successfully.
Once you've logged in, click on the "Company Registration" tab, and you'll be automatically redirected to a new page.
Fill in all the mandatory details in the form regarding your personal information, business details, and more. Don't forget to tick the "Security" checkbox at the bottom of your screen.
Proofread all the information that you've provided and click on "Register" once satisfied.
You'll get an email confirmation from Dubai Municipality once your registration is processed successfully. You need to have soft copies of the company's logo, trading license, etc., as you'll need to upload them on the registration portal.
You can get in touch with Shuraa's business experts, and we'll take care of your company's registration with Dubai Municipality alongside all the other business formation activities in the UAE.
Requirements to apply for a cleaning services license
Completed application form
At least three trade name options
Passport copies of shareholders
Entry stamp or visa page of foreign shareholders
NOC from the current sponsor, if the shareholder has a residence visa
Additional approvals, if any, listed by the DED
The process to register your cleaning services company with DED
Choose your business activity from DED's list of activities.
Select the company structure for your business. This will be either a sole proprietorship, a civil company, or an LLC.
Get trade name approval for one of the 3 name options submitted.
Get the Initial Approval. This approval indicates that the UAE Government has no objection for your business to be established in the UAE.
Prepare and sign the LSA Agreement (for Professional license) or MOA (for Commercial license)
Rent a physical office and submit the tenancy contract along with the Ejari. A Dubai mainland company must have a physical office location.
Submit the additional approvals, if any
Pay the fees and collect the business license.
Although starting a residential cleaning business in Dubai is profitable and fairly low-cost, you might still be skeptical of how to register a cleaning company in Dubai municipality. Therefore, it's important to factor in other important aspects such as competition, workforce, equipment, and supplies, and subcategories your business will cater to.
Consult with Shuraa
Your decision to open a cleaning services company in the UAE is the right one because of the increased market demand and profitable business opportunities. To know more about the various business activities under cleaning services, and for guidance on company incorporation, contact Shuraa Business Setup today. Our experienced business setup consultants will answer all your business-related queries. We have already helped more than 20,000 companies make a name for their brands in the UAE's marketplace. All you need to do is get in touch with us, and we'll take care of the rest.
Click here to book a free consultation with our experts and know more about how to register a cleaning company in Dubai municipality or call at +971 44081900. You can also send a WhatsApp message at +971 50 777 5554. For email assistance, mail your query at info@shuraa.com.