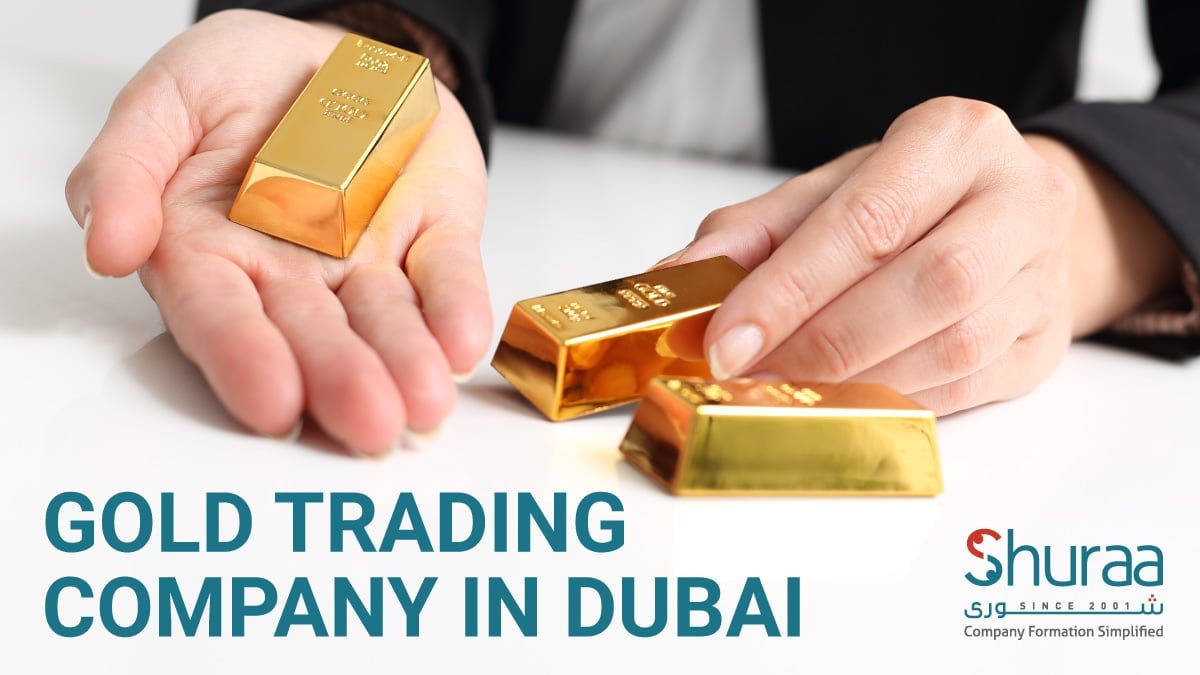 Gold trading company in Dubai
One of the fastest growing cities in the world, Dubai undeniably presents the perfect eco-system for businesses to thrive. Thanks to its liberal trade policies, growing population, tourist influx, better standard of living coupled with robust economy. Popularly known as the 'City of Gold', reports say one third or 25% of global gold trade occurs in Dubai. And, so it would not be wrong to say that gold trading companies in Dubai are thriving. Hence, gold trading in Dubai is a rewarding and productive business for investors across the globe.
Let's discuss gold trading business which has been growing at a swelling rate. It has always been considered as one of the most lucrative and profitable business investment in Dubai. Its's a fact that there is a constant and high customer base for gold and other precious metals. The city provides excellent quality with certifications from the government, making Dubai a prime shopping destination for jewelry.
That being said, if you want to start your gold trading company in Dubai, then indeed it's an excellent idea.
Gold trading company registration
First and foremost, to starting the gold trading business in Dubai, there are basically three major jurisdictions that you need to select from to set up your gold trading company which includes of:
Dubai Multi-Commodities Centre (DMCC) Free Zone 
Dubai Mainland
Gold & Diamond Park
Notably, all these three areas have a number of mandatory procedures and documentation required to begin your gold trading company.
To help you out, here is the all the information that you would require that will assist you in setting up your gold trading company in Dubai.
DMCC free zone
Established in 2002, Dubai Multi Commodities Centre (DMCC) free zone enjoys strategic location with being opposite to the Dubai Marina Beach. It offers advantages such as 100% business ownership, well-built infrastructure, a guaranteed 50 year tax holiday and freehold property options, making it an ideal spot for business entrepreneurs or companies to set up a gold trading business in Dubai.
Moreover, DMCC offers office spaces and warehousing facilities. When you rent a property to carry out business then ensure that the tenancy agreement and rental contract are prepared, signed and submitted to DMCC.
Gold & Diamond Park
Established in 2011, Gold & Diamond Park (GDP) is one of the most suited places for manufacturing and retailing of gold and other precious stones. Governed by the Jebel Ali Free zone Authority, it comprises of huge and excellent manufacturing units and a retail centre along with warehousing facilities.
Worth mentioning GDP boosts of 350 offices and retail shops and 118 manufacturing units, all of which are involved in trading, retailing, and manufacturing of gold and precious stones.
This zone offers advantages such as allowing of employment of foreign expats as your employee, 100% ownership, low corporate taxes, hallmarking facility from Dubai Municipality, making it one of the captivating spots to open gold trading company. Further, it also recently began leasing of premium commercial leasing to entrepreneurs looking to trade in gold.
To be noted that GDP proposes different license options with each of these licenses have to be obtained from specific authority depending upon the option you have selected. These include of:
Trading License
Manufacturing License
Retail License
E-commerce License
Service License
Dubai Mainland – Gold Souk
You also have the option of setting up your trading business on the Mainland. The main advantage here is that it is strategically located, offers you more retail space, no VAT and profit tax, and no minimum capital requirement along with permitting to perform your business in any part of the UAE.
And well, if you decide setting up your gold trading business in Mainland Dubai, then undeniably the top location for you is 'The Gold Souk Market'. Abode to around 300 retailers, the key benefit for setting up your business here is that local people will be your target market and you will be directly able to sell them. Moreover, the area around is well-known for import and export, so if you are interested in trading of other kinds, this is the indeed a great option.
A business set up in Mainland offers investors to have 49% ownership of the company while the other 51% is owned by a Dubai local partner.
Acquiring your business license
The most important step in opening of gold trading business is to obtain a valid trading license Dubai which will give you the authority for running your business in Dubai. Depending upon the nature of your business activity and area selected, you need to apply for trade licenses.
So, if you are setting up your gold trading company on mainland, apply directly to the Department of Economic Development. If you have decided conduct business in GDP, Jebel Ali Free Zone Authority is the license issuing authority. And for free zone, you need to make your application directly to the managing authority of your chosen free zone.
The licensing structure varies and is dependent on the business activity your company decides to undertake.
Applying for your gold trading company license
In all the cases, you are required to have the following typical documentation for obtaining the license:
Application fees
Completed application form
Two passport size photos
Passport/visa copy of the owner or shareholders
Copy of sponsors passport/Emirates ID
CV of the manager
Proof of trade name
Copy of Initial Approval Certificate
Document of initial approval fee payment
Company registration form from the respective trading zone
Copy of notarised MoA or LSA agreement
Tenancy or Lease agreement (if any)
However, before submitting an application to the requisite authorities, you need to ensure that you have undertaken the following steps:
Registering a valid trade name
Select the nature of your business venture
Detailed business plan
Getting a legal status for your business venture in Dubai
Select a partner or local sponsor
Minimum capital requirement: This criteria is only applicable for free zone. You are required minimum authorized capital of AED150,000 along with rent to gold park management. You also need to give 15% of yearly unit rent, which though, will be a refundable deposit. This is exclusive of the maintenance fee.
Drafting and signing of MoA or LSA agreements with your partner or local sponsor in Notary Public Court
Attested company name approval letter for the authorities
Leasing and tenancy contract (Tejari) for your business
Opening a bank account for gold trading companies in Dubai
After receive your license, you need to open your corporate bank account for conducting financial transactions and payments.
Connect with Shuraa Business Setup
Planning to start your gold trading company in Dubai! Opening gold trading company in Dubai can be certainly a profitable venture for you. Though this is only possible with the right amount of planning and execution. Moreover, for an expat investor, the process may seem to be quite challenging as it involves lot of legalities. Hence, if you have plans to start gold trading business in Dubai, then contact Shuraa Business Setup now. Our team of experts are well-versed with all the necessary formalities. From planning to eventually setting up your gold trading company in Dubai, leave the task to us.