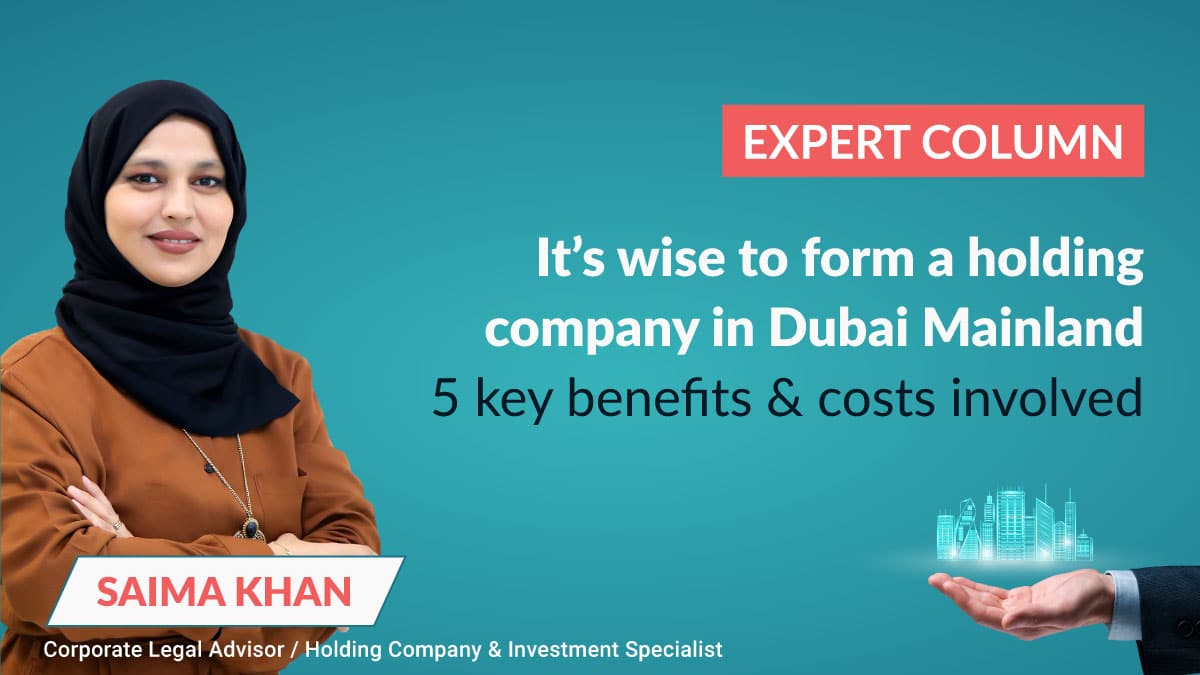 Why form a Holding Company in Dubai Mainland?
Without a doubt, Dubai attracts investors and entrepreneurs from all over the world seeking to expand their businesses in the commercial hub of the Middle East. Whether these are startups or corporate offices and branch offices of MNCs or family-owned businesses, the city is a hotspot for economic activities. In this blog we will explore why is it wiser to form a holding company in Dubai.
Suppose you have a wellness clinic and with time, you want to set up a retail store for dietary supplements and publish a fitness magazine as well. Though the three business verticals are complementary, one license would not cover all the activities and services you plan to offer. Therefore, for running a clinic, you not only require a professional license from the UAE Department of Economic Development (DED), but your company also needs to be an LLC approved by the Dubai Health Authority (DHA). For trading, you need to get a commercial license. And for the printing press, an industrial license must be obtained.
While you are free to choose the operational structure for each of your ventures, it is wiser to form a holding company in Dubai Mainland.
What is a holding company?
In basic terms, a holding company is an LLC or a corporation which owns and controls subsidiary business entities. This parent company by itself does not provide any service or product or engage in manufacturing. Nor does it look after any operations. It mainly owns the stocks and controls the operating companies which do the actual carrying out of operations and activities. The holding company may either own 100% stocks or just enough to have undisputed control over its subsidiary firm. Each of the subsidiaries also have their own management to see to the daily operations.
Five benefits of forming a holding company
You might be wondering, why form a holding company in Dubai Mainland when an entrepreneur does have an option of investing in more than one business under multiple licenses? Therefore, listed below are some of the key benefits of incorporating a holding structure:
Easy asset management – The parent company's trademarks such as name, logo, real estate and equipment can be utilized by the subsidiaries as well.
Legal Structure – Any legal change in the operational company can be simplified by making changes in the holding itself.
Privacy of ultimate beneficiary – The information regarding shareholders need not be disclosed outside the holding.
Investment in multiple ventures – You can have subsidiaries as branches or franchises. Via a holding, you can own numerous international franchises. At the same time, you can have branches in varied sectors. For instance, usually, the branch of a restaurant is another restaurant. But under a holding model, you can invest in retail, real estate as well as hospitality.
Movement of employees – The human resource function becomes easier as the workers can be deployed from one organization to another to best utilize their skills.
Costs involved
If you are considering forming a holding company in Dubai Mainland, you have to process it via DED. Below is the general process along with approximate cost break up:
Obtaining initial approval: AED 120/-
Getting name approval: AED 620/-
Drafting Memorandum of Association (MoA): AED 1,500 onwards
Getting an office space
Local sponsor: Partner will have 51% of the shares
Activity fees: AED 15,000/-
License fees: AED 10,000/-
To learn more about how to form a holding company in Dubai Mainland, get in touch with one of the leading providers of company formation solutions – Shuraa Business Setup. Call us on +971 44081900 or drop a WhatsApp message on +971 507775554. You can also email your query to [email protected]
Author
Saima Khan
Corporate Legal Advisor | Holding Company & Investment Specialist